Commentary: Anwar faces political tricky situation in tackling migrant labour issues
A widening corruption probe at the Human Resource Ministry is bringing to focus fundamental flaws in Malaysia's foreign worker recruitment ecosystem. CNA's Leslie Lopez looks at how this can be an opportunity for Prime Minister Anwar Ibrahim's government to bring a sledgehammer to the current system.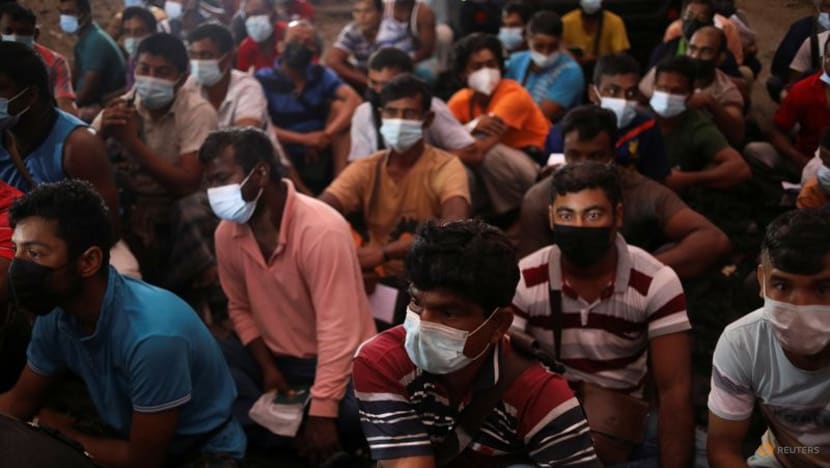 KUALA LUMPUR: The ongoing investigation into Malaysia's Human Resource Ministry over allegations of corruption in the recruitment of foreign workers has cast a blemish on Prime Minister Anwar Ibrahim's government, which rode to power after the November 2022 general election on an anti-graft platform. 
Officers from the Malaysian Anti-Corruption Commission (MACC) have arrested three senior government officials attached to Human Resource Minister Sivakumar's office, while Mr Sivakumar was also asked to provide the MACC with a statement.
Since then, Mr Anwar has directed the sacking of five officers from the Human Resource Ministry implicated in the ongoing probe, but has rejected calls from the opposition demanding for Mr Sivakumar's sacking from the Cabinet.
Mr Anwar has been reported as saying that unless the MACC discovers evidence implicating the minister directly, there is no reason for him to vacate his position.
Against this setback lies an opportunity. The corruption probe has presented Mr Anwar with an opening to drive through reforms at the Human Resource Ministry, particularly in the country's controversial and opaque migrant worker recruitment system that has long been a magnet for corruption.
A LUCRATIVE INDUSTRY
Malaysia, an export-reliant country, relies on millions of migrant workers to staff plantation, factory, and service sector jobs.
According to the Department of Statistics, there are 2.1 million documented foreign workers in Malaysia as of June 2022. The undocumented worker population is, like any other country, impossible to ascertain, but inter-governmental entity International Organization for Migration puts the number as high as 4 million.
Together, the migrant worker group makes up about 30 per cent of Malaysia's workforce. However, the migrant labour ecosystem has faced accusations of collusion among politicians, enforcement agencies, recruitment companies, labour brokers and exploitative employers, as well as forced labour and appalling living conditions.
The US State Department has consistently listed Malaysia, together with China and North Korea, for the limited progress in eliminating labour trafficking, resulting in export bans on products from the country.
"The government is in a unique position to bring a sledgehammer to the current system that is riddled with corruption and has created something that closely resembles some form of modern human slavery," Mr Charles Santiago, a three-term former Member of Parliament and one of Malaysia's most vocal campaigners pushing for reform in the recruitment of foreign workers, told CNA.
Since the early 1990s, Malaysia has been recruiting workers from a host of countries, beginning with Indonesia and the Philippines, before enticing labour from countries, such as Myanmar, Vietnam, Nepal, and India. But it is Malaysia's conscription of Bangladeshi workers that continues to attract the most adverse public opprobrium and allegations of graft. 
Exporting labour is big business in Bangladesh and the ties between the players that control the foreign recruitment chain in both countries are very strong.
There are reportedly more than 1,300 registered agents operating in Bangladesh and the bigger players among them have operations in Malaysia that deal directly with a private entity called Bestinet Sdn Bhd. Bestinet secured exclusive rights in 2013 to operate a foreign worker management system that supervises the movement of workers into Malaysia.
Typically, a single recruit pays roughly RM20,000 (US$4,500) to the cast of players in the convoluted recruitment process. The hefty fee is paid largely through loans that immediately lock workers into a debt bondage that can only be paid by working long hours and accepting poor living conditions. 
A government-appointed task force that was set up in 2018 to review foreign worker management observed that the entire system was riddled with mismanagement and corruption, reported The Edge Malaysia last month.
The recommendations for a complete overhaul to the Bestinet-managed Foreign Workers Centralised Management System were eclipsed in Malaysia's subsequent political strife, which saw the change of three administrations before Mr Anwar took power in November.
Mr Santiago and other labour reform activists noted that the trade is extremely lucrative and runs into several billion dollars annually.
"The country is paying too high a price and nothing short of bringing down the current opaque system and replacing it with a more transparent straightforward process to recruit workers is what is needed," Mr Santiago added.
POLITICALLY TRICKY
But cracking down on Bestinet could prove to be politically tricky for Mr Anwar, because of the links the company allegedly has with Deputy Prime Minister Ahmad Zahid Hamidi. 
Press reports have linked Bestinet to Mr Ahmad Zahid, who is facing charges of alleged corruption in a company involved in providing visas to Nepali workers and tourists from China.
Both parties have denied any direct business ties, but political sources noted that Bestinet's major shareholder Mohamed Amin Abdul Nor and Mr Ahmad Zahid enjoy warm ties.
Labour reform advocates, like Mr Santiago, are recommending that the government set up a new agency under the Prime Minister's office that will handle the entire recruitment process in a transparent manner and entertain little input from private labour brokers.
"A new agency could take as long as one year to get it up and running. We need to start somewhere," noted Mr Santiago.
Cracking down on the migrant labour recruitment system will send a clear message that Mr Anwar is serious about bringing reforms. But it is not going to be easy and will require huge amounts of political will.
Mr Anwar's coalition government is constantly grappling with challenges from Malaysia's feisty opposition. Taking on powerful and entrenched vested interest groups that control the foreign labour management system will add to his political woes.
Leslie Lopez is a senior correspondent at CNA Digital who reports on political and economic affairs in the region.