Commentary: Anti-corruption sweep exposes a disturbing truth in Malaysia
With former prime minister Muhyiddin Yassin and others caught in the widening anti-corruption net, Anwar Ibrahim might have the momentum to push through political funding law reform, says CNA's Leslie Lopez.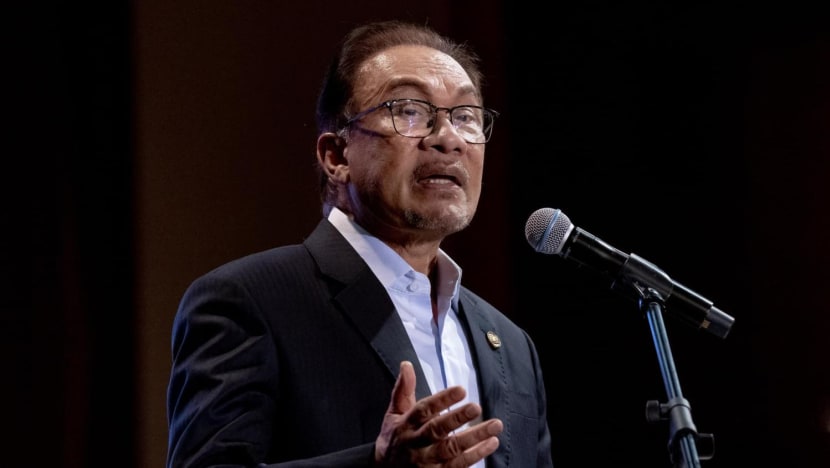 KUALA LUMPUR: Before taking over as Malaysian Prime Minister in November last year, Anwar Ibrahim often told his closest advisors that reforms to regulate political funding would be a priority. But it appears taming widespread corruption in government and politics must take precedence.
Recent charges brought against former prime minister Muhyiddin Yassin and several leaders of his Parti Pribumi Bersatu Malaysia (Bersatu) party over governance breaches in a COVID-19 stimulus programme that was introduced in November 2020 to jumpstart the economy show that state capture remains a huge problem and little has been learnt from the debacle surrounding 1Malaysia Development Berhad (1MDB).
Muhyiddin has been slapped with seven separate charges that involved the abuse of power, mounting to RM237.5 million (US$53 million), and money laundering, totalling RM195 million. 
The corruption and money laundering charges revolve around alleged bribes Muhyiddin and his colleagues received from companies awarded contracts under the Jana Wibawa programme that were credited into the party's bank accounts. The Bersatu bank accounts, frozen by the government last month, showed balances of more than RM300 million, much of it amassed during the party's leadership of government for 17 months beginning March 2020.
The Malaysian Anti-Corruption Commission (MACC), the lead agency in the graft clampdown, has already arrested several persons of interest, alleged to be involved not only in the payment of kickbacks but also in trying to shut down government investigations.
Already, one MACC official was arrested on suspicions that he was being courted with financial inducements to cover up ongoing probes into people close to Muhyiddin.
JUST HOW WIDESPREAD CORRUPTION HAS BECOME
The widening anti-corruption net in recent weeks has exposed a disturbing truth in Malaysia. Money, politics and business have long intermingled at a huge cost to the economy, but just how widespread it has become means serious reform will be needed.
A central plank for the government under Mahathir Mohamad that came to power in mid-1981 was Malaysia's ambitious privatisation policy. While privatisation was generally in line with economic policy thinking at that time, it had been criticised as promoting corruption, where companies aligned to the ruling government coalition were awarded the rights to manage state assets or to develop, implement and manage new public works projects and services under long and lucrative concession periods.
By the time Najib Razak took over as prime minister in late March 2009 from Mahathir's successor Abdullah Ahmad Badawi, the Malaysian economy had become heavily politicised, leading to serious inefficiencies. 
Contract awards, such as the construction of the mass rail systems, railway networks and toll road concessions were often considered to be inflated to extract political premiums. Previously privatised companies were also re-nationalised, such as national carrier Malaysia Airlines in 2014. 
Najib also set up 1MDB, the state-owned investment fund that eventually led to his downfall. Funds raised from multi-billion-dollar bond issues flowed back into Najib's private accounts to finance his political campaigns for his then-ruling party, United Malays National Organisation (UMNO). The former prime minister began serving his 12-year jail sentence on corruption and money laundering charges in August 2022.
BERSATU AND PAS UNDER FIRE
Bersatu and its Perikatan Nasional (PN) coalition ally, the right-wing Parti Islam Se-Malaysia (PAS), were major beneficiaries of the anti-UMNO sentiment among the politically dominant ethnic Malay community that make up more than 60 per cent of the electorate.
PN's narrative during the 2022 General Election was to ensure Malaysia did not "fall into the hands of kleptocrats". Corruption accusations will put a dent in Bersatu's political standing.
The Jana Wibawa programme was introduced during Malaysia's COVID-19 movement control order to boost the economy and help bumiputra contractors. But the poor implementation of the stimulus plan stirred widespread disquiet among industry players who complained that funding and contracts were difficult to secure because of red tape and favouritism towards contractors with close ties to the then administration.
The charges against Muhyiddin and the other Bersatu leaders confirmed the earlier suspicions that Jana Wibawa was also a political fundraising scheme.
PAS is also under some heat. Malaysia press reports have stated that the MACC is close to wrapping up its investigation into alleged vote-buying in several constituencies in rural Malay strongholds that were won by PAS in the last election.
REFORM ON POLITICAL FUNDING
Malaysia does not have specific laws to regulate political funding, and current legislation only deals with preventing corruption and other illegal activities during the polls. A proposal to table a law by the previous government late last year was suspended after the parliament was dissolved to pave way for the November General Election.
Close associates of Anwar noted that the prime minister is considering the establishment of a working committee, comprising representatives from political parties, reform groups and the legal profession.
For now, Anwar, who has made targeting corruption a central theme of his reform agenda, has displayed serious political will with the anti-graft clampdown.
Fixing the toxic nexus of politics and business that have come to characterise the Malaysian economy will require more. This anti-corruption sweep may be the momentum Malaysia needs to push through the much-needed law on political funding.
Leslie Lopez is a senior correspondent at CNA Digital who reports on political and economic affairs in the region.