Commentary: Cubicle romances and stolen glances in the office pantry – is it ever OK to date a colleague?
Dating among colleagues is bound to happen, but is there a need to restrict or ban office romances? HR expert Sam Neo weighs in on the issue of workplace romances.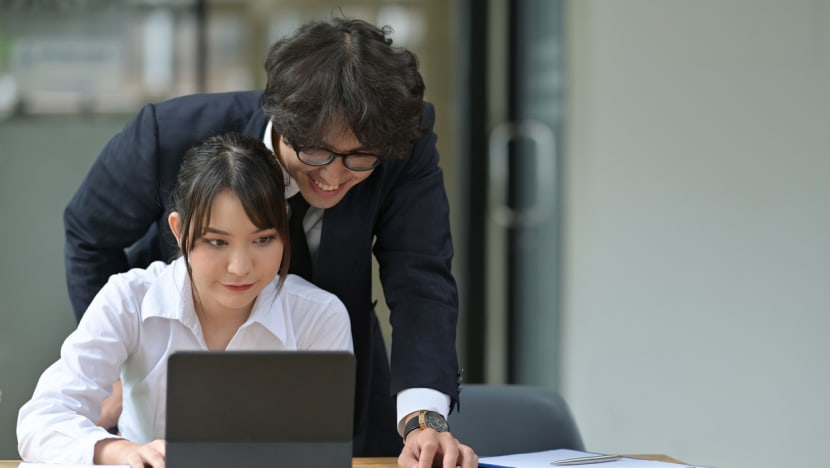 SINGAPORE: Hands up if you've ever had a crush on a colleague. Now, hands up if you've ever dated a co-worker.
According to the 2021 Marriage and Parenthood Survey released in October 2022, 16 per cent of single respondents who were dating at that point had met their partners at work.
Organisations are made up of people who are naturally motivated to develop and maintain personal bonds with others. Employees want and need to build relationships at work, whether platonic or romantic.
With working adults spending a large part of their day at the workplace, it is inevitable that close relationships, even romances, will form. With this in mind, should dating be allowed within a workplace?
A famous quote by author Ritu Ghatourey, who is known for her insightful thoughts, goes: "The beauty of love is that you can fall into it with the most unexpected person at the most unexpected time."
Sometimes, falling in love with a workmate is something unexpected. Even if companies have a no-dating policy, they cannot 100 per cent stop people from falling in love or forming romantic feelings for each other.
But when are office romances acceptable, and when do they start becoming a problem?
COMPANY VALUES AND CULTURE
Well, it really depends on the culture of the company you work for. In an organisation that is more formal and rules-based, their leaders might prefer less ambiguity and set a clear no-dating policy.
On the other side of the spectrum, a start-up that encourages autonomy and a high-trust culture might keep things more transparent or even encourage workplace romances.
Jessie Chong, who founded alcoholic beverage delivery service Boozeat and exited the business in 2018, believes that it is everyone's right to enter any romantic relationship. "As long as it's kept professional in the working environment, and objectives are met," she was cited as saying in an interview in 2018.
I have also seen organisations actively create opportunities for singles. They encourage their workers to mingle around more often. Why? They know that their employees spend most of their time at work and lack time to socialise outside work. These organisations prefer their employees to have partners internally to keep them in the office.
During Women's Day in Vietnam last October, one of my business partners held an event where male employees could surprise female employees with a present. I asked him why. He told me it was to drive engagement and retention, especially for the younger generation at work. He trusted them to keep things professional.
RULES OF THE GAME
Of course, there are always pros and cons to the situation. Conflicts and awkward situations can arise with office romances - especially if the parties involved have a close working relationship - and disrupt business operations.
It's why setting boundaries is essential.
Last year, former CNN president Jeff Zucker resigned after admitting to having a consensual relationship with a subordinate. Ned Fulmer was booted from YouTube comedy group Try Guys after having an affair with co-worker.
But some office romances also result in long relationships. Take Barack and Michelle Obama, who met while working at a law firm in 1989.
Of the office romances I've personally been around, the couples have always displayed a high level of professionalism that allowed for a harmonious relationship between them and other colleagues in the workplace.
For example, in one of my previous jobs at a Singapore listed company, there was a newsletter issue that featured married couples in the office. It was very heart-warming. Even though some of those couples worked together in the same department, they handled things professionally while collaborating effectively at work.
The right question to ask about office romances, perhaps, should not be about whether it's right to date a co-worker, but rather, what the rules of the game are and how you should or should not act while in a romantic relationship with someone from your workplace.
NO HUGS AND KISSES IN THE OFFICE
Are there ways to prevent personal conflicts that could interfere with work? Should couples be allowed to hold hands at work, or should they maintain a professional relationship at all times while in the office? There is a lot that will need to be thought over.
Public displays of affection might not be widely accepted in the workplace as it can be deemed inappropriate, so that is also something that should be considered, especially in the Asian community.
Other questions arise, such as whether there might be a need to ban employees in certain departments from dating if their jobs involve sensitive company information.
There is also the danger of a power imbalance between a superior and a junior employee in the same department, whether it could be favouritism in delegating certain tasks or assignments or potential sexual harassment allegations if the relationship goes south. There are many layers that we would need to peel.
At the end of the day, the decision comes from the top management.
Before companies make that decision, it's important they think about the culture they want to build within their organisations. What would help with employee engagement? What would drive business growth? Of course, this is no easy decision but at the very least, companies must ensure they do not compromise their business operations.
In an ideal situation, companies would want to retain top talents and create a highly engaged workforce where everyone is valued and feel as if they are a part of a bigger family, but the reality of it is not as simple. What would your move be?
Sam Neo is the Founder and CEO of People Mentality Inc, Stories of Asia, and StoryBuddy.