Commentary: No more H&M and McDonald's? Russians shrug and walk on
The West hopes that its sanctions will, beyond weakening Russia, send a message to the Kremlin that the Ukraine war must stop. But their effect on everyday Russian life has been muted, says Singaporean Nigel Li, a university student in Moscow.
MOSCOW: I am walking through a mall in Moscow I frequent. The large H&M has shuttered and so has Uniqlo. McDonald's and Starbucks are gone too.
But it isn't the end of the world. Like many I know in Russia, I shrug and walk on.
It has been five months since Russia invaded Ukraine. The international community condemned Russia's aggression and imposed sanctions.
In the first few weeks of the war, there was chaos and confusion. Long lines formed in front of banks as the rouble fell 150 to the US dollar in early March, losing almost half its value after the West cut Russia out of global payments system SWIFT and froze its foreign exchange reserves. It is estimated that nearly 4 million Russians have left the country in the early months of this year.
But due to the Kremlin's capital controls and Russia continuing to export oil and gas to non-sanctioning countries like China and India, the rouble strengthened again to a recent high of 52.3 to the dollar – a level last reached in the summer of 2015.
SODA WITH RUSSIAN CHARACTERISTICS
Shortages were indeed a challenge in the early days of the war. In what felt like deja vu of the early pandemic days, Russians began emptying supermarket shelves of flour, sugar and toilet paper. Supermarkets resorted to imposing a limit of 1kg of sugar per household.
White bread, which hovered below 50 roubles before the invasion, rose to a high of 60 roubles. Fearing longer-term shortages, I stocked my shelves with preserved and dried foods, but those concerns were quickly alleviated when things began to stabilise.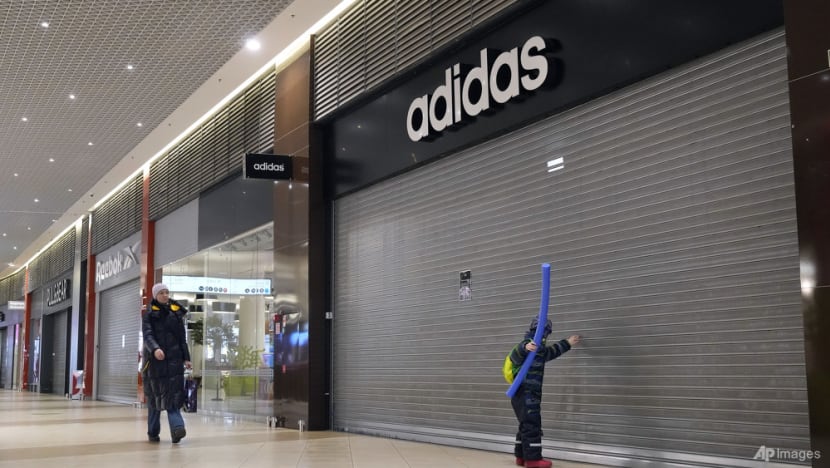 Locally produced bread, buckwheat and meats have since become widely available. Their prices have indeed risen, but compared to the price of foreign luxury goods, they remain relatively affordable to consumers.
Large Russian bread manufacturers, for example, have placed a moratorium on increasing their prices till the end of this year. Bread prices in Moscow now average around 26 roubles.
The vacuum left by foreign brands and goods has also been gradually filled by local ones.
Walk through a Russian supermarket and you will see that where bottles of Coca-Cola, Fanta, and Sprite once stood, the shelves now display new Russian variants. In May, local beverage manufacturer Ochakovo released "Cool Cola", "Fancy" and "Street". Locals tell me they aren't very sweet but are cheaper.
McDonald's, having suspended its operations in Russia, sold its business to its licensee, Vkusno, i tochka (which in English means "Tasty, and that's it"). From my experience dining at the rebranded fast-food chain, everything is practically the same, just without the Big Mac.
Besides homegrown enterprises replacing foreign franchises, Russia's agricultural sector can keep the population fed. Globally, in terms of total production, Russia ranks first for barley and buckwheat, third in wheat and fifth in chicken, according to the Food and Agriculture Organization of the United Nations.
Russian people have long adapted to desperate situations. During the Soviet era, citizens cultivated crops like cucumber and cabbage at their dachas, or summer houses, to protect themselves from food shortages arising from a planned economy.
According to historian Orlando Figes, these private plots took up just 4 per cent of the country's agricultural land in the 1970s, but produced 40 per cent of its pork and poultry, 42 per cent of its fruit and over half its potatoes.
IPHONES FROM THE US STILL FIND THEIR WAY TO RUSSIA
Another way everyday Russians continue to secure products is through parallel imports, which overcome and circumvent sanctions, especially those that target electronics and technologies. On Jun 7, the Russian parliament approved a Bill to facilitate parallel imports, by protecting local companies from legal liability if they import certain products without the trademark owner's permission.
For instance, Russian e-commerce retailer Wildberries continues to sell clothes from Zara, though its Spanish parent group Inditex has shut all stores and operations in Russia.
Parallel imports utilise alternative distribution channels that are outside the brand's authority. A distributor in China, for example, can purchase iPhones and distribute them to stores in Russia. Certainly, prices for such goods will rise in Russia, but that does not mean they will be inaccessible.
One friend of mine told me that he had asked a colleague returning from the US to purchase an iPhone for him, an option he told me was "much cheaper". Individuals, too, have adopted their own means of parallel importation. It's a question however whether warranty assurances can be provided.
SANCTIONS WON'T BRING RUSSIA TO ITS KNEES
The West hopes that its sanctions will, beyond weakening Russia, send a message to the Kremlin that its war in Ukraine must stop.
But a poll conducted by independent Russian research organisation Levada Center in June revealed that 75 per cent of respondents believe Russia should continue its actions despite sanctions, and 74 per cent view the goal of these sanctions are to "humiliate Russia".
According to the same poll, President Vladimir Putin now enjoys an 83 per cent approval rating, rising from 65 per cent in December last year. Putin, eyeing reelection in 2024, is motivated to maintain his popularity – and so has a stake in not radically changing the lives of Russians.
He has thus withheld from calling a general mobilisation in Ukraine, which would mean the deployment of conscripts, a situation that many parents would find difficult to accept. Currently, Russia has only deployed contract soldiers into Ukraine.
"They call it a 'Special Military Operation' as a coping mechanism," one Russian told me. "To call it a war means we will have to make sacrifices, sacrifices that many of us are not ready to make."
But economic sanctions are unlikely to bring Russia to its knees. The country and its people have weathered tougher storms, from Mongol to Nazi invasions, to communist revolution and the lawless post-communist 1990s. Policymakers who seek to deal with Russia should keep in mind the regime will stop at nothing to achieve its Russky Mir (Russian World).
Time will tell whether Russia can truly overcome these sanctions. A drawn-out conflict will eventually tire out the system and the people, just as it did the Soviet Union in 1991. Inflation is expected to rise by 14.5 per cent with GDP expected to shrink by 8 to 10 per cent.
But here in Moscow, life goes on. Opposite where the H&M once was, a makeshift clothing market has been set up by the mall, shoppers browse happily and live on not thinking of war, for now.
Nigel Li is an International Relations undergraduate studying in Moscow. He is also a contributing writer for the Taipei Times and publishes on his Substack blog A Singaporean in Moscow.