Commentary: Can customers be trusted to pay for their plastic bags at Singapore supermarkets?
Some Singapore supermarkets are counting on customers to pay for the bags they take at self-checkout counters. SUTD researchers Samuel Chng and Harvey Neo look at whether this honour system will work and what its real goal should be.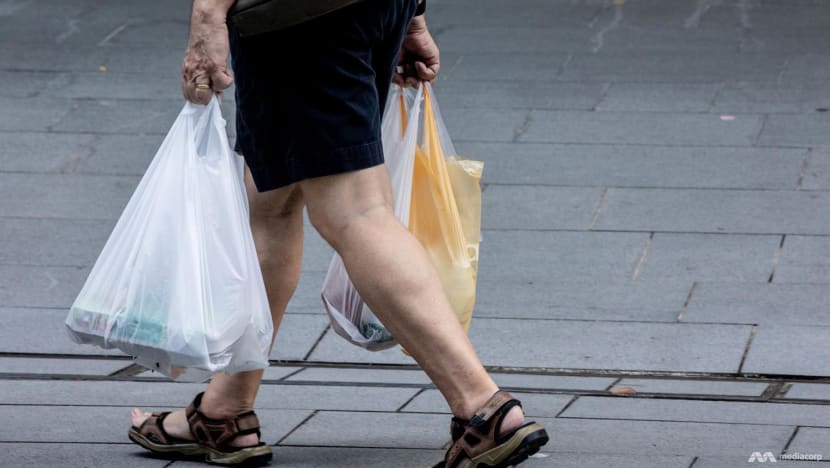 SINGAPORE: Supermarkets in Singapore are set to charge at least 5 cents (US$0,04) per single-use plastic bag from Monday (Jul 3). In the past weeks, different supermarket chains have been preparing their outlets, staff and customers for this change.
One interesting approach was announced by NTUC FairPrice on how they would implement the plastic bag charge. It shared that an "honour system" would be implemented at its self-checkout counters where customers will be responsible for inputting the number of bags they use.
The rationale, as shared by FairPrice Group's chief sustainability officer Chan Tee Seng, was that this would make the self-checkout process "seamless, easy, [and] not too bureaucratic". He added that they believe many of their customers "will do the right thing".
For an honour system to work, we need to trust that people will abide by the rules or code of conduct even when there is no supervision or surveillance. Can supermarkets trust customers will pay for the plastic bags they take - or is such trust overly optimistic?
HONOUR SYSTEMS IN SINGAPORE
Over the years, we have seen community initiatives and programmes in Singapore that have adopted an honour system. Many have succeeded and continue to thrive.
Community fridges are one example. They enable food to be shared within a community based on an honour system. Anyone can put food in and take food out without limit, at any time, to reduce the stigma of using it.
More community fridges have been set up since the first was started by Member of Parliament Baey Yam Keng in Tampines back in 2017. These community fridges not only help address food insecurity, but mitigate food waste by saving surplus or unwanted food items from the bin.
Book exchange corners are another example. These are self-managed community spaces that allow the public to contribute and take home pre-loved books, also based on an honour system. There are currently book exchange corners in nine public libraries, as well as in parks and other community spaces.
The honour system makes community fridges and book exchange corners practical to implement, sustain and scale. Residents see the value in these initiatives and contribute to them willingly. Imagine needing a person to man the community fridges and book exchanges! 
However, there are also instances when an honour system is not sufficient. A recent illustration of where such a system fails is getting diners to clear their tables of trays, crockery and litter after their meals.
After campaigns to educate the public to change their habits and inculcate new norms, clearing one's table was made mandatory with enforcement, beginning September 2021 at hawker centres and January 2022 at coffee shops and food courts.
Stricter measures in the form of written warnings and punitive fines were introduced this June for individuals who flout the rules - which the National Environment Agency noted were in the minority, as over 90 per cent of diners return their trays and crockery.
Thus, is an honour system for implementing the plastic bag charge the best way forward? Would making the process for purchasing a plastic bag easy encourage customers to use reusable bags in the future?
WE NEED MORE THAN AN HONOUR SYSTEM
In earlier examples where the honour system worked, the residents cared for the cause. In the case of plastic bag use and sustainability challenges, it remains uncertain if the population cares enough.
The 2021 and 2022 editions of the OCBC Climate Index suggest that Singaporeans' relatively high awareness of environmental issues does not necessarily translate into the adoption of green practices, lifestyles and actions.
Any honour system is open to compromise. Customers could take advantage of a moment when self-checkout attendants are occupied and walk away without paying for their plastic bags. This is especially so if they do not see the point of such a charge and view plastic bags as an entitlement to their custom.
But there is evidence that taxes on single-use bags are effective. The United Kingdom introduced a charge for single-use carrier bags in their supermarkets in 2015, and doubled it to 10 pence (US$0.13) in 2021. UK environment secretary Therese Coffey said in January that the charge has reduced the use of single-use carrier bags by 97 per cent in main supermarkets.
This UK experience might seem to augur well for Singapore's move to charge plastic bags but also suggests that the cost must be recalibrated in time. This is because the public will soon get used to the new normal of getting charged for plastic bags, very much like how we've gotten used to being charged for takeaway containers.
MAKING SUSTAINABILITY A SHARED VALUE
But to bring about positive gains for the environment, what we should aim for instead is a change in our personal habits. Rather than pay for plastic bags as instructed at self-checkout counters, the goal should be to bring reusable bags along when grocery shopping, or any shopping for that matter.
Supermarkets can play a significant role by eliminating plastic bags from their displays. If customers require a bag, they should have to request it and be charged based on the number and size of bags needed. This would make the use of reusable bags the default option.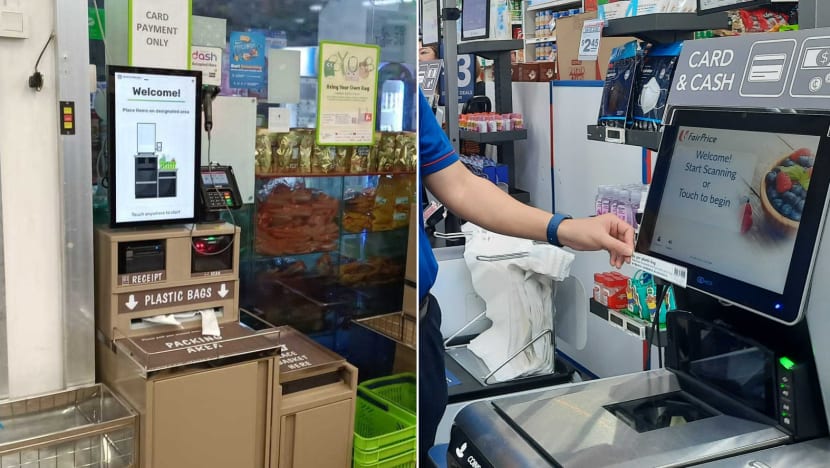 Looking beyond the immediate future, we should be able to discern how our individual efforts contribute to the global fight against single-use plastics. Talks are underway to develop a United Nations treaty on plastic pollution by 2024.
The number of countries taking bolder and more comprehensive actions in this realm is expanding, with citizens becoming increasingly engaged and championing ambitious grassroots initiatives. By recognising the progress made by other countries and their people, the Singapore public can be inspired to rise to the challenge and make bolder contributions.
Implementing a charge for plastic bags is a small step toward fostering a sustainable society in Singapore, and the honour system of paying for them resides in the faith that we will embrace this responsibility.
But it is important to recognise that more than an honour system is needed. The successes of initiatives like community fridges and book exchange corners, which rely on an honour system, demonstrate the potential for positive change when people genuinely care about a cause. 
Ultimately, a society that genuinely cares about sustainability will take concrete action. Caring for the environment will not be just another obligation but a shared value that guides our everyday behaviour.
Samuel Chng is an applied social psychologist and heads the Urban Psychology Lab at the Lee Kuan Yew Centre for Innovative Cities at the Singapore University of Technology and Design. Harvey Neo is Senior Fellow and leads the Programme on Urban Environmental Sustainability in the Lee Kuan Yew Centre for Innovative Cities, Singapore University of Technology and Design.
Can Singaporeans be trusted to pay for plastic bags? Listen to the Daily Cuts: