Commentary: Are Singaporeans underestimating the threat of COVID-19?
With COVID-19 becoming endemic, people need to exercise practical reason when deciding how best to live with the lurking presence of the virus, just like they do with dengue and influenza, says respiratory specialist Dr Ong Kian Chung.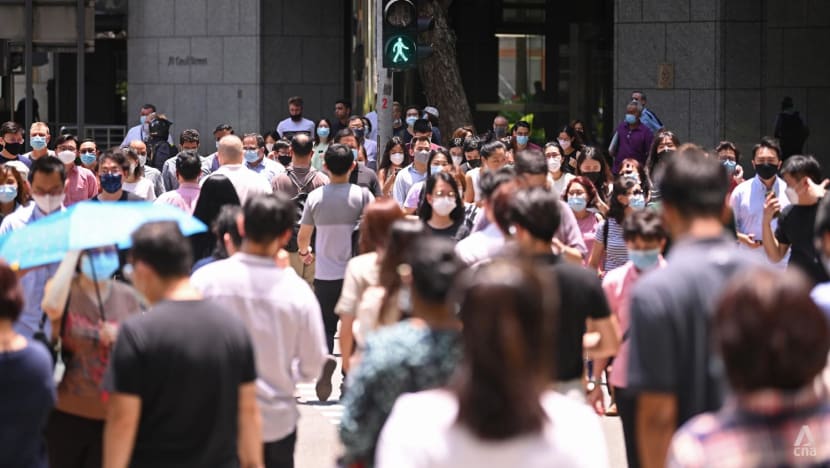 SINGAPORE: The World Health Organization (WHO) on Friday (May 5) declared that COVID-19 is no longer a global health emergency. 
For three years, Singapore, along with the rest of the world, battled a disease that has killed 6.9 million people globally. That is more than the total population of Singapore. 
WHO's lifting of the emergency alert is a sign of the progress that nations have made in containing COVID-19. Some countries, including Singapore in February, had earlier stood down their own COVID-19 measures. 
 
However, with every fresh wave of cases - which is expected in endemic living - and fewer people keeping up to date with their COVID-19 shots, the question beckons: Are Singaporeans developing a false sense of security on COVID-19?
"There is a common thinking amongst seniors and amongst the public, that 'I seldom go out of my home, and hence I need not take further vaccinations.' This is not recommended," said Health Minister Ong Ye Kung in Parliament on Tuesday, as he provided an update on the current COVID-19 wave.
Results from a recent survey by Moderna Biotech Singapore and the Asia Pacific Immunization Coalition (APIC) reflect a similar attitude, sparking some concern among doctors about a sense of complacency among residents.
The survey showed that only a minority (13 per cent) of respondents in Singapore believe that COVID-19 presently poses a "high or very high risk" to their health. 
That most of the survey participants do not deem COVID-19 to currently pose a significantly high health risk is hardly surprising. Their response is quite expected given that COVID-19 restriction rules have been eased, and business and leisure activities are almost back to pre-pandemic levels. 
However, what is alarming is the declaration by 38 per cent of seniors over 60 and 31 per cent of persons with medical conditions of diabetes, chronic heart or lung conditions (the so-called medically vulnerable groups) that they do not plan to take additional booster vaccine shots in the future. 
Although no firm conclusions may be derived from this survey, it nonetheless represents spearheading research in evaluating current attitudes and behaviour toward ongoing COVID-19 booster vaccination among people living in Singapore. 
SCIENTIFIC KNOWLEDGE VERSUS PRACTICAL WISDOM
In trying to elucidate the reasons underlying people's beliefs and behaviour, I start by referring to Aristotle, the ancient Greek philosopher, who distinguished between scientific knowledge and practical wisdom. 
Scientific knowledge deals with matters of necessity whereas practical wisdom (which entails practical reasoning) is about human concerns that are open to deliberation.
At the start and height of the current pandemic, the necessary priority was to reduce the number of susceptible individuals by immunising them against the virus, thus reducing the contagion rate to reduce mortality and conserve healthcare resources. 
Nowadays, however, with COVID-19 looking more like it is becoming endemic, people need to exercise practical reason when deciding how best to live with the lurking presence of the virus, just like we do with dengue and influenza. 
In the survey mentioned above, 56 per cent of respondents expressed the belief that vaccination is "the best way" to protect themselves from COVID-19. Contrariwise, an almost equivalent 52 per cent and 54 per cent stated that they are concerned with health complications of COVID-19 vaccines and fear the potential side effects of the vaccines more than contracting the virus, respectively. 
Thus, it seems that many people are in a quandary when considering whether to get COVID-19 booster shots. 
The recommended straightforward answer to anyone asking how someone can act reasonably when faced with the apparent impossibility of antithetical accounts of what is right is that the answer "will depend upon who you are and how you understand yourself". 
In other words, there are no neutral, impersonal, independent standards of rational judgment when attempting to exercise practical reason.
"CAN ALL THIS BE PREVENTED?"
The undeniable fact is that the medically susceptible groups are at higher risk of developing severe COVID-19 infections and complications requiring hospitalisation and intensive care. 
For instance, a 2021 study showed that persons with chronic obstructive pulmonary disease (COPD), a common chronic lung disorder, face more than four times higher risk of hospitalisation, 35 per cent higher chance of intensive care unit (ICU) admission, and 2.5 times higher death rate if they contract COVID-19 compared to individuals without COPD. 
Even before COVID-19, healthcare professionals knew that the risk of pneumonia caused by bacteria or viruses is much higher in older persons with pre-existing chronic illnesses. Using COPD as an example once again, the risk of developing bacterial pneumonia is 7.7 times higher. 
Having been a respiratory specialist and intensivist for nearly three decades, I can affirm the trustworthiness of the truism "prevention is better than cure" as well as the dependability of the risk-benefit analysis while doing medicine. 
In the course of my work, I treat patients with severe pneumonia in the ICU and I know that once the infection is established in the lungs and other organs are affected, effective therapeutics are limited, and prognoses guarded. 
Most of the patients I treated in the ICU did not take the recommended vaccinations although they were in the high-risk medically vulnerable category. As such patients progressively worsened despite maximal support, the question: "Can all this be prevented?" quite naturally arises.
Risk-benefit considerations remain the norm in medicine through the decades; there are no absolutes in the discipline of medicine. It may seem surprising to the public that despite rapid advancements, treatments and outcomes in medicine are still largely based on probability. 
The overall odds of anyone requiring hospitalisation for a bout of flu is minuscule, but that is for the "general" person. For the elderly patient with one or more medical conditions, the odds are substantial. 
The reported average mortality rate of pneumonia caused by influenza is 20 per cent; for a medically vulnerable person, that risk of death is multiplied. 
Just like how I try to discuss the risks and benefits of available treatments for each of my patients' respiratory conditions, I would approach the issue of continuing COVID-19 immunisation in the same manner, with a stronger emphasis on those with a greater probability of acquiring and succumbing to the illness. 
That is my practical rationality for doing what is right and true regarding this issue. But this just reflects who I am and who I think I am, since according to philosopher Alasdair MacIntyre, how one reasons cannot be abstracted from the one doing the reasoning.
VACCINE COMPLACENCY OR VACCINE FATIGUE?
From the headline findings of the Moderna-APIC survey, it might seem likely that Singaporeans are bordering on vaccine complacency. 
During an expert panel discussion held on Apr 25, Professor Tikki Pang, co-chair of APIC, proposed vaccine fatigue as another plausible cause to explicate the survey findings.
LISTEN - Daily Cuts: Are Singaporeans getting too complacent with their health?
We certainly hope that pharmaceuticals will in the future develop combination vaccines (for example combined influenza and COVID-19 shots) to reduce the number of injections and reduce vaccine fatigue. 
Additionally, Prof Pang sounded a timely reminder that anyone encouraging the use of vaccines should do so with empathy and compassion. 
Not everyone responds to scientific reason and human logic in the same way. Some indeed may view expert opinions and recommendations as hegemonic knowledge leaning towards coercion. Others from varying traditions and cultures may focus more on affective factors rather than cognitive ones. 
Understanding the basic attitudes of Singaporeans toward continuing COVID-19 vaccinations should foster empathetic and sensitive promotion of active immunity against the virus infection, which is likely to be around for some time. 
Dr Ong Kian Chung is the President of the Chronic Obstructive Pulmonary Disease Association (Singapore), and a respiratory physician practising at Mount Elizabeth Hospital.