Commentary: COVID-19 vaccine deaths a reminder that benefits of vaccination must outweigh risks of side effects
There is no vaccine or medication in the world without the risk of rare severe adverse events, so their use must always be guided by risk-benefit analyses, say infectious disease experts Ooi Eng Eong from Duke-NUS Medical School and Paul Ananth Tambyah from NUS Yong Loo Lin School of Medicine.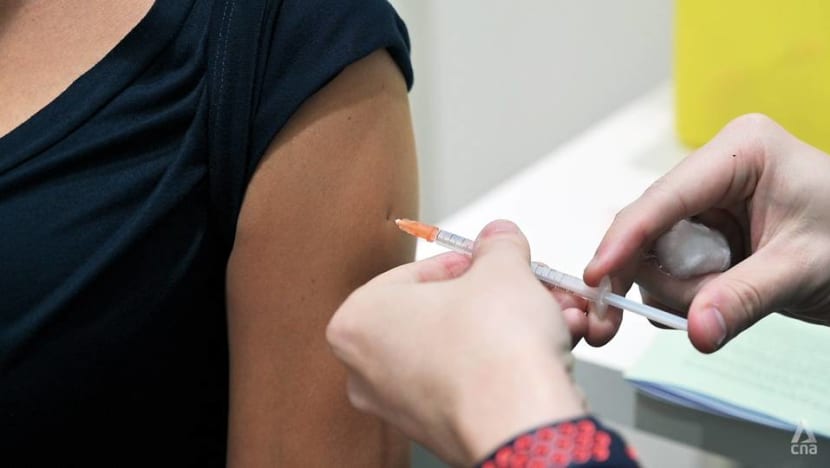 SINGAPORE: It was just three years ago that countries around the world, including Singapore, resorted to circuit breakers and lockdowns to attempt to stem the surge of COVID-19 cases and strains on healthcare systems.
COVID-19 vaccination has reduced the risk of severe disease and death, enabling most of us to return to normality. But Singapore has also documented two tragic vaccine-associated deaths.
In both cases, the state coroner found that the cause of death was myocarditis, or inflammation of the heart muscle, which on the balance of probabilities, was deemed likely related to the COVID-19 vaccination. A 43-year-old Filipino woman died four days after her Pfizer-BioNTech booster shot in December 2021, while a 28-year-old Bangladeshi man died three weeks after his first dose of the Moderna vaccine in June 2021.
To be sure, COVID-19 vaccination is not the only cause of myocarditis. Infection by SARS-CoV-2 (the virus causing COVID-19) and other viruses prevalent in Singapore that cause flu-like illnesses, such as enteroviruses and adenoviruses, can also cause myocarditis and are occasionally fatal.
There is unfortunately not a single vaccine or medicine in the world that has no association with rare severe adverse events. Their use must always be guided by proper risk-benefit analyses, to ensure the benefits of vaccination outweigh the risks of side effects, including rare severe adverse events.
LEARNING FROM SMALLPOX AND POLIOMYELITIS
History offers two examples with which to consider the risks and benefits of COVID-19 booster shots.
Smallpox was a dreaded acute viral disease in the 18th century. As many as 30 per cent of smallpox patients died, and of those who survive smallpox, about 80 per cent had to live with pitted scars on the face and bodies for the rest of their lives.
Edward Jenner's discovery that cowpox virus infection protected against subsequent smallpox virus infection began an era where people could be intentionally protected against specific infectious diseases.
However, smallpox vaccination was associated with smallpox-like disseminated skin lesions and deaths in 1.5 and 1 in a million vaccine recipients, respectively. This risk is comparatively small when viewed against the 30 per cent probability of dying from smallpox at a time when it was raging through Asia, Europe and the rest of the world.
With the eradication of smallpox, smallpox vaccination also ceased a few years later. Children born in Singapore from 1982 onwards were no longer required to be vaccinated against this disease. Where there is no disease, anywhere in the world, vaccination offers no benefit.
Another case in point is poliomyelitis, which can result in lifelong paralysis of affected people in about 1 in 100 infections.
The oral polio vaccine provides superior protection compared to the injected polio vaccine. It is also cheaper and easier to administer.
However, the oral polio vaccine is composed of weakened but still live polioviruses and can cause polio-like paralysis in 1 in 2.7 million vaccinations. When poliomyelitis was common, the benefit of preventing disease greatly outstripped the small risk of severe adverse events.
With poliomyelitis having been eliminated in most parts of the world, the risk of vaccine-associated paralysis became unacceptably high. Singapore, like many countries, has switched fully to the injected form, which is composed of killed polioviruses and has no risk of paralysis.
So when it comes to COVID-19, we should consider that the vast majority in Singapore have received three doses of COVID-19 vaccines and possibly had mild infection. The level of immunity in the bulk of our population against severe COVID-19 - and even possibly long COVID - is high.
Booster vaccination should thus be encouraged for those who remain at risk of severe COVID-19 despite vaccination, such as the elderly, those living with chronic diseases and those with weakened immune system from various medications such as for transplantation.
MAKING VACCINES EVEN SAFER
COVID-19 will, unfortunately but certainly, not be the last pandemic we experience.
In just the first 23 years of the 21st century, the world has witnessed nine major outbreaks that spread rapidly across national borders. For public health authorities, the next pandemic is not a question of "if" but "when".
The challenge for the scientific and medical research community is how to make better and safer vaccines in anticipation of the next emerging infectious disease.
For any vaccine to be licenced, including the COVID-19 vaccines developed in record time, it will have to be tested in pre-clinical animal models as well as tens of thousands of human volunteers for safety and efficacy.
Vaccines that produce side effects that are not well tolerated will fail clinical development and will not be marketed.
However, despite clinical trials involving tens of thousands of volunteers, rare side effects that occur in the region of 1 in 100,000 vaccinations or less will likely be missed for simple statistical reasons.
Requiring clinical trials to include hundreds of thousands of volunteers is not a viable solution. The cost of vaccine development would be so high that no one would be able to afford the vaccine when it eventually comes to market.
LONG RESEARCH JOURNEY TO RESILIENCE
The solution lies in understanding the cause of vaccine side effects, so that we can reduce them while maintaining the benefits of vaccination.
Importantly, our research found that vaccinated individuals who experience side effects do not develop better or higher levels of protection against COVID-19 than those who do not. Side effects do not indicate and are not required for good immunity, contrary to some popular views.
Our research also found that healthy volunteers with a more activated immune system at the point of vaccination are more likely to experience mild symptoms following COVID-19 mRNA vaccination. Over-activation of a specific gene and low-level chronic inflammation contributed to the development of cardiac complication after booster COVID-19 mRNA vaccination, according to our study that was recently published on Med, a Cell Press journal.
Some of these side effects need a combination of factors which may explain why they are so rare in the general population. Developing a detailed map of the molecular processes that lead to side effects and rare severe adverse events will lay the foundation for the development of safer vaccines, including potentially for the next emerging infectious disease.
This research is currently in progress and these first steps we have taken will hopefully contribute to our resilience in preventing and controlling future pandemics even more effectively.
Dr Ooi Eng Eong is a Professor with the Signature Research Programme in Emerging Infectious Diseases at Duke-NUS Medical School and Dr Paul Ananth Tambyah is a Professor with the Infectious Diseases Translational Research Programme at Yong Loo Lin School of Medicine, National University of Singapore.