Commentary: What can Southeast Asia do about all this COVID-19 waste?
Southeast Asia is bearing the brunt of the world's pandemic-generated waste in a looming environmental headache for the region, says an observer.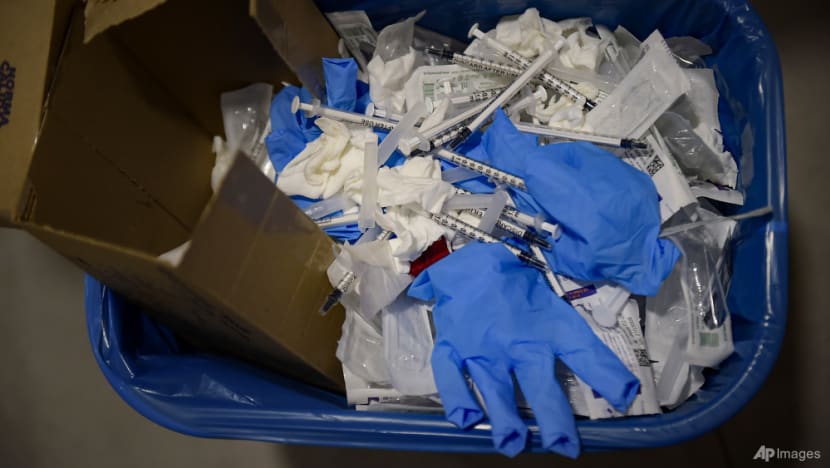 SYDNEY: For the last couple of years, virtually every news feed or broadcast has included images of mask-clad people or health workers suited up as protection from COVID-19. 
While the images might be ephemeral, those masks and personal protective equipment (PPE), along with used test kits and discarded vaccine syringes, are very real. 
They eventually have to be disposed of and that is causing a problem across Asia, contributing substantially to the cost that the COVID-19 crisis has already generated.
A recent report from the World Health Organization (WHO) indicates that 87,000 tonnes of PPE were delivered by the United Nations globally between March 2020 and November 2021. Concerns are that the vast majority of the mainly plastic-based outfits and protective supplies will end up as waste.
A 2020 report from Oceans Asia, referenced by the WHO in its summary, noted there were 1.5 billion dumped face masks in the world's seas and oceans during the early stages of the pandemic.
Add to this around 140 million used test kits, alone equating to 2,600 tonnes of mainly plastic waste, and the 144,000 tonnes of syringes, needles and packaging from 8 billion vaccine doses already administered, and the waste pile seems overwhelming.
WHO chief Tedros Adhanom Ghebreyesus said that the COVID-19 outbreak is effectively emphasising already existing problems around waste management, marine and waterway pollution and stockpiles of imported rubbish, noting the worldwide spread of COVID-19 is "connected with many other challenges that countries face".
WHERE DOES WASTE COME FROM AND WHERE DOES IT GO?
Since China unilaterally ceased importing all waste in 2017, the pressure on other countries in Asia has intensified as wealthier countries have continued to seek ways to globalise their domestic waste. 
Many healthcare systems in Asia are simply unequipped to handle the spike in COVID-related waste generated by their own outbreaks, let alone the influx from abroad. Most are becoming swamped by these incoming mountains of COVID-produced garbage.
A number of Asian countries have major commercial agreements to take waste from other countries and are now struggling to deal with it. This latest surge would have been a problem even in ordinary times. 
But, with long-running lockdowns in these countries over the last 18 months, workers have been unavailable and waste facilities have been shuttered for long periods. As a result, much of the waste ends up untreated and simply dumped, clogging waterways and damaging ecosystems.
The forced decrease in available workers due to COVID-19 was noted by the World Bank as one of three significant indirect factors exacerbating the waste problem.
In South Asia, the bank reported, the increase in to-the-door deliveries as opposed to in-store shopping has produced enormous amounts of excess packaging that needs to be discarded.
Further problems have arisen, the bank noted, via historically cheap oil prices, which have taken away the incentives for the recycling industry, marginalised cost benefits and led to more plastic being produced.
Even before the outbreak of COVID-19, a number of Asian countries such as Thailand, Vietnam and Malaysia were being warned that the influx of waste was threatening their environmental future.
Pre-pandemic, Thailand was so challenged by incoming rubbish that it was predicted the country "will eventually be the waste disposal hub of the world, leaving only hazardous ashes, sicknesses from pollution and a contaminated environment for Thai people". 
With COVID-19's impact, Thailand may have already achieved the dubious honour of being the waste import champion of the world.
Along with legal imports, plastic waste trafficking is rife and is likely to have increased across Southeast Asia as the effects of COVID-19 have rolled across the globe. 
IS RECYCLING A SOLUTION?
Recycling, touted as the answer to Asia's – and the world's – waste problems, presents a feeble light on a horizon already hazy with pollution and illegal rubbish burnoffs.
While there is potential in re-purposing waste products into both useable goods and energy, especially now oil prices have stabilised, the reality too often falls short. The World Bank reports that only around 25 per cent of plastic, for example, gets recycled across Southeast Asia.
Waste-to-energy plants in Thailand have been found to be burning hazardous waste, such as petrochemical based plastics, to fuel their energy production. This creates energy, but at a cost to the environment via pollution generated by the process.
The region's waterways, both inland and off-shore, are likely to be significantly hit by the wave of COVID-related rubbish. 
The World Bank says that South Asia produces around 300 million tonnes of solid waste annually, 70 to 80 per cent of which ends up in internal waterways or in oceans (this figure does not, therefore, include imported waste). Around 12 per cent of this total is plastic. 
This means around 27 million tonnes of largely non-biodegradable plastic is making its way into rivers and oceans every year in South Asia alone.
The increase in pandemic-generated waste, and the continued obsession for wealthy countries to export the problem, only adds to what is already a monumental dilemma. In dealing with COVID-19, governments must not only factor in the resources that go towards fighting the virus but extend them to help deal with the results.
JJ Rose has worked as a global media advisor for various social justice causes, including the Movement for Democratic Change (Zimbabwe) and Polisario (Western Sahara). This article first appeared in Lowy Institute's blog The Interpreter.
Infectious diseases and environmental disturbances: How climate change may propel outbreaks. Listen to CNA's The Climate Conversations: