Commentary: No easy path to recovery for Sri Lanka
Sri Lanka's new president Ranil Wickremesinghe inherits a bankrupt economy shaken by mass protests. Combined with global pressures on food and fuel prices, Sri Lanka's path to recovery is complicated, says foreign affairs commentator Hannan Hussain.
ISLAMABAD: On Wednesday (Jul 20), six-time prime minister of Sri Lanka Ranil Wickremesinghe was voted in as the country's new president until November 2024. His election arrived in the midst of a severe economic crisis and widespread public protests that prompted the resignation of disgraced Prime Minister Gotabaya Rajapaksa.
Wickremesinghe inherits a bankrupt economy but has promised to turn the country's fortunes around. Since commencing his sixth term as prime minister in May, he played a key role in facilitating the crisis-hit country's bailout negotiations with the International Monetary Fund (IMF).
But rapidly depleting Central Bank resources and public opposition to Wickremesinghe's presidency make it critical to manage domestic unrest ahead of any agreement. Protesters accused Wickremesinghe of striking deals with the Rajapaksa family to secure the parliamentary vote, and vowed to keep fighting against the corruption they associate with these political elites.
In the near term, Wickremesinghe must manage public discontent and restore some political stability to facilitate talks. In its absence, sky-high food prices and an acute fuel shortage will only deepen the national crisis.
GENERATING MOMENTUM FOR AN IMF BAILOUT
To move forward on a multibillion-dollar IMF bailout agreement, Wickremesinghe should consolidate his all-party government and leverage prior negotiation experience with the IMF to finalise a debt restructuring plan this August.
The plan should prioritise participation from key donors, including Japan, China and India, so that Sri Lanka can extract specific financial assurances from top creditors on debt sustainability.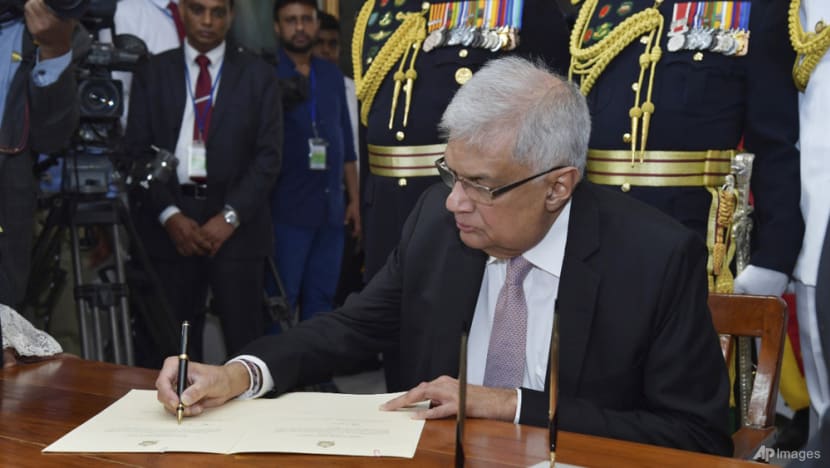 Such an approach is consistent with Wickremesinghe's June proposal to hold a "donor conference" for much-needed support. It will also send a clear signal to the IMF that Sri Lanka has secured some degree of cooperation from its creditors to support a bailout deal.
Delays in convening the donor conference could complicate efforts to manage the country's low foreign exchange reserves, preventing traders from importing food, fuel and other essential goods.
To Sri Lanka's credit, several of its donors stand ready to provide near-term relief assistance, and it is currently negotiating vital credit lines with India, Japan, China and Bangladesh. Wickremesinghe's office said on Jul 18 that "negotiations with the IMF were nearing conclusion, and discussions for assistance with foreign countries were also progressing".
That positive momentum should culminate in Sri Lanka's donor conference, with the aim of reaching a consensus on managing near-term debt liabilities and increasing the number of credit lines available to the country.
CALMING PUBLIC DISSENT THROUGH DIALOGUE
Besides obtaining financial assistance, the other immediate priority for Wickremesinghe should be calming public dissent.
Shortly after Wickremesinghe assumed the presidency, armed troops and police raided a key protest camp outside the presidential office in the capital. They attacked demonstrators and arrested nearly a dozen, hours before the protestors were due to vacate the area.
Such use of force not only intensifies opposition to Wickremesinghe's presidency and threatens continuity of rule in the country, but also raises questions about Wickremesinghe's commitment to the rule of law in the international community's eyes.
Wickremesinghe should thus order security forces to stop all crackdowns against civilians and instead initiate dialogue with leaders of protest groups. This enables Wickremesinghe to factor their concerns and interests directly into the administration's governance strategy and challenges the assumption that Wickremesinghe's government – comprising several Rajapaksa loyalists – is simply a continuation of the past.
Sustained rapport with the people is critical to advancing IMF bailout talks. Managing Director Kristalina Georgieva recently made clear that the IMF is willing to work with any Sri Lankan administration "as long as the next leader enjoys support and has the longevity to lead the country".
ECONOMIC CRISIS WON'T END ANYTIME SOON
Even if protests ceased and preparations for all-donor engagement are made, Sri Lanka's economic crisis won't end anytime soon. The war in Ukraine will continue to hike up commodity prices, and Sri Lanka's limited integration in the global supply chain adds additional constraints on short-term relief.
Some of Sri Lanka's closest donors remain vulnerable to rising oil prices, challenging the country's prospects of securing affordable fuel quickly. Sri Lanka's Central Bank governor already warned its liquid external resources are almost "nonexistent" and that all available foreign exchange resources were consumed by gas imports into the country.
These global pressures on food and fuel prices are beyond the new government's control, complicating Sri Lanka's path to recovery.
Wickremesinghe's best move now is to support negotiations with the IMF by locking in favourable assurance from its creditors. He should also pursue dialogue with protestors to put Sri Lanka back on track towards political stability.
Hannan Hussain is a foreign affairs commentator and recipient of the Fulbright Award at the University of Maryland.