Commentary: Thailand's newfound economic stardom comes with caveats
Investors are once again flocking to the Southeast Asian nation known for its beaches as much as for setting off the Asian currency crisis. But the resurgence may be fraught, says Daniel Moss for Bloomberg Opinion.
SINGAPORE: Once synonymous with the crisis that brought on an Asia-wide financial meltdown a generation ago, Thailand gets almost rave reviews now. This relative resilience of its economy may be tested by a pronounced downturn and a re-awakening of the country's deep political divisions.
Calamity appears to be the last thing on investors' minds when they think of Thailand these days. Goldman Sachs Group even likened the nation to a "safe haven". Among the kingdom's attributes are a resurgence in tourism, low foreign debt and a surplus in the broadest measure of trade. That's a halo historically associated with Switzerland, Japan or prized asset classes like United States Treasuries.
The baht, whose nosedive in 1997 wrote the opening chapter in an emerging market upheaval, was one of the most sought-after Asian currencies last quarter. Investors have been regarding Thai bonds with enthusiasm. In the lead-up to the pandemic, officials wondered whether the baht was too strong.
THAILAND'S JOURNEY TO RESPECTABILITY
Thailand could be making a bigger deal of this journey to respectability. Leaders elsewhere in Southeast Asia love to tell stories about lessons learned and how vulnerabilities then have become strengths: Currencies largely float freely, interest rates are set transparently with a degree of autonomy undreamt of in 1997, bank supervision has been beefed up, and foreign-exchange reserves bolstered.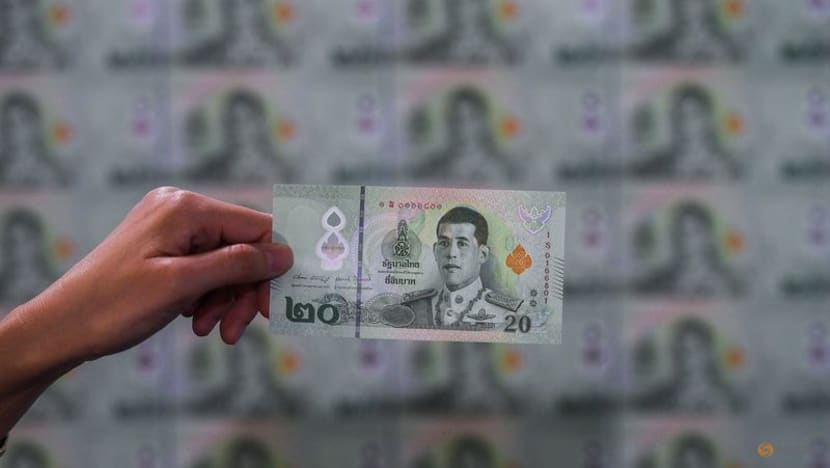 Indonesia often lauds the area's transformation. "We're in a good place," Philippines central bank Governor Felipe Medalla said last month. Thais seem reluctant to grab the microphone.
Policymakers in Bangkok stand out almost by their lack of visibility. This can be a virtue. There's no gripping issues to wrestle with. 
Gross domestic product is likely to recover from a surprise decline in the final three months of last year. The Bank of Thailand has steadily lifted its main rate in quarter-point nudges with a lack of flare and may be just about done. Yes, inflation climbed last year, but has returned to the bank's target of 1 per cent to 3 per cent.
Thailand's monetary response during the pandemic was conventional relative to Indonesia's, whose central bank directly financed government budgets, a step frowned upon in polite monetary society. Former Bank of England governor Mervyn King once said central bankers strive to be boring. By that yardstick, Thailand has succeeded. 
NO HAPPY ENDING GUARANTEED
This favourable story isn't guaranteed a happy ending. Much depends on tourism, especially from China, which reopened its borders late last year. Prior to COVID-19, its citizens made up about 28 per cent of Thailand's 40 million annual visitors. 
Tourism accounts for at least 12 per cent of GDP, but has flow-on effects that multiply the dependence significantly. About one-fifth of employment is tied to the sector and private consumption comprises about half the economy.
If the influx of beachgoers and temple fans falls short, government stimulus would need to ramp up.
While China's economic growth this year is almost certain to be a marked improvement on 2021, it's unlikely to be a boom. Beijing has been modest in forecasting expansion. Thailand is vulnerable to any disappointment.
Recession jitters have returned to the US in the wake of runs on several regional banks. The likelihood of a US recession is rising following weak indicators and constraints on credit, according to former Treasury Secretary Larry Summers.  
IMPACT OF UPCOMING THAI GENERAL ELECTIONS
Also lurking are the country's fractious politics. An election in May pits the ex-generals who have run the place for almost a decade against a member of the Shinawatra clan that has produced two prime ministers. Power has swung between democrats and the military for decades, punctuated by coups and street violence.
Even if the opposition wins the most votes, it may struggle to form a Cabinet. A constitution drafted after the last coup in 2014 allows the senate, a body stacked with people friendly toward the military establishment, to vote for prime minister alongside the lower house until 2024.
Sadly, standoffs with the military seem to be business as usual in Thailand. Civilian governments get ousted with regularity and yet the economy keeps ticking away.
The optimism around Thailand does have caveats, but remember how far the country - and region - have come. In the contemporary era, even a bad day would be good by historical standards.
In his book Stress Test: Reflections on Financial Crises, Tim Geithner, then a rising star at the US Treasury, described the search for a solution to the trauma rocking Thailand and much of Asia in unflattering terms: "We just focused on finding the best option among a mix of bad choices, debating and arguing and brainstorming at rolling meetings that never seemed to end. I dubbed them 'clusterf***s,' which became the standard Treasury lingo, to the point that Larry would announce we needed a CF on Thailand."
That's an acronym that would be alien today. Thailand has shortcomings, but they are reasonable problems to have. Bangkok should relish the moment, even strut a little. There's a good story to tell.