Commentary: UK must live with COVID-19, not pretend it no longer exists
If we want lasting freedom from COVID-19, we must accept the need to continue mitigating its risks, says the Financial Times' Anjana Ahuja.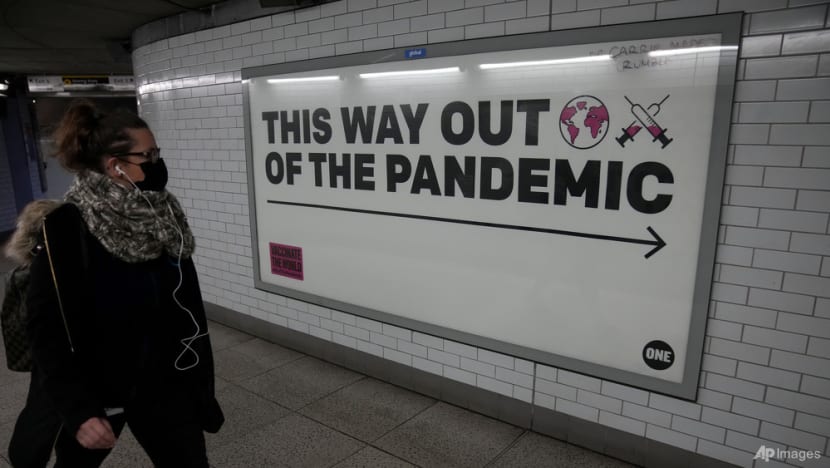 LONDON: COVID-19 is a capricious foe. Just as the United Kingdom government updated its "Living with COVID-19" strategy last month, case numbers began creeping up again.
According to the Office for National Statistics, just under 4.3 million people in the UK were infected in the week ending March 19, thanks to the more transmissible Omicron BA.2 sub-variant, waning boosters and the easing of restrictions.
No matter - from April, free universal testing for COVID-19 in the UK will end and many National Health Service (NHS) testing labs will close. 
The legal requirement to isolate if positive has been downgraded to guidance with related financial support scrapped. Masks have been largely discarded. Surveillance studies, including the Zoe Covid app, are being defunded or scaled back.
The government that recommended handwashing to the tune of "Happy Birthday" sung twice, marked the second birthday of the pandemic by washing its hands of responsibility to go on managing it, aside from pledging fourth jabs and antivirals.
There is a world of difference between learning to live with a virus that is still circulating and pretending it no longer exists. If we really want the former, we should avoid doing the latter.
WE LIVE WITH OTHER DANGERS BUT DON'T IGNORE THE RISKS
There are many other areas of life in which risk and uncertainty are managed as a partnership between the state and the individual, with personal responsibility exercised within a framework set by government. We do not disregard the dangers of the road or the workplace but instead work to mitigate them.
From getting behind the wheel right through to parking, my freedom to drive is circumscribed by the recognition of the rights and safety of others.
By law, I must possess a driving licence; my car must be taxed, insured and roadworthy. Seat belts, and child seats for young children, are mandatory. Speed limits, traffic lights and road signs further squeeze my freedom to cruise as I please, as do drink-driving laws, parking restrictions and a ban on mobile phone use. The worst driving offences carry the risk of a long prison sentence.
Drivers rarely rail against these measures as intolerable infringements on liberty. Rather, being able to drive at all is synonymous with freedom.
So, given those extensive restrictions, how deadly are the roads? An estimated 580 people were killed in UK road traffic accidents in the first six months of 2021 or about 22 people a week. By comparison, there were 820 deaths involving COVID-19 in the week ending March 11.
PREVENTING INFECTIONS STILL THE BETTER STRATEGY
The removal of all COVID-19 measures in England (Scotland has delayed) means infected individuals are now free to mix socially at work, in schools, public transport, shops and restaurants. The virus is spreading unchecked again.
There has been little thought, and even less empathy, spared for the clinically vulnerable, who have shielded for two years. They have been told they can continue to receive free tests (to enable early access to antivirals), but report struggling to get them.
Preventing infection in the first place, through public health measures such as masking in crowded settings, ventilation and testing is a better strategy for all of us, not just in the short term but to avoid "long COVID".
Dismantling our pandemic infrastructure is also a strategy for losing sight of new variants, wherever they may come from.
China, the sole bearer of the zero-COVID flag, is a country to watch, given that few citizens have immunity from natural infection and the country's homegrown vaccines are not quite as protective as others. Take-up among the elderly, lulled by the zero-COVID strategy into thinking vaccines are unnecessary, has been low compared with in Europe.
Omicron is now on the rise in a global population of 1.4 billion people. If the record mortality rates in Hong Kong are a harbinger of what is to come, it will become even harder to pretend the virus no longer exists.
Source: Financial Times/ch