Commentary: Heatwaves will only get worse from here
Temperatures hit 40 degrees Celsius for the first time across Europe, with widespread effects from wildfires to transport disruptions. This scorching heatwave is a sobering reminder of the consequences of climate inaction, says Adam Switzer of NTU's Earth Observatory Singapore.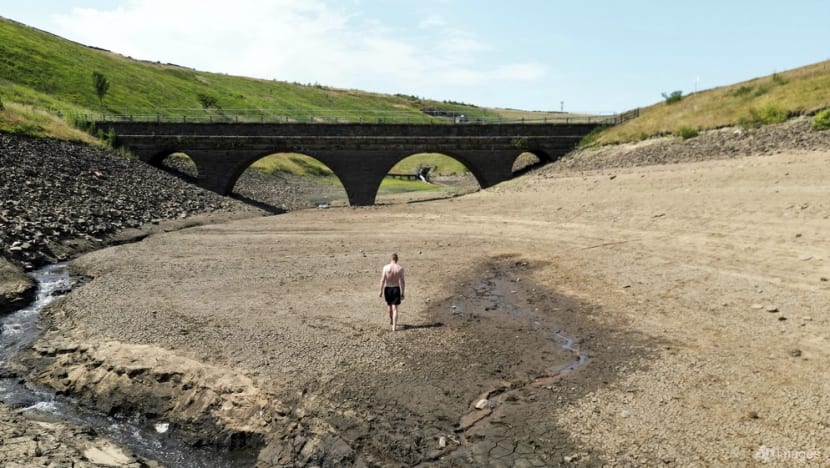 SINGAPORE: Scientists' warnings of intensifying heatwaves with climate change came true when temperatures hit 40 degrees Celsius for the first time in the United Kingdom on Jul 19.
For much of the world, 40 degrees Celsius is not considered abnormal. Cities such as Cairo, Dubai, Delhi and Perth regularly see temperatures rise past 40 degrees Celsius, but their infrastructure was built to withstand it while their inhabitants' bodies are acclimated.
The UK, known for its mild weather and rain, is just not prepared for extreme heat. People scrambled to buy fans and air-conditioner units, having never needed them prior.
The country descended into chaos with transport disruptions: Trains crawled out of fear that moving at regular speeds will buckle rail tracks, while planes could not take off when runways melted.
The London Fire Brigade was at its busiest since World War II with putting out grassland fires, and the London Ambulance Service, already stretched from the COVID-19 pandemic, saw a ten-fold increase in incidents related to heat exposure.
Besides the UK, much of southern Europe has suffered from the summer heatwave, with wildfires raging through France, Spain, Greece and Portugal.
Gironde in southwest France was particularly hard hit with around 32,000 people forced to evacuate their homes. In Spain, forest fires caused the suspension of rail services between Madrid and Galicia.
Europe's heatwave is a sobering reminder of the consequences of climate inaction. There is an urgent need not only to mitigate climate change but to adapt infrastructure to it. If not, worsening heatwaves will have stark implications for our ecosystems and our health.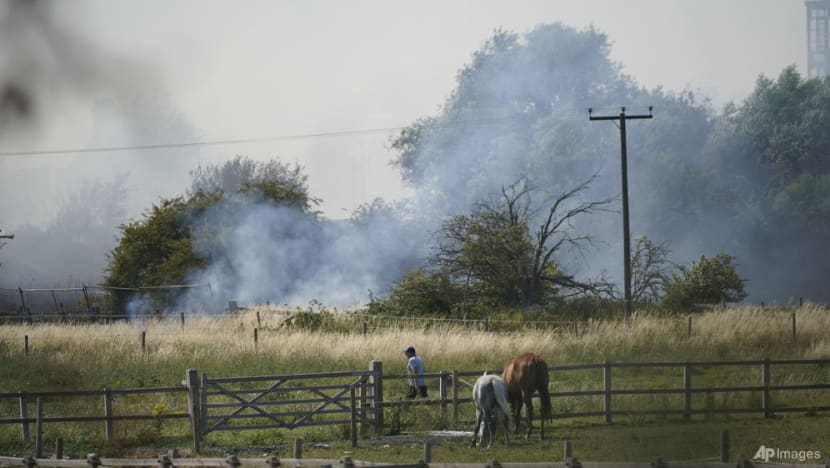 HEATWAVES WILL ONLY GET WORSE WITH CLIMATE CHANGE
Climate change will almost certainly make heatwaves hotter and more frequent for most of the planet. The United Nations' Intergovernmental Panel on Climate Change (IPCC) estimates that greenhouse gas emissions from human activities have heated the planet by about 1.2 degrees Celsius since pre-industrial times.
To examine how much climate change affected a specific heatwave, scientists conduct "attribution studies", which compare current climatic events to simulations of a climate without human-made greenhouse gas emissions.
A group called World Weather Attribution determined that the 2019 record-breaking heatwave in western Europe was 100 times more likely to occur now in France and the Netherlands than if humans had not changed the climate.
Europe is particularly vulnerable. A recent study published in Nature found that heatwaves in Europe have increased three to four times faster than in other northern mid-latitudes locations such as the United States or China.
The authors linked this to modifications of the jet stream, the fast moving west-to-east air current in the upper atmosphere of the northern hemisphere.
In some locations like the Mediterranean, climate change has contributed to the fire season starting earlier and burning more land. Extremely hot weather saps moisture from vegetation, turning it into dry fuel for fires to spread.
Heatwaves don't just affect life on land, but life in water too. Daily tracking data shows that the western Mediterranean is 3 to 5 degrees Celsius warmer than in recent decades, placing great stress on marine ecosystems. This could lead to falling fish stocks, which would threaten food security.
THE HUMAN COST OF HEATWAVES
Heatwaves pose a direct public health risk to us all. In cases of extreme heat, we risk getting dehydrated or, worse, heat stroke – where the sweating mechanism fails and the body is unable to cool down. This can be deadly: The 2003 heatwave in Europe is thought to have killed more than 72,000 people.
Besides Europe, Asia has been scourged with unprecedented heatwaves this year. India saw its hottest March since records began in 1901, while Pakistan saw its warmest April.
In late June, Tokyo saw its worst streak of hot weather in June since records began in 1875. Meanwhile China is nearing its warmest period of the year and much of the country will see all-time high temperatures of above 40 degrees Celsius.
Because air-conditioning places a tremendous load on national power grids, these countries have grappled with the need to conserve energy amid skyrocketing electricity prices and the need to keep people cool.
Some cities in China resorted to switching off street lamps and increasing peak period electricity tariffs for factories to manage surging energy demand.
WILL HEATWAVES MOBILISE CLIMATE ACTION?
Global temperatures will stop rising only if humans stop adding greenhouse gases to the atmosphere. In the 2015 Paris Agreement, countries worldwide pledged to limit global warming to 2 degrees Celsius and aim for 1.5 degrees Celsius by 2050, to avoid the most dangerous effects of climate change.
Unfortunately, current measures to slash emissions are not sufficient to meet either goal. The IPCC's Sixth Assessment Report suggests a heatwave that occurred once per decade in the pre-industrial era would likely happen 4.1 times a decade with 1.5 degrees Celsius of warming, and 5.6 times a decade with 2 degrees Celsius of warming.
On top of climate change, countries like Spain, Portugal and China face the challenge of shrinking populations in rural areas as people move to cities, leaving smaller workforces to work the land and prepare for forest fires and droughts.
The fact that these heatwaves are hitting more developed countries means the question of how the UK and other European countries climate-proof their infrastructure is now a pressing one.
They face the challenge of retrofitting or constructing new buildings, roads and rail networks so they can function through the year. But as UK Transport Secretary Grant Shapps said, upgrading infrastructure to be heatwave-resilient will take decades.
It remains to be seen whether Europe's heatwave will mobilise climate action globally or even regionally. The UK has tried to position itself as a global leader in climate action by setting a net zero target for 2050, but critics say policies to achieve it are lacking.
Protesters hit the streets of London and Glasgow on Jul 23 to demand the UK government tax big polluters, cease issuing new licenses for fossil fuel production, and help insulate households for winters – as heating is one of country's biggest sources of carbon emissions.
Some also express fears that the next Conservative leader after Boris Johnson might walk back net zero commitments to appeal to their base and keep costs of living in check.
This year's scorching heatwave also shines a spotlight on what more China, Japan and India will do, as the world's top emitters.
As climate change carries on unabated, the heat is on, literally and politically. It is imperative that countries slash greenhouse gas emissions and adapt to a warming world.
Adam Switzer is Associate Professor at the Asian School of the Environment and Principal Investigator at the Earth Observatory of Singapore, Nanyang Technological University.
LISTEN: How did humans deal with heat years ago and what lessons can we learn?