Commentary: Britons are afraid of turning on their heaters, even in the biting cold
A drastic increase in energy bills has caused many in the UK to think twice before switching on the heater this winter, says Jacky Leung.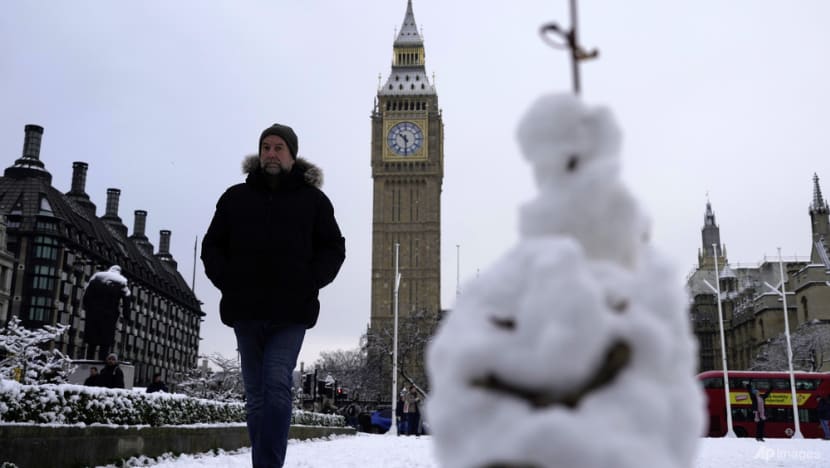 LONDON: After experiencing record summer heat in 2022, the United Kingdom is facing an unusually cold winter. The mean temperature last December was 1.8 degrees Celsius lower than the same month in previous years.
Snowing is uncommon in London, but it snowed for days before Christmas. The temperature was below 0 degrees Celsius for multiple days, and the cold weather continued into January.
The heater is always a relief for Londoners, especially those living in old houses with single-glazed windows and poor insulation. But the drastic increase in energy bills has caused many to think twice before switching on the heater this winter.
The energy crisis is a perfect storm of the surging demand of a post-COVID economic rebound, met with shortages wrought by the Russian invasion of Ukraine. According to the Office for National Statistics, the UK's electricity and gas prices rose by 65.4 per cent and 128.9 per cent respectively in 2022.
COPING WITH SOARING UTILITY BILLS
With soaring utility bills, everyone in the country is finding ways to cut energy consumption and save money. The UK government launched an £18 million (US$22 million) advertising campaign to inform the public of cost-saving measures that would only take 30 seconds, such as switching off lights, drawing curtains at night and turning down washing machine temperatures.
After many discussions with my flatmate, we agreed to switch off the apartment's radiators and use smaller, portable heaters as needed. I also bought an electric blanket so that I don't have to use a heater at night.
We now turn off not only all unused electronic devices, but power sockets too. Overnight charging is also avoided.
Besides energy usage, many Britons have become more conscious of energy efficiency. One of my friends checked her bills and realised her old refrigerator was costing her up to £30 per month. She opted to buy an energy-efficient model at a sale.
British homes are notorious for being poorly insulated, meaning that a lot of energy is wasted anyway in heating buildings that leak warmth. Local councils have received more household enquiries about obtaining permission to install double-glazed windows and solar panels, improve wall insulation and replace gas boilers with heat pumps.
Such infrastructural changes can help families reduce reliance on gas from big companies and save costs in the long run.
COSTS OF LIVING STILL A FLASHPOINT
However, the sad fact is that no matter how hard we try, we are still paying more for energy when compared with before. Although analysts forecast that the recent gas price tumble may cool electricity prices, they still suggest that many households must pay more than £2,000 per year in energy bills.
The unbearable energy cost blows out the economic momentum and drags the country into recession. The IMF suggests that rising energy costs worst hit UK households among Western European countries in which the household spending power is cut by 8.27 per cent. Instead of having sustainable post-COVID growth, OECD projects the UK's GDP will sink by 0.4 per cent this year, just better than Russia among G20 economies.
Many businesses feel the pressure and are forced to increase their prices, pushing the inflation rate to above 10 per cent. Costs of living are now a national flashpoint, especially for less privileged families struggling to make ends meet even with government grants.
This is a key reason behind the recent wave of strikes in the UK. In January, a nationwide rail strike ground the country to a halt for five days. Other notable strikes include those from NHS nurses, ambulances workers, teachers, bus drivers and driving examiners. Civil servants, university staff, social workers, legal advisers, court associates and British museum workers will join the long list.
Strikes - and all the disruptions they cause to daily life - are generally unpopular with the public. However, a recent poll suggests that the unions now receive more public support than in 2021.
The government and businesses are now under pressure to provide bigger payrolls. But doing so may lead to a vicious cycle of further inflation. 
The UK cost-of-living problem highlights the importance of long-term policy planning. The slow progress in improving housing insulation exacerbates the crisis.
But the UK government is preoccupied with other political and leadership crises. Whether they have the energy and time to do any proper policy planning is the big question.
Jacky Leung is an award-winning journalist who has worked in multiple Hong Kong TV and radio news stations. He is currently based in London.