CNA Explains: How the Russia-Ukraine war drove up LNG prices and what this means for Singapore
As the war in Ukraine drags on, LNG prices will remain elevated, say analysts. How will Singapore be affected and are there viable energy alternatives?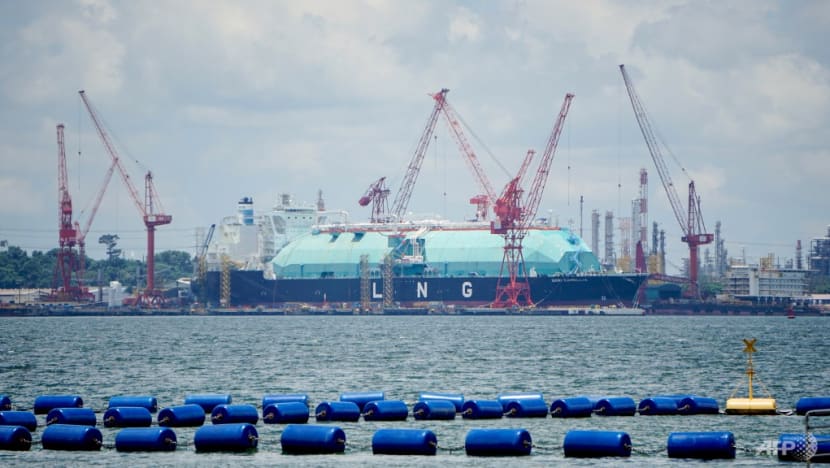 SINGAPORE: Global energy markets have been impacted by Russian President Vladimir Putin's announcement of a military mobilisation, sending prices higher and threatening to tighten fuel supplies even further.
The war in Ukraine has already made goods and commodities more expensive around the world, with everything from fuel to food and even paper affected.
And as winter approaches with Russian gas supplies restricted for "unfriendly" countries, a scramble is under way in Europe to secure more liquefied natural gas (LNG).
The impact of this increased demand is evident in the price of LNG exports from the United States, which has increased by close to 70 per cent since the start of the year, according to the US Energy Information Administration.
What are the knock-on effects on Singapore and other countries in the region? CNA spoke to energy analysts to find out.
What is LNG and why is it growing in importance?
LNG is natural gas that is stored and transported in liquid form at atmospheric pressure and at a temperature of -162 degrees Celsius, according to Singapore's Energy Market Authority (EMA).
Liquefying natural gas reduces its volume by 600 times, making it easier to store and transport. LNG is transported in purpose-built tanks by double-hulled ships and must be re-gasified for use once it reaches its destination.
This is in contrast to natural gas delivered by pipes, which Europe has been heavily reliant on.
"Europe has been quite reliant on Russian pipe gas up to (the first half) of this year," said Mr Alex Siow, lead Asia gas analyst at Independent Commodity Intelligence Services (ICIS).
"When this source of gas was halted – or severely reduced – Europe had no choice but to rely on LNG to replace Russia's pipe gas."
Domestic production and pipe imports from other countries such as Norway, Algeria and Azerbaijan could not be increased to levels that would make up for the lost Russian gas, he added.
Why are prices rising?
This new-found need for LNG has sent prices on an upward trajectory.
"LNG demand has grown exponentially in light of the decrease and ultimate shutdown of Russian supplies to Europe, as it was a main source of energy historically," said Trident LNG's global head of trading and advisory Toby Copson.
"As such, with Europe's demand increasing, this has taken spot availability away from Asian participants, who have ramped up procurement."
He added: "Prices have consistently gone up, in line with a supply shortage and tight market; with Europe bidding against Asia, prices have and will remain at very elevated levels."
Mr Siow explained how Europe came to rely on spot LNG.
"The way the LNG supply works is that you have to contract it quite early as the financing of LNG projects is backed by long-term buyers. Thus, Europe has to turn to spot LNG – that is, leftover LNG cargoes that are uncommitted to any buyers," he said.
"And because these spot LNG cargoes are very limited, Europe's demand quickly ended up (placing it) in a price war with all other countries that have been using spot LNG all along. Spot LNG prices quadrupled in a matter of months."
Europe's demand for spot LNG shows no sign of abating, Mr Siow added.
"We see no sign that Europe is slowing down in trying to buy up as much spot LNG as possible, though its gas storage level is decent," he said.
"LNG is used (as) a heating fuel in northern hemisphere countries, so there is always a seasonal spike as we go closer into (the) year-end. North Asia and Europe are the nations that will need it most during winter months.
"The spot prices are generally climbing higher as we go into winter months, but it is also pretty volatile depending on certain events, for example, Russia further reducing the flowrate of existing pipes."
The effect of Europe's demand for LNG is already visible in Asia, said Wood Mackenzie principal analyst Asti Nuraini Asra.
"Europe's LNG demand has surged as the region seeks to replace lower Russian piped gas. This means it now competes with Asia for (the) global LNG supply, and (is) therefore driving up prices as more LNG is being pulled into Europe," she said.
"As a result, Asian LNG demand has already fallen by 7 per cent year-on-year."
Ms Asti noted that gas has become a major issue for governments ahead of the winter months.
"Energy security is (at) the top of governments' agendas as gas is a crucial fuel to meet heating and power demand," she said.
How will Singapore be affected?
According to EMA, Singapore currently relies on natural gas to generate 95 per cent of its electricity.
Traditionally, most of Singapore's natural gas supply has been piped in from Indonesia and Malaysia. However, LNG began to play a bigger role in power generation from 2013 when Singapore's LNG terminal began operations.
The cost of LNG can therefore affect the cost of electricity here.
"Naturally, energy pricing trickles down. As such, nations will have to contend with rising prices to support the cost of generation fuels," said Mr Copson.
However, electricity prices in Singapore should be somewhat protected from volatility in LNG prices because of the nature of the country's contracts for gas, said Mr Siow.
"Generally, Singapore gas demand is fulfilled through long-term contracts, whether it's pipe gas or LNG," he said.
"If we compare this to Europe, I would say Singapore electricity prices should be fairly insulated from the volatile spikes in spot LNG price."
Different power producers might have different LNG or gas purchasing strategies, however, which might open them up to more spot exposure.
"Spot LNG exposure is very expensive at the moment," Mr Siow noted.
"Even if the power producer is not exposed to spot LNG, there is a general rise in contracted LNG (and) gas prices due to the overall rising commodity prices, For example, Brent oil has risen above US$100 (per barrel) this year," he added.
"This would translate to higher gas (and) LNG prices as well, as long-term contract prices (are) usually oil-linked. When gas prices (are) higher, Singapore's electricity price will go up as it is almost entirely generated by gas (and) LNG."
Ms Asti shared the same view and highlighted other circumstances under which turning to the spot market may be required.
"The majority of (the) gas supply to Singapore is under long-term contract, either through pipeline imports or LNG. This should help shelter the Singapore market from high spot LNG prices," she said.
"However, there may be a need to purchase the higher-priced spot LNG if gas demand increases beyond contracted supply or if there are disruptions in pipeline supply from either Indonesia or Malaysia. We saw this happen previously in Q4 2021."
Beyond electricity prices, the industrial sector will also be hit by rising LNG prices, as will any company that uses gas or LNG, Mr Siow said.
"Petchems as well, though its percentage in Singapore's gas sectoral consumption is pretty low," he added.
Affected companies may try to pass the additional costs to their end users, which will add to inflationary pressure, Ms Asti said.
She added that, going forward, Singapore will have to manage its exposure to prices as LNG demand increases. 
"Commodity price shocks have happened in the past, but Singapore's LNG demand ... only started in 2013 with its first LNG imports," she said.
"By 2030, we expect 90 per cent of Singapore's gas demand will be met by LNG, so it will need to manage that growing exposure to LNG prices."
What alternatives to LNG does Singapore have?
One way for Singapore to make up for any shortfall in its LNG supply is to seek more piped gas from its neighbours, Ms Asti said.
"Apart from LNG, Singapore also imports gas via pipelines from Indonesia and Malaysia. It could seek to boost volumes from these suppliers, but it will require negotiations with the upstream operators and likely the governments too," she said.
Singapore's reliance on natural gas is something that has only emerged over the past two decades.
According to EMA, natural gas only accounted for 26 per cent of Singapore's electricity production in 2001, with oil being the preferred fuel at the time.
One option then is to turn back the clock.
"Dirtier and less costly fossil fuels such as coal, petcoke, fuel oil and crude" could be options for Singapore should its LNG supply be affected by demand elsewhere, said Mr Copson.
"There are other sources of power generation and it's something the government shall have to make a decision on," he said.
Mr Siow also pointed out the possibility of returning to previous fuel sources while highlighting green alternatives.
"This is a big topic being discussed by all leaders, everywhere. The answer can lie in nuclear, renewables, (going) back to oil (or) coal, geothermal, hydrogen," he said.
"(It) can be anything, but I think diversification is important so that we don't get caught up in any single commodity (or) fuel."
He expressed his doubt, however, that solar power could be generated at a scale to replace gas.
One other promising renewable is hydropower.
"Singapore has already started importing hydropower from Laos of up to 100 MW," said Ms Asti, who added that the country is also looking to import renewable power from neighbouring markets such as Indonesia and Australia in order to diversify its generation mix and meet its net-zero targets.
"Several memorandums of understanding have been signed involving companies and governments too to help facilitate and support these large power development plans."
Is there any end in sight?
While Ukraine has been retaking territory in recent weeks, Putin's announcement of a military mobilisation would indicate that the conflict won't be resolved anytime soon.
And with the West remaining at odds with Russia over the war, LNG prices will remain elevated.
"I cannot see how prices can stabilise if Russia continues to weaponise gas against Europe. Europe is scrambling to find a total replacement for Russian pipe gas, but it's proving to be a daunting task," said Mr Siow.
"This winter will be okay because the total gas storage level in Europe had (reached) a decent level even before Russia started to severely constrain its export flow. But what about the coming summer? Where can Europe find alternative gas to fill up its gas storage?
"Spot LNG prices, in my opinion, will continue to be volatile in the foreseeable few years."
Mr Copson said that the stabilisation of LNG prices would be "wholly dependent upon market dynamics", and that demand in North Asia would be a key factor in pricing.
"Should North Asia feel they are not sufficiently well stocked, they will continue to buy – a major deciding factor will be China's decision to return to the spot market and how aggressively they will compete," he said.
"Regardless, (the war is) going to drive prices up as all the major buyers and countries compete for energy security."
Ms Asti also expects the current situation to be the status quo in the near future, although she highlighted some upcoming projects that may boost the global supply of LNG.
"The market will remain tight until mid-decade assuming Russian pipeline flows to Europe remain curtailed," she said.
"The market will rebalance and prices soften once new supplies start entering into the market. Qatar's North Field Expansion volumes will be a huge part of that wave of new supply, but equally important will be all the new projects on the US Gulf Coast.
"Globally, so far this year, 28 mmtpa (million metric tonnes per annum) of new LNG capacity has been sanctioned, with at least another 100 mmtpa expected to take FID (final investment decision) by the end of 2024."