Commentary: Dam breach gives Russia a new weapon in Ukraine war
The humanitarian disaster of catastrophic flooding will draw attention away from the unfolding counter-offensive, says Ben Hall for the Financial Times.
LONDON: After weeks of Ukrainian drone strikes on Russian territory and cross-border raids - a prelude to the long-awaited counter-offensive now gathering pace - it is Russia's turn to distract and destabilise its enemy. 
The destruction of the Kakhovka dam over the Dnipro river is far more than a psychological game. It will have long-lasting humanitarian and environmental consequences and military implications.
Russia, which controls the area, has denied responsibility and blamed Ukrainian "sabotage" for the dam's breach. These claims are implausible. Kyiv had nothing to gain from a catastrophic flood. 
TIMING SEEMS TOO FORTUITOUS
It is possible that the structure, damaged in previous strikes, could have given way. Russian occupying authorities had allowed the water in the reservoir behind to rise to unusually high levels, which would make it a case of criminal neglect.
But the timing of an accident seems too fortuitous for the Kremlin, coming the day after Ukrainian forces stepped up their attacks in multiple targets along the frontline further to the east. 
This looks like the start of the counter-offensive proper, even if Kyiv declines to call it that. And Moscow has previously shown its intent to use flooding as a weapon.
Russian forces had rigged explosives to the dam last autumn after Ukraine's army liberated the right bank of the river. They have attacked other hydroelectric plants in their attempt to destroy Ukraine's critical infrastructure. 
And last September, they fired eight cruise missiles at a dam over the nearby Inhulets river, unleashing a torrent and hampering the advance of Ukrainian troops in the area.
Ukrainian officials accused Russian forces who control the area of mining the dam's generating hall and blowing it up. Security chief Oleksiy Danilov claimed to have "confirmed information" about the Russian unit responsible.
Kyiv said that the Kakhovka dam may have been destroyed to stop its troops from using islands on the river liberated on Monday as bridgeheads for an amphibious assault into occupied Kherson province. That was never likely to be the route for a large-scale Ukrainian counter-offensive. 
But it could narrow Kyiv's options for smaller attacks in the south of the country in support of a larger thrust elsewhere. It could also allow Russia to redeploy troops to other more vulnerable parts of its defensive line.
HUMANITARIAN DISASTER
In the meantime, Ukraine's authorities have a humanitarian disaster to contend with, which will inevitably divert government attention away from its critical summer counter-offensive.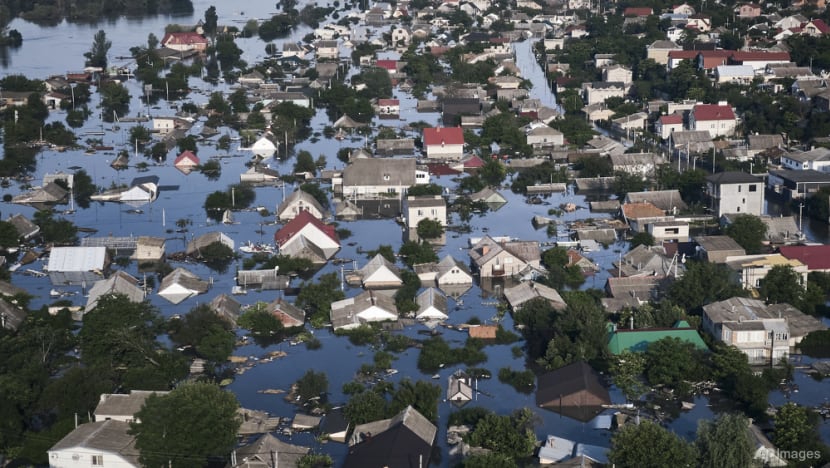 Theoretically, emptying the reservoir upstream of the dam threatens the water supply to the Zaporizhzhia nuclear power plant. 
But since its six reactors have been shut down and need less cooling water, the facility's pond should be ample. Still, some kind of nuclear incident at Zaporizhzhia as a weapon of war now seems less implausible than it once did.
The bursting of the dam fits with Moscow's razed-earth strategy of destroying Ukraine's vital infrastructure, degrading its economy and exhausting then displacing local populations. 
The facility channels water for irrigation to otherwise arid farmland in south central Ukraine, a major grain producing area. It also provides drinking water for large cities including Krivyi Rih as well as to Russian-occupied Crimea via a canal.
Moscow will have to grapple with alternative sources of supply to the peninsula. But for the moment, the Kremlin seems more preoccupied with thwarting Ukraine's military advances wherever and however it can. 
The destruction of the Kakhovka dam sends a message that Moscow is still capable of escalating its war. The question is how far is it prepared to go. It wants Ukraine and its Western allies to believe it has multiple options left.
Source: Financial Times/fl