Commentary: Lockdowns are over. WFH isn't. Why?
It's hard to believe we will return to 95 per cent attendance at the workplace in my lifetime, says Tim Harford for the Financial Times.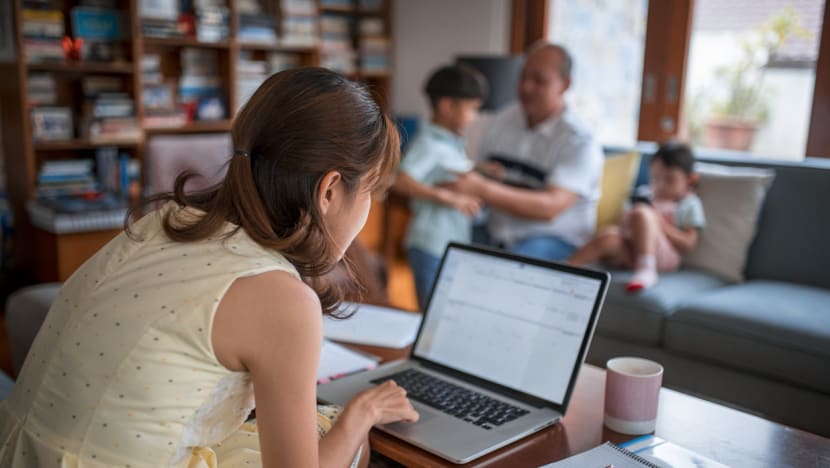 LONDON: Each February, the team at NPR's fabulous Planet Money podcast announce their Valentines, nerdy love letters to under-appreciated data releases or obscure supply-chain trackers. This year, co-host Amanda Aronczyk revealed that her Valentine would be for ... the office. She loved the camaraderie of office life.
As love letters go, it was bittersweet. At the beginning of the day, Aronczyk was "walking down the street like a boss with my box of a dozen Valentine-themed doughnuts" looking forward to the cheers from her colleagues at Planet Money's small office in midtown Manhattan.
But most of the team had scattered across the country, and all her meetings that day were on Zoom. At the day's end, she sounded deflated as she stashed six uneaten doughnuts in the freezer before heading home.
LONG SOCIAL DISTANCING
Nearly three years after Italy introduced the first nationwide lockdown of the pandemic, much of the world remains in the grip of what economists Jose Maria Barrero, Nicholas Bloom and Steven Davis have called "Long Social Distancing". Although the acute phase of the pandemic has passed in the Western world, working patterns have not returned to normal.
LISTEN: What if your team doesn't want to work in the office?
Barrero and co-researchers have been running a survey of working-age Americans since May 2020, targeting those with a history of paid work. They find that before the pandemic, less than 5 per cent of working days were spent working from home - the result of a long slow climb from less than 0.5 per cent in the 1960s through 1 per cent in the early 1990s.
In the first wave of the pandemic, that figure jumped to more than 60 per cent before quickly ebbing. But what is striking is that the number has plateaued at levels that would have seemed unimaginable before the pandemic.
In January 2021, more than 35 per cent of paid working days were from home. By January 2022 - after a spectacular vaccine roll out and the infection of a large proportion of the United States population - 33 per cent of days were still worked from home. That number stayed around 30 per cent throughout last year before dipping to 27 per cent in the survey for January.
Maybe that recent dip is statistical noise; maybe it reflects new habits and policies for a new year. Either way, even 27 per cent is a radical shift from the 5 per cent of 2019. And working from home is particularly prevalent in the largest US cities - which may explain Amanda Aronczyk's inability to give away a dozen doughnuts in midtown Manhattan.
Data from the United Kingdom's Office for National Statistics, while not directly comparable, suggests a similar picture: between 30 and 40 per cent of workers say they've worked from home "in the past seven days", and there is little sign of that number falling. It is hard to believe that we will return to 95 per cent attendance at the workplace in my lifetime.
Why is that, and what might the implications be? Some people still fear infection, but for most, the change reflects a lasting shift in how we view remote and hybrid working. That shift has several elements behind it.
WFH WORKS BETTER THAN EVERYONE EXPECTED
The first is that we've learnt that working from home works better than we had expected. In a now-famous 2015 study, Bloom and colleagues had found that workers at a Chinese travel agency were substantially more productive after being randomly assigned to work remotely.
At the time, few people seemed to believe that this conclusion would carry over to most office work. They were wrong. Having been forced by the pandemic to give remote working a try, many people have discovered it works perfectly well.
The second element is investment: We've stumped up for new webcams and comfortable office chairs at home, and replaced patchy WiFi with wired broadband connections. We've also taught ourselves to use Zoom and Teams, Dropbox and Google Docs. Attending a video conference or giving a virtual presentation once seemed a Herculean task with inadequate equipment. Now it feels barely more complex than writing an email.
And the third pillar supporting this permanent shift is that it's a shift we've made together. That changes the social dynamic, by destigmatising those who choose to work some or all of their days from home. It reduces the benefits of commuting: Why would Aronczyk even bother going to a Manhattan office if everyone else is dialling in from Brooklyn, upstate New York or even Mexico?
As someone who rarely used to visit the FT offices even before the pandemic, the fact that others have shifted has noticeable effects on me. I can easily drop into London seminars, office training sessions or even an exercise class from my study in Oxford. These events would rarely be streamed in the past. It would have seemed strange to do so. Now it seems strange not to.
Some implications of all this have been well-explored: The property market will have to adjust, perhaps with more apartments and less office space in previously prime locations; restaurants, shops and gyms in smaller towns are likely to enjoy the benefits of providing to residents working remotely in distant cities; managers will have to figure out how to manage at a distance, and how to navigate the complexities of hybrid working arrangements.
Yet there is another lesson to be learnt - a lesson about our own inertia.
Most of the people working from home are no longer doing so out of caution or social responsibility. They're doing it because they like it. They could have been working from home back in 2019, but most of them weren't. It raises the question: What other personal and cultural habits have we acquired that we should be rethinking? It shouldn't take a global pandemic for us to find better ways to live our lives.
Source: Financial Times/aj