IN FOCUS: 4-day week in Singapore – some workers want it, but are businesses ready?
Some employees are understandably excited at talk of a four-day work week - but will it ever materialise, and at what cost?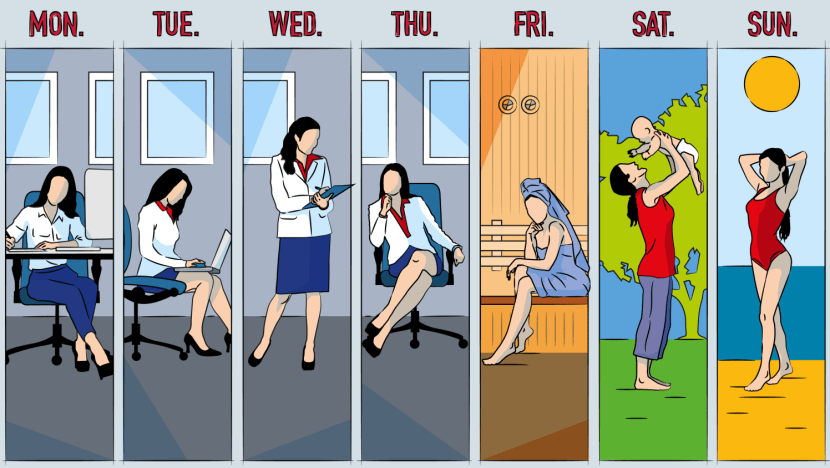 SINGAPORE: Working long hours in the finance industry, Ms Jas Chua fell sick periodically due to the constant stress she was under.
She pushed herself for up to 12 hours, five days a week, and would check her emails even on weekends as "work never finishes". This led to burnout every so often, and she would then take weeks to recover.
"When you reach that burnt-out stage, it's very hard to recover … You're really far from your usual 100 per cent," she said.
She would work at "70 to 75 per cent" for weeks before getting back to speed, then the cycle repeated itself.
The 31-year-old quit her bank job last year, after co-founding an e-commerce company, and she started giving her employees a four-day work week from July this year.
Lazywaist Co, which sells shapewear, hires seven employees and they usually have Wednesdays off on top of Saturday and Sunday. This does not apply on weeks with public holidays, and the start-up offers only 10 days of annual leave, she clarified.
Even so, the four-day week has made staff more motivated and helped her attract more job seekers, Ms Chua said.
"We've become a very output-driven company, instead of focusing on the process of sitting there, nine to six," she said.
"I feel that the quality of work actually improved … the staff are more willing to go the extra mile to finish up the work that they have."
She's also noticed that she now has twice the usual number of applicants for job openings, and there is a bigger pool of higher calibre candidates who apply because of the flexible work arrangement.
"I definitely had trouble hiring as a small start-up at first, this has made it easier," said Ms Chua.
IDEA IN THE SPOTLIGHT
In Singapore, a parliamentary question on Sep 13 about the four-day week was widely shared and discussed. Minister of State for Manpower Gan Siow Huang had said that employers and workers should adopt a "flexible mindset" on a four-day work week.
"A four-day work week is one of many types of flexible work arrangements, and the ministry, together with our tripartite partners, strongly encourages employers and employees to be open to flexible work arrangements in all its various forms to identify and adopt those that best suit their unique business needs and their workers' needs," Ms Gan had said.
She said that the Ministry of Manpower (MOM) was not aware of any ongoing studies in Singapore, and added that reports of four-day work week pilots implemented in other countries appeared mixed.
Ms Gan also said that stakeholders have concerns about how such a move would impact business costs, productivity and employee well-being. She added that a four-day work week may work well for some employers and employees but not others.
Meanwhile, the conversation on this has picked up around the world. Last month, the BBC reported that many British firms taking part in a four-day working week trial have said that they are likely to make the scheme permanent after a six-month pilot ends.
Of the 73 companies in the trial, 41 firms responded to a survey midway through the scheme. Around 86 per cent of them said they are likely to keep the four-day week after the trial ends.
Such trials, initiated by non-profit organisation 4 Day Week Global, are currently running in several territories including the UK, North America, Ireland, Australia and New Zealand.
Ms Charlotte Lockhart, founder and managing director of 4 Day Week Global, told CNA that they are continuing to start programmes in other countries, such as South Africa and Brazil, and are turning their attention to Asia.
They're looking to start a coalition of interested parties in Singapore to advocate for the four-day week here, and have set their sights on South Korea next.
81% WANT 4-DAY WEEK
Workers in Singapore seem keen to transit to a shorter work week.
In a survey of 1,000 workers here, 81 per cent said that they want a four-day work week, and 37 per cent said they want it "very much". 
The majority (78 per cent) of those who want the four-day week see having greater work-life balance as a key benefit. 
A significant proportion (47 per cent) felt that the policy was "less likely to cause burnout". More than a third of the respondents (35 per cent) said that they had experienced burnout at work in the last 12 months, in the survey conducted by Milieu Insight from Sep 20 to 22.
Respondents also thought it would result in "lower operational costs for work offices" (43 per cent) and would increase productivity (42 per cent).
But they also had concerns, the topmost being that they'd still have to reply to urgent work emails or requests on their days off (65 per cent). 
Many (59 per cent) were also worried about possible salary cuts and longer work days (56 per cent), should the work week be shorter. Among those surveyed, 80 per cent did not think that a four-day work week warrants a wage cut. 
But despite the popularity among workers, more than half of the respondents (55 per cent) thought that their companies were not ready to make the switch.
FEW COMPANIES OFFER 4-DAY WEEK
Currently, there are few companies in Singapore that offer this approach. Based on data from JobStreet, less than 1 per cent of the jobs on the hiring platform offer four-day work weeks.
Ms Chew Siew Mee, managing director of JobStreet by SEEK, observed that jobs with four-day weeks are mostly entry-level roles, primarily in the sales and service sectors.
A sampling of online job ads offering four-day weeks include positions for retail assistants, hotel housekeepers, baggage handlers and F&B service or kitchen crew.
Employers are using the four-day work week arrangement to attract candidates to roles that require shift work, Ms Chew said. But she saw "no obvious downside" in salary offered for jobs with a four-day work week compared with those lasting a day longer.
"This mode of working in Singapore is a relatively new working arrangement and we can expect that it will take some time before it is adopted more widely," she said.
While few and far between, there is one company with a presence in Singapore that offers a four-day week option.
PropertyGuru gives employees the option of "compressed work weeks", where they can fit their full week of 40 working hours into four days a week or nine days a fortnight, with no change in pay.
"The challenges posed by the pandemic gave us an opportunity to relook at our ways of working – and ensure that PropertyGuru adopts dynamically to a new way of working," said Ms Genevieve Godwin, the group's chief people officer. 
Besides a compressed week and hybrid work arrangements, the company also offers workers part-time work and other schemes as part of their "Future of Work" programme. 
These new work arrangements have been rolled out in Singapore and Malaysia and will be implemented in other markets to all 1,600 employees in time, she said.
"NO ONE WANTS TO BE THE FIRST MOVER"
HR consultants told CNA that not many firms are making the first move on this.
Ms Agnes Yee, head of interim solutions at Kerry Consulting, said that the change will happen at a "snail's pace", citing how the civil service in Singapore only switched to a five-day work week in 2004.
Before, many employers in Singapore worked a five-and-a-half-day week, or had workers come in on alternate Saturdays. Even now, a six-day or five-and-a-half-day week is the norm for some industries.
Although the pandemic has accelerated changes in working culture, she thinks that Asian-headquartered companies are still "struggling" with a hybrid work model, with even less bandwidth to think about a four-day work week.
"I think it will happen, partially, it will happen at a snail's pace," she said. "We are waiting for someone to do it first, we are always a bit cautious if we are the first movers."
Ms Candy Choong, vice-president at Levin Group, the parent group of tech recruiter Storm2, said that companies in the technology sector are not moving in that direction either.
It is likely because most of the tech companies are scaling up and are a lot more cautious with financial resources, she said.
"It is very much a 'wait-and-watch" approach … there hasn't been economic proof that it will help to drive productivity and revenue. There is no clear first-mover advantage for companies to jump on the bandwagon," said Ms Choong.
However, more companies are adopting a hybrid work arrangement and some tech companies, especially the smaller ones, allow their employees to take "workcations".
Workers too ask for such arrangements, with eight out of 10 asking if the prospective employer allows them to work from home.
OTHER FLEXIBLE ARRANGEMENTS
JobStreet's Ms Chew said that besides a four-day week, there are many ways that companies can explore to provide flexible working arrangements for their workforce. 
For example, they can adopt a hybrid working arrangement, or they can give workers time-off to pick up new skills or engage in wellness activities that improves work-life balance.
More varied leave schemes, such as well-being days for employees to recharge, birthday leave and unlimited annual leave, have been rolled out at more companies post-pandemic.
Listen: How someone can learn new skills to avoid being stuck at work
Microsoft Singapore, for example, has "no-meeting" Monday mornings, so employees don't have to prepare for meetings on Sundays. In addition, there are "ME-days", which occur one Friday a month. These are days that people can use to learn something new, spend time with family, or attend classes.
The company also offers employees five well-being days and three volunteer days on top of annual leave. 
Ms Lynn Dang, human resource lead at Microsoft Singapore, said that the tech firm has a culture of "extreme flexibility".
"It's all about listening to the needs of our employees and creating a work culture that works for them," she said.
Another tech firm Salesforce now has a Flex Team policy so that teams can decide when, where, and how they'll work based on their needs and projects. 
"While there is strong interest in a four-day work week in Singapore, there are also employees who would rather work whenever they want over a five-day week rather than have fixed hours over four work days," said Ms Cecily Ng, senior vice president & general manager of Salesforce Singapore and Taiwan.
"Imposing a one-size-fits-all model is not an effective way to engage employees and could very well create the opposite outcome."
One social enterprise that already has flexible work arrangements and unlimited paid leave is looking to implement a four-day week - perhaps as soon as next year.    
Saturday Kids, a coding and curiosity school for children, had advertised for a role in curriculum development with a four-day work week. General manager Chew Jing Kai said that they have yet to fill the full-time role.
But the school had wanted to experiment with a four-day week with this role and to eventually roll it out to all their employees.
One of the reasons was that, as a school, they want to encourage creativity in the children and their staff, and he felt that they should be out there "experiencing the real world". But there are kinks to be worked out, said Mr Chew.
"By shifting people to a four-day week and not reducing remuneration, how do you justify that will lead to better results?" he said. 
"Operationally, if you have a business that has to run seven days a week … cutting short the working hours of employees or one day makes it difficult for classroom management."
There's also the issue of making sure there's enough overlap in working times so that people have time for collaboration, he added.
Mr David Blasco, general manager at Randstad Singapore said that a 4-day work week policy shows employees that the business cares about them enough to make significant changes to how the business operates, and is a "very powerful strategy" to attract talent.
But there are some complexities when it comes to putting it into practice. There will be financial costs, especially for sectors that are labour-intensive, said Mr Blasco.
Giving examples, he said: "A hospital or logistics company will always need someone on the job to maintain their productivity levels. Introducing a four-day work week means that they will need to hire more headcount to fill in the shifts, which would ultimately lead to higher costs." 
He also foresees potential culture clashes. "There will always be some people in the company who prefer to work five days a week because of differences in how they view work and life priorities," he said.
"THE ONLY WAY … IS TO RUN PILOTS"
These are issues that many companies now in four-day week pilots around the world are grappling with.
Ms Lockhart said that, from her experience, workers themselves some up with productivity solutions once they are motivated to do so - as working faster now also means working less.
"What we find is when you say to people, look, we want to improve productivity and the time that we save, you can have off - then people go oh, okay, how about I tell you about this problem with the business?" she said.
For office work, it's often a matter of "sorting out meeting behaviour", while a bit more thinking may need to go into cutting the hours of jobs in manufacturing, hospitality or medicine, she added.
Strongly advocating the adoption of the four-day week, she said that there can be productivity gains, and macroeconomic and societal gains as well.
With less time spent at work, people will have more time to exercise, cook healthier meals, take care of their loved ones or do volunteer work - all of which have a positive impact on one's physical and mental health and for building community. 
"What we're talking about is how do we rebalance our society?" she said. "As business leaders, we need to remember that we borrow our people from their lives."
"If you want to understand how four days a week will work, the only way to do it realistically is to run pilots and see how it works specifically for Singapore, find out what are the Singaporean nuances," she said.