Eldercare providers ramp up services, activities, to meet increasing demand
Apart from an increasing number of clients, the industry is also under pressure to meet the evolving needs of a more diverse demographic.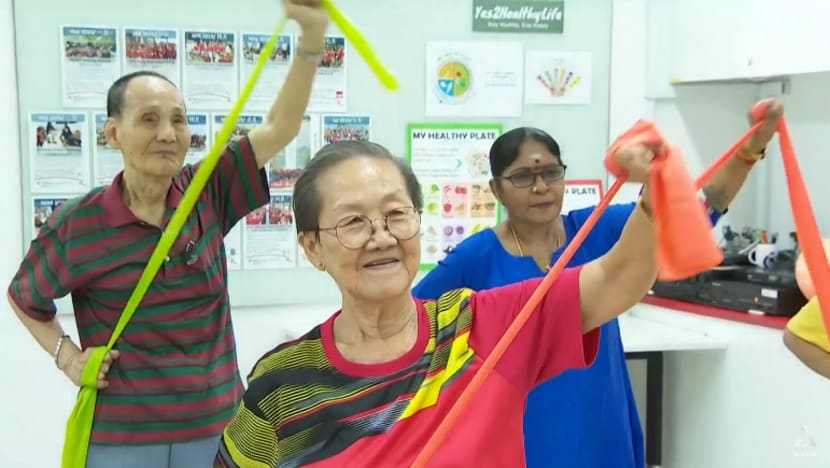 SINGAPORE: Eldercare providers are ramping up their suite of services and beefing up their programmes to meet a wider range of needs as Singapore's population ages.
Active ageing centres have seen a jump in the number of seniors seeking support in recent years, and the demand is expected to grow rapidly.
The AWWA Active Ageing Centre in Ang Mo Kio, for instance, served just 300 residents three years ago. Now, it cares for more than 2,000 seniors.
Among its regulars are Mr Ridwan Mohamed Salleh and Madam Alijah Salleh who attend group workout sessions twice a week to keep themselves active and healthy, and catch up with friends.
"We enjoy the mass exercises. We have many friends here. We're all happy. We all know each other and we chat," Mdm Alijah told CNA.
The couple own a nearby flat, and are part of a growing and evolving demographic of seniors living in the neighbourhood.
EXPANDING CARE
The social service agency said it plans to expand its capacity to cater to even more clients, and strengthen its holistic and mental health care.
Staff at the agency actively reach out to senior residents in the area, identify those who may be vulnerable, and encourage them to join programmes that may benefit them.
Ms So Man Shan, an assistant manager at the centre, said the agency previously only served residents in rental homes but now includes those who own flats and private properties as homeowners can also be vulnerable.
The concept of vulnerability is changing and multiple aspects have to be assessed, including physical and mental needs, she added.
Ms So said: "Some of these factors are: do they live alone? Are they socially engaged? Do they have limited social interactions? Are they also caregivers? Do they have any health, mental or cognitive needs that are not fully addressed?"
LOWERING AGE RANGE
Apart from an increasing number of clients, the industry is also under pressure to meet the evolving needs of a more diverse demographic.
Montfort Care, another social service agency, is adapting to a growing clientele of younger seniors aged between 65 and 74.
Clients in this new group are more mindful of their physical health needs and are enthusiastic about exercise and wellness programmes, as well as health monitoring initiatives, the agency said.
"This group of seniors are more highly educated (compared to their elder peers)," said Ms Jamie Soo, the agency's lead social worker.
"(But) many of them spent tons of time during their earlier days working very hard and earning savings, and neglected the importance of family relationships."
The agency hence tailored its programmes and designed activities around the needs and interests of this new group.
Among the initiatives are classes to help seniors to navigate an increasingly digitised world, and art therapy and social-emotional support sessions.
However, getting this demographic to access some of these services and coaxing them to seek help has not been easy.
"The seniors are not easy to reach out to because of the traditional mindset that social services are meant for the very needy and low income. Many of them do not see where they can fit in, and when they may need help," said Ms Soo.
OUTREACH PROGRAMME
Seniors staying in condominiums and private estates are harder to reach out to, with eldercare providers needing to work with condo management or residential committees to arrange visits.
Montfort Care said it will have to double these outreach efforts once it launches two new active ageing centres later this year. They will serve as recreational hubs for seniors across the socioeconomic spectrum.
Other eldercare organisations like NTUC Health and TOUCH Community Services have also seen greater client diversity as they expand their number of active ageing centres.
There are currently 119 such centres across Singapore, but the government aims to raise that number to 220 by 2025.
Agencies say the challenge is in getting more volunteers and community partners to cater to the diverse clientele and sustain the programmes.
One possible solution is to let seniors themselves organise and run some of the centres' initiatives.
"This generation of older Singaporeans, most of them are educated. They have worked and have capabilities and talents. So we need to continue to leverage their capabilities," said Professor Paulin Straughan, director of the Singapore Management University's Centre for Research on Successful Ageing.
"They are not passive recipients of help, but rather, they are active curators of pro-health programmes for their age group and their peers."
Prof Straughan added that such ground-up approaches have a higher chance of sustained success, and provide seniors the opportunities to contribute and stay socially relevant.