CNA Explains: Alkaline water – the myths and what science has to say
Could alkaline water improve hydration, combat acid reflux and prevent cancer? CNA speaks to experts to debunk these myths.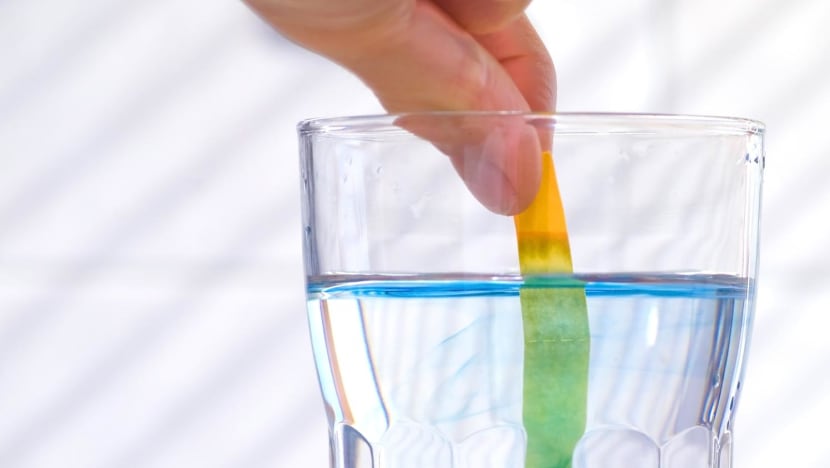 SINGAPORE: Speak to a proponent of alkaline water and you might get the impression that it is their elixir of well-being – from improving hydration to disease prevention.
Last month, a local water filtration company was ordered by a court to stop making false claims, including that alkaline water prevents cancer, diabetes and chronic lower back pain.
The fact that none of these so-called health benefits has been scientifically proven has not deterred fans.
According to a market research report published by Fortune Business Insights in 2021, the global alkaline water electrolysis market is expected to hit US$180 million by 2028, up from about US$100 million in 2020. 
CNA spoke to experts to sort the facts from fiction when it comes to alkaline water. 
What is alkaline water?
The "alkaline" in alkaline water refers to its pH level.
The pH scale measures the acidity or alkalinity of a solution, ranging from pH 0 to 14. A pH of 7 is considered neutral while anything less than that is acidic, and anything more than 7, is alkaline.
Alkaline water can occur naturally, for example, spring water can contain minerals that make it more alkaline.
It can also be produced by using ionising machines, which pass water through a chemical process called electrolysis to raise its pH to between 8.5 and 10.0.
During this process, electricity is used to separate molecules in the water that are more acidic or more alkaline, according to companies producing ionisers. The acidic components are then funnelled out, leaving behind water that is more alkaline.
Myth: Alkaline water combats acid reflux
Due to its higher pH, some proponents of alkaline water believe that it can neutralise the "acid" in the body and relieve gastrointestinal symptoms such as reflux.
The idea is that its higher pH can reduce the acidity of the intestinal tract.
Experts, however, said there is no evidence to suggest that it is better for the body.
"When we drink water, it enters our stomach before reaching the small intestine," explained Dr Liu Mei Hui, a senior lecturer at the National University of Singapore's (NUS) department of food science and technology.
"Our stomach is acidic in nature and any pH of the liquids consumed will be altered in the process. Hence, the alkalinity of water will be changed immediately upon consumption as it reaches the stomach."
Professor William Chen, director of the Food Science and Technology Programme at Nanyang Technological University (NTU), said drinking large amounts of alkaline water could also disturb the body's internal balance – or what is known as homeostasis.
This is because acid is needed in the stomach for digestion among other things, he said. 
"It may be more helpful to look for solutions to address underlying causes of acidity, as compared to just relying on drinking alkaline water," he added.
Myth: Alkaline water improves hydration
Advocates claim that the increased hydrogen in alkaline water provides more hydration than regular water, especially after a workout.
A small study of 100 people published in 2016 found that blood flowed more efficiently with alkaline water compared with regular water after a strenuous workout.
But both Dr Liu and Prof Chen said more research is needed to prove this. 
Prof Chen added that hydration depends more on the amount rather than the type of water we drink. 
Myth: Alkaline water prevents cancer
Some producers of water ionisers have also claimed that alkaline water can help reduce cancer risk. The theory is that some cancer cells grow better in acidic environments.
While several studies have been done on the effects of alkaline water on cancer, none have proven that drinking it prevents or treats the disease.
Only one of the studies – which specifically looked at men with bladder cancer and an alkaline diet – found a slight association. However, the effect was estimated to be low and not "statistically significant", according to researchers who conducted a review of the studies.
Alkaline water versus regular water
Ultimately, experts CNA spoke to said there is no evidence to suggest that alkaline water is better for the body than regular drinking water.
Prof Chen added that tap water is typically already slightly alkaline with a pH of around 7.5. 
According to a report published by national water agency PUB, Singapore's tap water has an average pH of 8.2 – meaning it is more alkaline than other countries.
In addition, the country's tap water is among the cleanest in the world, with PUB conducting rigorous tests on samples taken from source to tap so that the water remains clean throughout.
"We know that minerals are also present in tap water, and not just in alkaline water," said Prof Chen.
"Drinking water in general is one way to supplement our body's deficiency in minerals but we also know that these minerals are present in our diet already, thus making drinking alkaline water less critical for the purpose of replenishing minerals.
"In the absence of any conclusive evidence, there is no clear need to drink alkaline water which costs more than tap water," he said.
Read this story in Bahasa Indonesia here. 
Read this story in Bahasa Melayu here.