Authorities look to engage with buskers following restrictions on year-end performances
Buskers were informed last week that they will not be able to perform from 7pm to 10pm on Fridays and Saturdays in December at eight locations on Orchard Road.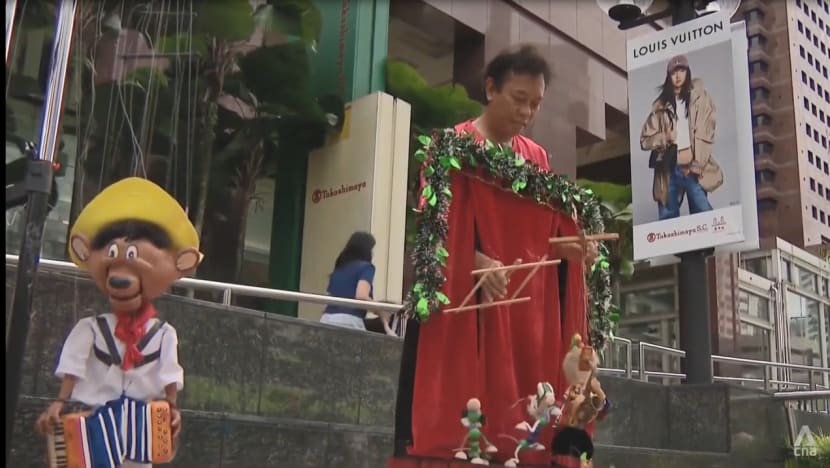 SINGAPORE: Authorities will be engaging with buskers on their decision to restrict their performances during the lucrative year-end festive period.
Buskers were informed last week that they will not be able to busk from 7pm to 10pm on Fridays and Saturdays in December at eight locations along the stretch between ION Orchard and 313 Somerset.
These are popular spots outside ION Orchard, Wisma Atria, Ngee Ann City, The Heeren, 313@Somerset, Knightsbridge and Mandarin Gallery.
The eight days affected include Christmas Eve and New Year's Eve, but not Christmas Day. In a statement last Thursday (Nov 17), the Buskers' Association (Singapore) called for the National Arts Council (NAC) to reconsider this decision.
In an email sent to the association on Sunday night and seen by CNA, the NAC said it is in discussions with the Singapore Police Force and relevant parties on the matter and that they "hope to engage the busking community next week".
"If you would like to share your views on this matter, please let us know," the email read.
"We have heard your feedback and sentiment with regards to the change in busking hours at eight locations along Orchard Road. We understand the frustrations and would like to assure you that due consideration was given with regards to this arrangement."
BUSKERS FEEL BLINDSIDED
Citing lessons from the crowd crush that killed more than 150 people in the Seoul district of Itaewon, the NAC said that public safety, including the safety of the buskers, must take precedence.
This was in line with a separate statement by the Singapore Police Force on Saturday, which said that the crowd crush is a reminder that public safety cannot be taken for granted.
"With the lifting of COVID-19 safe management measures and the resumption of travel, very large crowds are expected," said the police.
The proposed restrictions are a blow for full-time buskers such as Mr Patrick Wan, who only recently entered the scene.
"I heard from the pioneer buskers that Christmas is the best time. Normally they busk for one month, and it can last them for the next three months," he told CNA.
The buskers also said they were blindsided by the move as they typically put in effort to ensure that people around them, including vendors like ice-cream sellers, are okay with them performing, whichever location they are at.
"We always try to work with one another. But it feels like when it comes to them making a decision, we are never ever approached to ask for our opinion," said Mr Jonathan Goh, co-chair of the Buskers' Association.
LIVE MUSIC TO GO ON
Despite the restrictions, there will still be live music at the affected locations on Friday, Saturday and Sunday evenings in December, as part of the Great Christmas Village organised by the Orchard Road Business Association (ORBA).
ORBA said it has reached out to the Buskers' Association to find suitable performers. The Buskers' Association said this is not enough.
"For buskers, (there are) a lot of us, only some of us would be able to perform on the stage. So what about the rest?" asked Mr Goh.
He added that event companies may not hire buskers like himself, saying they cannot afford his fees.
The situation has also increased resentment towards the NAC's busking portal, which was introduced in April this year. The portal enables the NAC to regulate who busks where, by opening up or blocking location and timing options. 
Previously, licensed buskers would be told which five sites they can busk at, and buskers would negotiate with one another to maintain a reasonable gap between them. With the launch of the booking portal, the busking sites are listed online, and they need to make a booking before heading down to perform, which creates competition for popular spots.
NAC said it will enhance the busking portal to better meet the needs of users. In the meantime, the council encouraged buskers to bring cheer to crowds at other popular locations this festive season.