Festive period crowd control measures needed at Orchard Road, public safety cannot be compromised: SPF
The Itaewon incident in South Korea is a reminder that public safety cannot be taken for granted, said the police in a statement on the restriction of busking activities.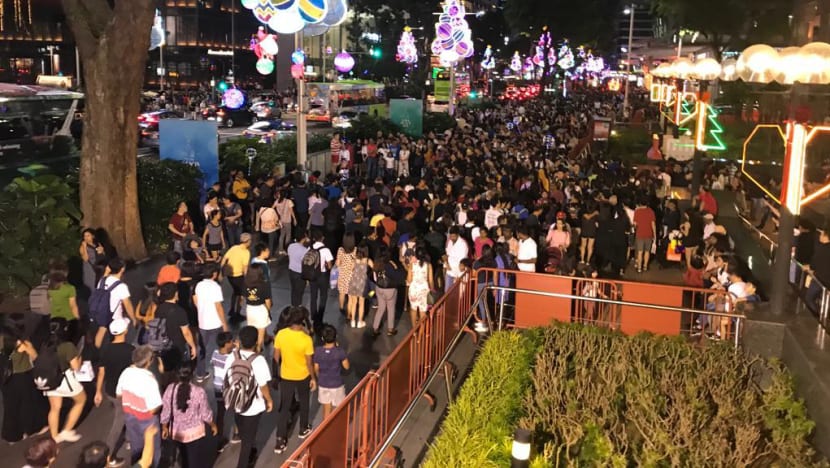 SINGAPORE: The crush that killed more than 150 people in the Seoul district of Itaewon is a reminder that public safety cannot be taken for granted, the police said on Saturday (Nov 19).
In a statement on the restriction of busking activities at Orchard Road during the year-end festive period - a move that caused consternation among buskers - the police explained why crowd control measures are necessary.
"With the lifting of COVID-19 safe management measures and the resumption of travel, very large crowds are expected," said the police.
Crowd control measures this year include the deployment of police officers and crowd diversion measures like barricades, as well as sending out public notifications to alert the public when certain areas are closed off to prevent overcrowding.
The police have also recommended to the National Arts Council (NAC) to restrict busking activities at selected sites when crowds peak, with both organisations to engage affected stakeholders.
Buskers were informed this week that they will not be able to busk from 7pm to 10pm on Fridays and Saturdays in December, at eight locations on Orchard Road. These are popular spots outside ION Orchard, Wisma Atria, Ngee Ann City, The Heeren, 313@Somerset, Knightsbridge and Mandarin Gallery.
The eight days affected include Christmas Eve and New Year's Eve, but not Christmas Day.
The police included in Saturday's statement photos showing crowds milled around a busker on the footpath outside Ngee Ann City in 2019.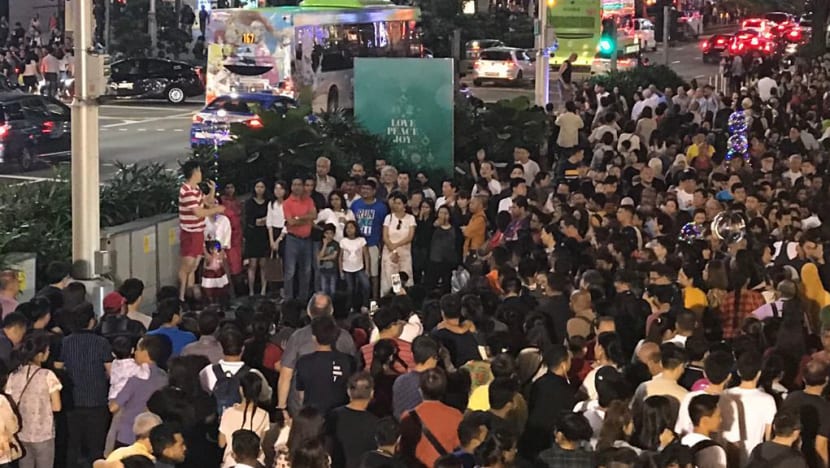 "The presence of buskers and ice-cream sellers (in past Decembers before COVID-19) caused pedestrians to stop and crowd around those points, which further reduced the passable space on the footpaths and further impeded the flow of people," said the police.
With the Orchard Road Business Association (ORBA) resuming the Great Christmas Village event this year, various stalls, pop-up booths and display pieces will be placed along the footpath from Orchard Ion to Mandarin Gallery in December.
As this will reduce the passable space on the footpath and impede the flow of people, the implementation of preventive crowd control measures is "critical".
This is especially so in the event of contingencies, including incidents which may spark crowd panic, deliberate or otherwise, stampedes, crowd crush, and when evacuations may be required, said the police.
"The Korean Itaewon incident is a reminder that public safety cannot be taken for granted," they added. 
"Appropriate crowd control measures must be put in place. We must not compromise on public safety, and we hope for the understanding and cooperation of all stakeholders participating in, or involved in the organisation of, the year-end festivities."