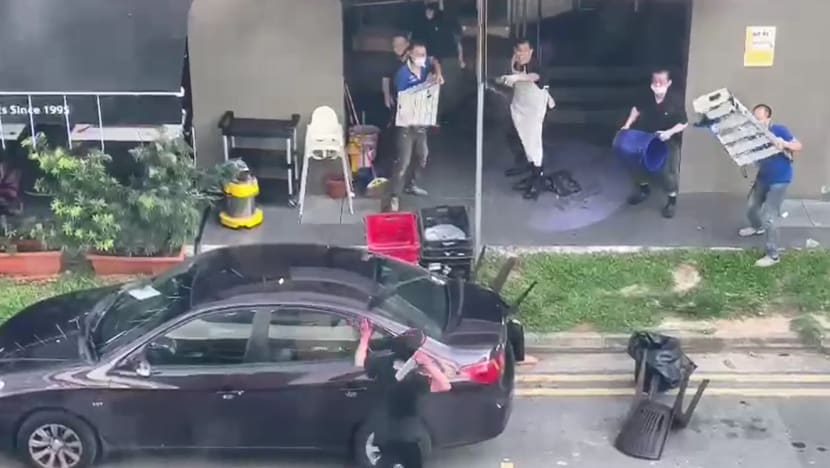 SINGAPORE: The woman injured in a chopper attack on Beach Road is in a stable condition but needs surgery for her injuries.
Staff and business owners in the area who spoke to CNA on Wednesday (Apr 20) said that they have not been able to visit Ms Han Hongli but understand that she is in a stable condition.
Her boss, the owner of Chong Qing (Original) Steamboat at Beach Road, gave an update on the victim's condition in a Facebook livestream on Monday.
"My injured staff member, she's fine, just that her injuries are quite bad. I went to visit her ... she's very badly injured, but she's very stable now," said the man, who identified himself as Edmund on Facebook. He runs livestreams on the platform regularly to sell food stuff.
CNA has contacted him for more information.
Cheng Guoyuan, a Chinese national, was charged on Saturday with the attempted murder of the 42-year-old woman. The 46-year-old is accused of "slashing and chopping" her with a chopper repeatedly, according to a charge sheet.
Ms Han is believed to be his wife, the police said previously. According to a report from 8World, a colleague of Ms Han said her family has been informed of the incident.
Videos that have gone viral show several men throwing objects at Cheng during the attack to try and fend him off. Ten people received Public Spiritedness Awards from the police on Monday.
Mr Leonard Shi, owner of Samurai BBQ, was one of the men who stepped in to help during the attack on Apr 14. He told CNA that about S$20,000 has been raised for Ms Han.
He said that he wanted to raise funds to "help her with future recovery ... and maintenance for her kids' education".
Other businesses in the area also contributed, he added. 
Mr Zhuang Qin Hua, the owner of Chef China restaurant on Beach Road, told CNA that his staff raised more than S$5,000 for Ms Han, to which he contributed S$1,500.
He also wants to give S$4,500, or about S$500 each, to nine people who were commended for fending off the attacker. A Chef China employee is among them. 
Mr Zhuang said that he invited four of them to a late supper on the day of the attack and offered them the reward but only one person took it. If they refuse the money, he will give it to Ms Han, he said.
He also donated to the fund started by Mr Shi, saying that in all, he will contribute S$10,000.
"She is a neighbour and she has two children ... she can't work for now. Her children will need to go to school and I sympathise with her," he said in Mandarin.
"For those who helped her, I think it's a form of 'positive energy' which we should try to spread."