Opposition parties' alternative tax proposals 'too simplistic and divisive': Lawrence Wong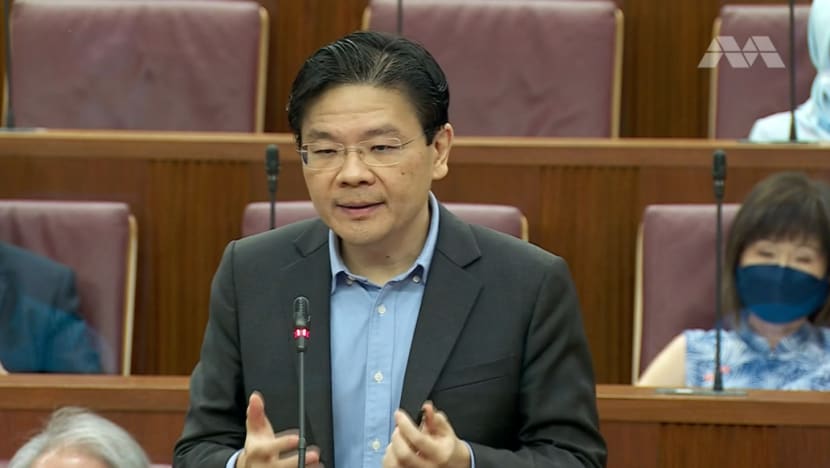 SINGAPORE: The tax proposals suggested by opposition parties to raise revenue without increasing the Goods and Services Tax (GST) are "too simplistic and divisive", said Minister for Finance Lawrence Wong on Wednesday (Mar 2). 
"I can see why they think these alternatives are politically more attractive options but I'm afraid they are too simplistic and divisive and will end up creating more problems for our society," Mr Wong said in his closing speech during the Budget 2022 debate.
"The bottom line is that we cannot sustain a tax system where the bulk or all of the burden is borne by a small group of people at the top end," he added.
"It will not be possible to hold our society together if only a small group of people are required to pay more taxes all the time, while the rest simply get to piggyback on their contributions to enjoy more benefits.
"That's why having a broad-based tax like GST is so vital, it makes a direct link between our demands as voters and our responsibilities as citizens. Break that link and we encourage irresponsible lobbying and playing to the gallery."
During the three-day Budget debate, both the Workers' Party (WP) and the Progress Singapore Party (PSP) had voiced their objections to the Government's decision to raise the GST - first from 7 per cent to 8 per cent in 2023, then to 9 per cent in 2024.
Among the WP's suggestions were to tweak the way the reserves contribute to the Budget and further raise the personal income tax rate for top-tier earners.
Mr Wong questioned whether the WP was objecting to the Budget for other reasons such as political reasons.
"The WP cites that the GST increase will hurt the poor - it doesn't, I've explained it - and on that basis, they say they cannot support the Budget but really, do you know what you're saying then?" he said.
"You don't want to support all the things we have in this Budget to uplift the wages of lower-income workers, workfare progressive wages to help vulnerable families with kidSTART, you're rejecting all of that," he added.
"I find it hard to understand, frankly, on the misguided view that GST hurts the poor, which it doesn't.
"​​The Workers' Party is entitled to their views and to not supporting the Budget, but it will not stop me as Finance Minister from doing what is right. And it will not stop this government from continuing with all our efforts to build a better Singapore." 
The Budget was passed on Wednesday, with WP and PSP MPs recording their dissent.
RAISING NIRC SPENDING CAP 
During his 1.5 hour-long closing speech, Mr Wong addressed the opposition parties' alternative suggestions on how to raise revenue. 
One of them is the proposal to spend more of the reserves to meet the country's rising expenditure. The WP had also asked if the spending cap for the Net Investment Returns Contribution (NIRC) could be raised to 60 per cent, up from 50 per cent currently. 
In response, Mr Wong said the WP and PSP had painted a "false, distorted and misleading picture" of Singapore's reserves.
"They have assumed that the present rules result in an accumulation of more reserves than is necessary but that is not the case, our reserves are growing but the size of our economy, the challenges we face, and the complexity of needs are growing even faster," he said. 
Mr Wong said that on average, the NIRC provided about 3.5 per cent of GDP to the annual budget in the last five years. 
While the Government expects the NIRC stream to continue keeping pace with economic growth, Mr Wong pointed out that to achieve this was "by no means a sure thing", as the returns are subjected to significant headwinds in the global investment environment. 
"We should not at the first sign of need push for changes in the (reserves) rules, just to take the easy way out and avoid having to raise taxes to meet our growing recurring expenditure needs, that will not be the responsible thing to do," he said. 
At the same time, with the world becoming increasingly divided and troubled, Mr Wong said it is important to consider the needs of the future generation. 
"Do we really want to leave our next generation with fewer resources in a more uncertain and volatile world?" he asked. 
"To illustrate, if we were to have just 20 per cent less NIRC than today's levels - which could easily have happened if our predecessors had focused on their own spending and did not think it necessary to have a carefully designed reserves protection framework - our GST would now need to increase to 11 per cent instead of 9 per cent to make up for the funding gap," he said.
"Drawing more NIRC now means that our children and the next generation will end up paying more taxes."
Mr Wong also called persistent requests for more information "red herrings", pulling focus away from the key problem at hand. 
"At some point, we need to make decisions including difficult and critical ones like what we have done in this budget to better prepare Singapore for the future," he said.
USING LAND SALE PROCEEDS 
Turning to various suggestions from opposition MPs on spending the country's land sale proceeds, Mr Wong pointed out that the Government is already spending from land sales. 
He also reiterated that land is a scarce asset that is protected as past reserves.
"When we sell land, we are not creating new wealth, we are merely converting the land from a physical to a financial asset," he said. 
"Therefore, we invest the land sale proceeds back with the rest of the reserves, and we spend 50 per cent of the expected long-term real return through the NIRC framework."
In this way, the land sale proceeds can provide a "stable and sustainable stream" of income for the country's budget over time, he added. 
This approach, he said, allows the Government to avoid pitfalls it would face if it were to spend land sale proceeds more directly. This includes revenues fluctuating with the market and creating too much uncertainty for the Government to plan long-term. 
Relying on land sales to fund spending may also result in higher land prices, as the Government will have a vested interest to maximise revenues, he added. 
"This will ultimately hurt the economy and will hurt Singaporeans. Why would we want to do that?" said Mr Wong.
PROPERTY TAX
The changes made to property tax in Budget 2022 are "not insignificant at all", and are structured in a "highly progressive" way, said the Finance Minister. 
Addressing MP Louis Chua's (WP-Sengkang) call to further amend such wealth taxes and concerns from other members about how property taxes will affect retirees and elderly owners of private properties, Mr Wong stressed that Singapore has to "find the balance".
The moves in property tax will raise S$380 million more per year from a base of 7 per cent of all owner-occupied residential properties and all non-owner-occupied residential properties, he added. 
"I'm somewhat surprised that Mr Chua characterised our moves on property tax rates as tokenism. S$380 million dollars more per year and he says it's tokenism," said the Finance Minister. 
"If we want to raise enough tax revenue from property tax to eliminate the need for a GST rate increase, what would we have to do? Well, we will have to tax all non-owner occupied residential properties at a significantly higher rate."
If all non-owner-occupied residential properties were taxed at a flat 36 per cent, this would still not be enough because the number of these properties is considerably fewer than that of owner-occupied residential properties, said Mr Wong. 
In this case, Singapore would thus need to raise property tax rates significantly for owner-occupied residential properties, including for HDB flats, he added. 
INCREASING CORPORATE TAXES 
Mr Chua had also suggested implementing the Organisation for Economic Co-operation and Development's (OECD) upcoming global minimum effective tax rate on multinational enterprise groups.
Responding to his suggestion, Mr Wong said it is premature as international discussions are still ongoing.
He also called for a "reality check" on Mr Chua's projections that the corporate income tax revenue could jump seven times to S$70 billion with a tax rate of 15 per cent under the Base Erosion and Profit Shifting (BEPS) 2.0 initiative.
"He says it is purely hypothetical, but he should have said it is wishful thinking," said Mr Wong.
"It is hard to estimate, with any confidence, whether or how much net tax revenue we can collect from both pillars one and two. The eventual impact cannot be ascertained by a simple static analysis," he added.
As BEPS 2.0 will result in a fundamental change in the competitive environment for Singapore since it would limit tax incentives, Mr Wong said any extra revenue generated would have to be reinvested towards ensuring that Singapore remains competitive and attracts its fair share of investments. 
OTHER WEALTH TAXES
Noting Mr Saktiandi Supaat's (PAP-Bishan Toa Payoh) suggestion to bring back estate duty taxes, Mr Wong said that Singapore did away with this in 2008 "because it did not achieve the social equity outcomes we had hoped for". 
"In the end, middle- and upper-middle-income individuals were disproportionately affected by estate duties, compared to the wealthy who were able to find ways to avoid it through tax planning," said the Finance Minister.
On other suggestions to tax capital gains or dividend income, Mr Wong stressed that countries in the region do not tax these items. 
"And if we were to do so, that can very easily hurt our competitiveness. It will impact jobs and Singaporeans," he added. 
Mr Wong highlighted the suggestion by Mr Chua and Associate Professor Jamus Lim (WP-Sengkang) to introduce a net wealth tax, and their estimation that this could yield about S$1.2 billion dollars each year. 
"As much as we would like to tax the net wealth of individuals in theory, I've explained it's very challenging to do this in practice. What happened with estate duties could very well happen here," he added. 
"Many forms of wealth are mobile, and as long as there are differences in wealth taxes across jurisdictions, wealth can and will move." 
RAISING PERSONAL INCOME TAX
Mr Wong also addressed the WP's calls to increase personal income tax even further, in lieu of increasing GST. 
Personal income tax paid by the top 10 per cent of taxpayers already account for about 80 per cent of Singapore's total revenue from personal income tax, noted Mr Wong. 
With a top margin of personal income tax rate at 24 per cent, Singapore's rate will be higher than that of Hong Kong, closer to the Asian average of 28 per cent, he added. 
"There is a limit to how much we can increase PIT (personal income tax) rates for the top income brackets without touching the PIT rates for the income brackets below it," said the Finance Minister. 
To keep GST at 7 per cent and raise the equivalent amount of revenue through personal income tax, the top marginal rate would have to increase from 22 per cent to 42 per cent, which would apply to everyone with a chargeable income of S$320,000 or more, he noted. 
However, a sharp increase in income tax would be "untenable" and would damage Singapore's competitiveness. Investments and jobs for everyone, including lower- and middle-income earners, would be affected, Mr Wong said.
To raise the same amount of revenue through higher personal income tax "in reality", the Government would have to raise the tax rates for a broader group of people, including the middle- and upper-middle-income earners, he added. 
As Singapore's economy matures and population ages, a bigger portion of the population will become "economically inactive", and the tax base for income-based taxes will shrink, said the Finance Minister. 
"We cannot rely only on income-based taxes alone if we were to maintain a resilient and future-proof revenue base," said Mr Wong. 
He also addressed externality taxes like sin taxes and carbon tax, which were raised by Assoc Prof Lim in his speech on Monday. 
Adding that he was "surprised" that Assoc Prof Lim raised these suggestions to generate revenue, Mr Wong pointed out that tobacco tax is a regressive tax and that the lower-income groups would pay a bigger share of it. 
The Government does not roll out sin taxes for the purpose of generating revenue, but for deterring consumption, and it will review these taxes "from time to time", he added. 
The carbon tax revenue will be channelled to help with Singapore's green transition, so it will not serve to meet the country's structural funding gap, said the Finance Minister. 
"The Workers' Party has expressed such strong concerns about the regressivity of the GST, but does not appear to be the least concerned about regressivity here. Why the double standard?" Mr Wong asked. 
'GOOD MIX' OF TAXES NEEDED 
Wrapping up the debate, Mr Wong said revenue from higher corporate, wealth and other taxes cannot substitute for the planned increase in GST. 
Instead, a "good mix" of all three types of taxes - income, asset and consumption - is needed to ensure that the Government's revenue base remains diversified and resilient, while being fair and progressive. 
"Over the years, I've had the chance to study the fiscal systems of many other jurisdictions, I can confidently say that Singapore is unique in having such a highly progressive system of taxes and transfers, while keeping the overall tax burden low for everyone and especially for the middle income," he said. 
"We have a system that is fair, progressive and effective. It reflects our values, what we stand for and who we are as a people, and provides a strong foundation for us to build our economy and our society," the minister added.
"That does not mean that we have a perfect system, we are continually reviewing and improving it, we are continually adapting and adjusting our approach as circumstances change, and as our society evolves."