IN FOCUS: Cheap, but are they nutritious? Singapore and Malaysia tackle rising food costs with budget meal schemes
Affordable hawker food has always been a feature of life in both countries. CNA explores the challenges in offering budget meals and whether they are nutritious.
SINGAPORE/KUALA LUMPUR: At S$2.80 (US$2.10), the kway teow soup which CNA's reporter ordered from a noodle stall in Tampines was considered cheap. But it had little other than rice noodles in it - the one leaf of lettuce and sprinkling of minced pork floating in the broth seemed more like a garnish.
It was the most basic of the six budget meals the reporter had in Singapore last week.
During the period, the reporter visited coffee shops in relatively new HDB neighbourhoods in Tampines, Woodlands, Bukit Batok West, Yishun and Toa Payoh.
There was a wide range of budget food on offer - from nasi lemak and bee hoon goreng to fishball noodles, yong tau foo, crispy noodles, chicken rice and economic rice. 
Of the six meals the reporter tasted, four of them cost S$3 to S$3.30 and were similar to the stalls' usual offerings, sometimes with smaller portions. 
Two were priced at S$2.80 but came with few ingredients. One was the kway teow soup, and one was a mui fan from a stall in Woodlands with only fishcake and cai xin.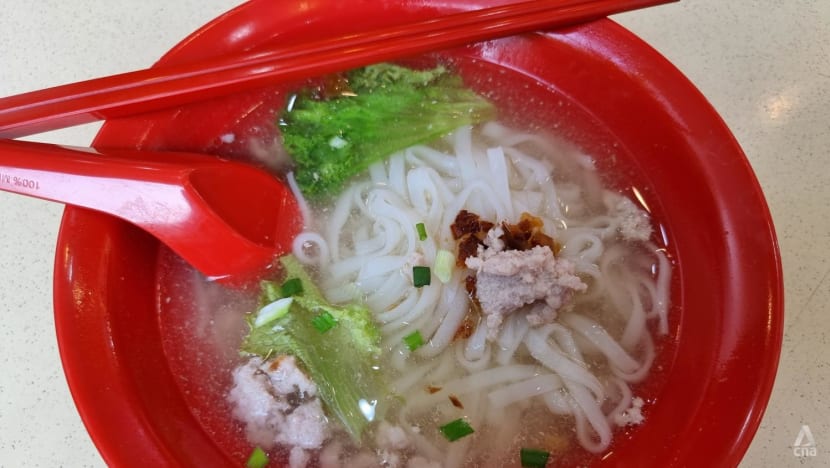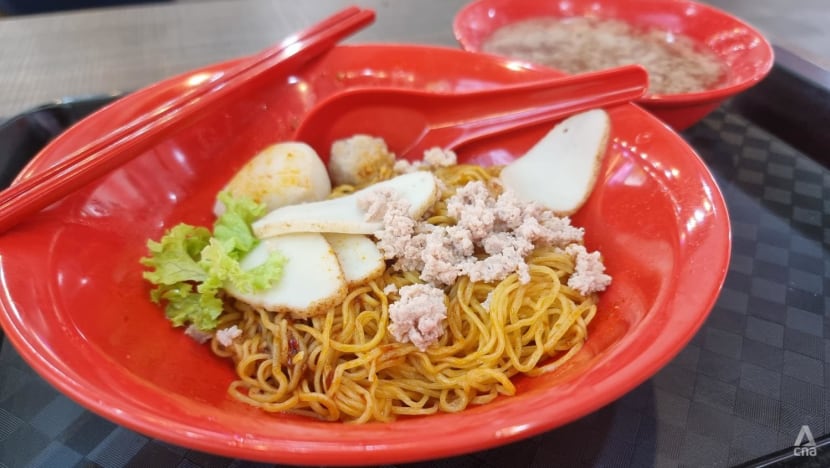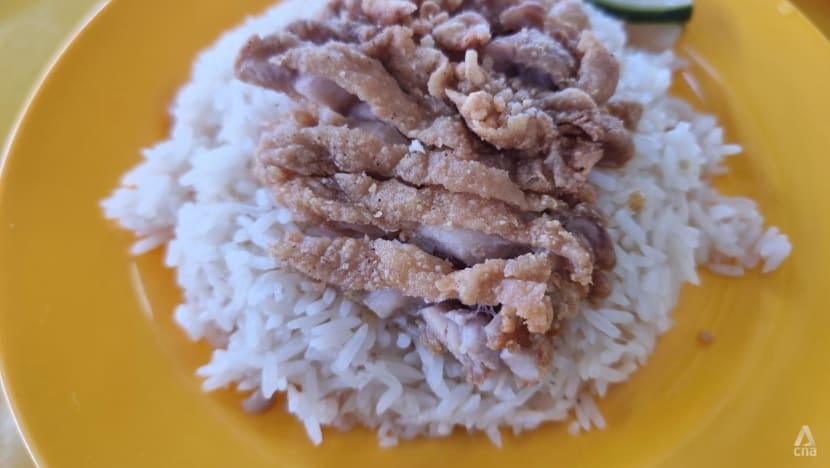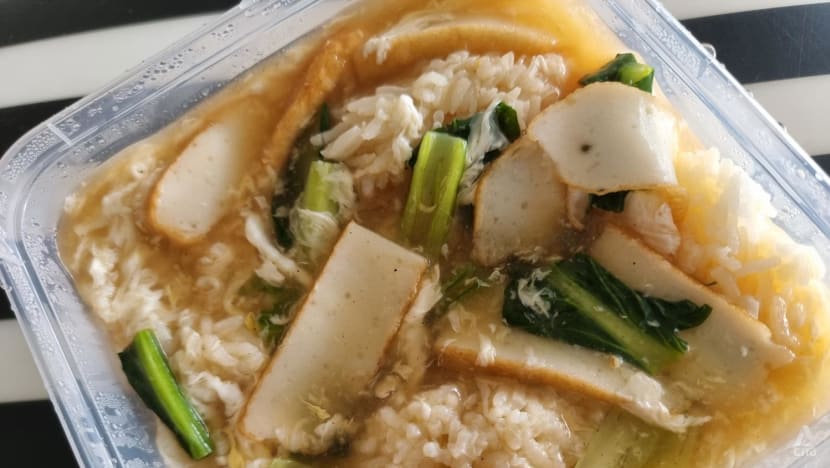 Over in Malaysia, another CNA reporter was at a food court along the North-South Highway in Ayer Keroh, Melaka.
Bright blue posters with the words "Menu Rahmah" and "RM5 (US$1.10) only" were plastered outside every stall. Menu Rahmah - or compassionate menu - is an initiative in Malaysia offering budget meal options when dining out, with each meal costing no more than RM5.
Choices at the food court were aplenty, the menu typically comprising rice, vegetables and a source of protein - usually chicken or fish.
The reporter eventually settled on a humble takeout of nasi ayam penyet - steamed white rice with a thick cut of chicken fillet, tempe and tofu, all fried until golden and crispy. A fresh lettuce salad was served on the side, while the accompanying chicken soup and sambal were packed separately.
As this was during the fasting month, the reporter could only consume the meal a full five hours later. Apart from a slight loss in the crispiness of the fried items, it was a satisfying meal to break fast with.
For its price, the dish was excellent value - it was filling and there were good sources of protein and fibre.
Over the last year, inflation has become a persistent problem in both Singapore and Malaysia. To help those on a tight budget, the governments of both countries have launched budget meal initiatives.
In Singapore, the Ministry of National Development (MND) announced in March that all coffee shops leased from the Housing and Development Board (HDB) are required to offer budget meals by 2026, among other initiatives. 
Meanwhile in Malaysia, the Ministry of Domestic Trade and Living Cost (KPDN) launched the voluntary Menu Rahmah programme in January. 
CNA explores the implementation challenges on the ground as well as the nutritional value of such meals.
RISING COST OF FOOD
Inflation has been overtly painful and visible in both Singapore and Malaysia recently. 
Costs in Singapore have risen sharply this year with core inflation at 5.5 per cent year-on-year in February - matching January and the highest since November 2008.
Food inflation was even steeper at 8.1 per cent - also a 14-year high. Data from the Department of Statistics show that the average price of nine out of 10 items of hawker food and drinks rose in the last 12 months.
A plate of chicken rice cost S$3.63 on average in February last year and was S$4.09 this February, while the price of a bowl of mee rebus went up from S$3.40 to S$3.73.
In Malaysia's case, the consumer price index (CPI) increased steadily over the last year and surged to 4.7 per cent in August 2022, helped by rising food prices, which saw a whopping 7.2 per cent hike then.
According to figures released by Malaysia's Department of Statistics, the country's inflation rate has remained high throughout, increasing by at least 3.3 per cent each month since. 
After the General Election in late 2022, Prime Minister Anwar Ibrahim launched the slogan for his unity government - Malaysia Madani, or Civil Malaysia. 
Part of the Madani Malaysia concept is "Payung Rahmah", or compassionate umbrella programme to mitigate the cost-of-living crisis affecting low-income earners.
Menu Rahmah, which is spearheaded by the Minister for Domestic Trade and Cost of Living Salahuddin Ayub, was launched on Jan 31 as part of Payung Rahmah.
SIMILAR PROBLEM, DIFFERENT APPROACHES
While Singapore appears to have taken a more top-down approach to providing budget meals, Malaysia's approach has been more ground up.
Since 2018, new coffee shops in Singapore leased from HDB under Price-Quality Method or PQM tenders are required to provide budget meal options.
Under the PQM system, tenders are reviewed based on a range of criteria other than rent, such as affordability considerations. 
Compared to the e-bidding system before, the PQM tenders have reduced rents for new coffee shops by an average of 27 per cent since 2018, said MND.
MND has since announced that the scheme will be expanded and all coffee shops leased from the HDB are to offer budget meals. 
In March, Senior Minister of State for National Development Sim Ann said that from May 2023, all rental coffee shops due for renewal will also need to provide four budget meals and two budget drinks, as a condition for renewal of their tenancy.
The price of the budget meal is proposed by the operator and reviewed by HDB to ensure they are reasonable but they typically cost around S$3 to S$3.50.
To ease the transition for operators and stallholders to offer budget meals, HDB is offering them a 5 per cent discount on the renewal rents for a period of one year.
Ms Sim has also said that while the rest of the coffee shops are run by private operators, MND has asked the major coffee shop chains to meet for discussions.
In comparison, Malaysia's approach feels more organic. The main mechanism is to encourage businesses to volunteer for the Menu Rahmah initiative on the basis of corporate social responsibility.
One of the big players who have adopted Menu Rahmah is Mydin Hypermarket. Its founder and managing director Ameer Ali Mydin told CNA that Mydin was offering Rahmah sets consisting of rice, vegetables and chicken or fish, mee goreng, kway teow goreng or nasi lemak. These are offered across 28 Mydin hypermarkets and food courts. 
Mr Ameer Ali said that while the uptake has been "very good", he acknowledged that the profit margins for these menu options were small as they could only be charged RM5 and below.
"It's CSR and we are serving the community. I believe that the more you give, the more blessings you receive in different ways. It makes your soul happier," he said. 
He posited that making the initiative voluntary was the way to go. 
"Compared with what Singapore is doing, we are better off with a different approach. Forcing businesses to offer cheap budget meals is like shoving things down their throats. 
"You can see that in Malaysia, even if it's voluntary, businesses are adopting it by the thousands and it's adopted by big players," he added.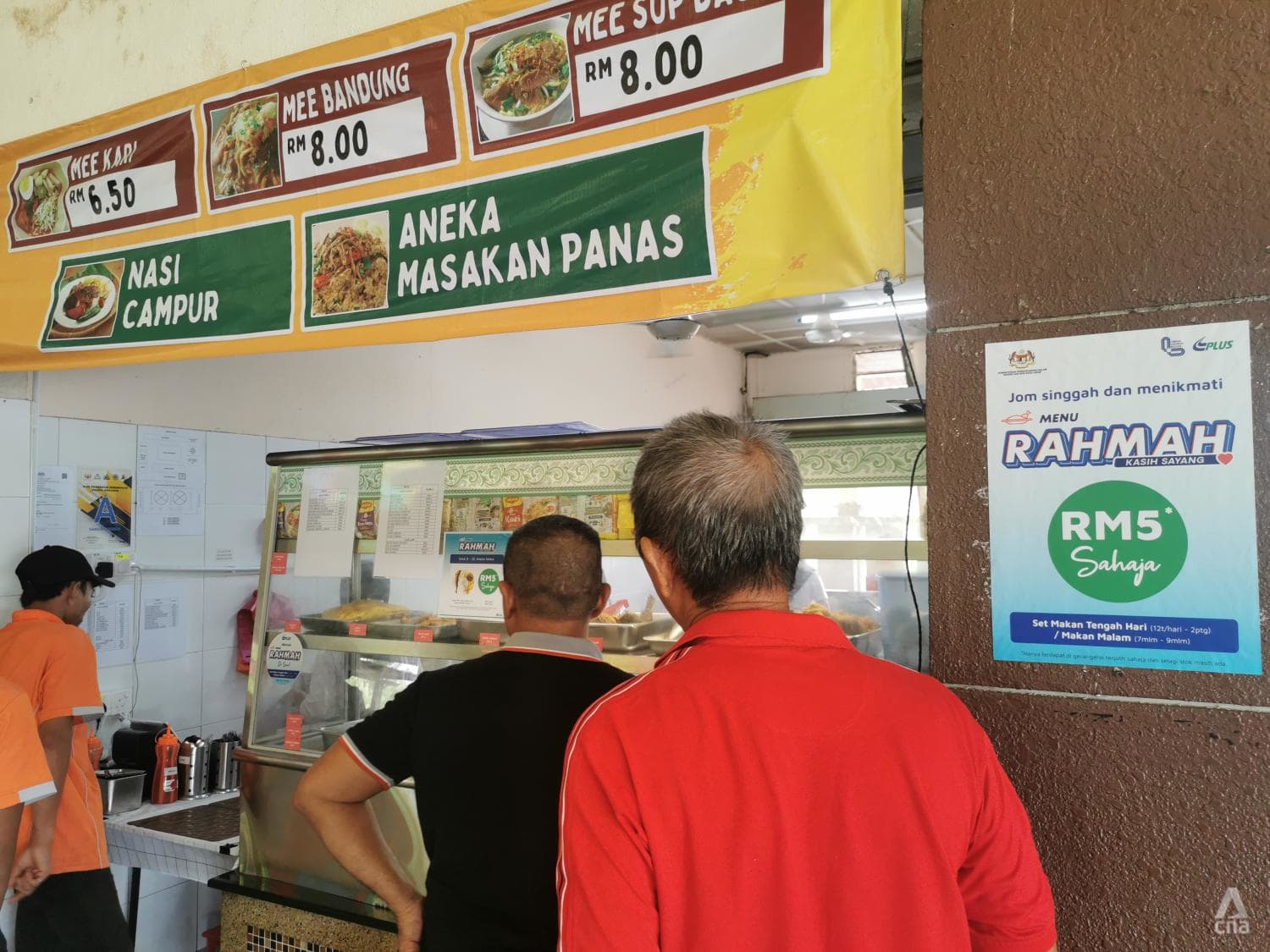 When asked if the government would consider making Menu Rahmah options compulsory for food retailer businesses in the future, Mr Salahuddin, the minister said this is not on his agenda.
"We stick to our original plan, which is a mutual understanding between industry players and KPDN, and this mutual understanding remains and we will never enforce it on anyone. It is based on the values of Rahmah (compassion), by industry players and businesses," Mr Salahuddin told CNA.
"WE DON'T GET ANY PROFIT MARGIN"
On the ground, there are various challenges in implementing budget meal schemes, with the traders struggling with cost issues. 
CNA's brief three-day survey of budget meals in Singapore coffee shops found some variation in how it has been implemented by the operators.
For one thing, hawkers or stall assistants from several of the places visited said that their stalls had been operating for a few months or about a year, but the budget meal option was introduced very recently - a few just the day before the reporter visited the stall.
Others had the budget meal option printed on their signs, but three were offering side dishes instead of a staple.
Hawkers from two stalls in Punggol, which had S$3 oyster sauce vegetables as budget meals, said that they had just been told by the coffee shop operator to change them to main dishes and hadn't had time to adjust their menu.
One stall in Bidadari estate advertised its budget meal as "fragrant cucumbers" with dried chilli, at a price of S$4.50.
CNA sent queries to five coffee shop operators about how they are implementing the budget meals scheme, and only one - Happy Hawkers - had responded by press time.
Happy Hawkers, a subsidiary of Koufu, is offering budget meals at all 10 of its HDB-rented coffee shops priced at S$2.80 to S$3.50, a spokesperson said. Its economic rice offering at a Bukit Batok coffee shop was S$3.30, with one meat and two vegetables.
"So far the hawkers have been cooperative, they will suggest a meal ... On our side, we make sure that it is within the budget yet in terms of portioning, they don't compromise," said the spokesperson.
"Even those coffee shops not under HDB, we will encourage our tenants in new outlets to look into budget meals."
Some hawkers CNA spoke to said that the cost of ingredients, utilities and manpower have all risen in the last few months, eating into profits. Some have raised prices and are trying to cut costs to sustain their business, while others are already in the red.
Mr Peter Tan, who runs Uncle Peter Hokkien Mee at an HDB-owned coffee shop at Alkaff Crescent, said that he was asked to offer a budget meal but could not do so.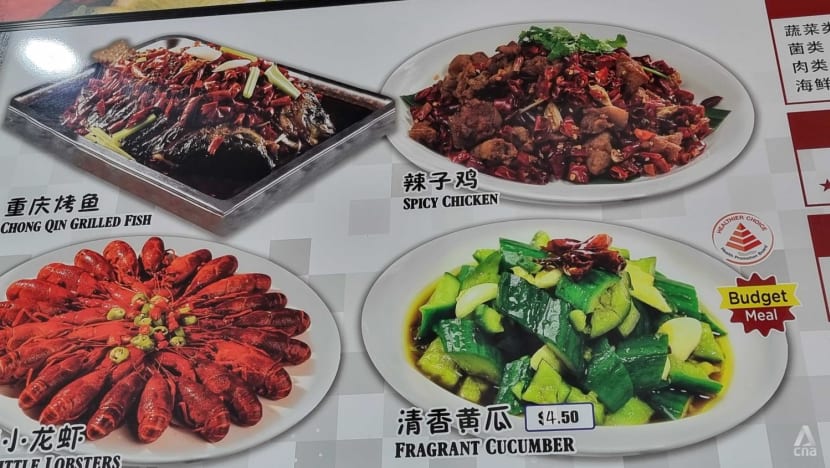 Mr Tan said that currently, he cannot cover his rent of about S$5,000 a month selling his Hokkien mee at S$5 and S$6 after the price of prawns went up, but he does not want to compromise on the taste of his food by using cheap prawns.
He could have sold carrot cake at S$3, he said, but no longer offers the dish as he cannot find a stall assistant, and can't handle so many dishes alone.
"I really don't know what more I can do because the food cost is just terrible," he added. 
Mr Aaron Wong, who has seven Jiak Song mee hoon kway outlets, feels that expecting meals to be sold at such low prices is unrealistic, given the rising cost of doing business in Singapore.
"The government says I want to have affordable meals for people but they are not helping the hawkers, so something has got to give," said Mr Wong. "There's no way you can squeeze a square into a circular hole … something will have to break."
Responding to CNA's queries, MND and HDB said the latter conducts regular reviews to ensure that the budget meal options are available and that stalls provide clear and transparent information on budget meal pricing. 
"We understand that operators and stallholders may sometimes face operational difficulties in implementing the budget meals.
"This is why HDB is working closely with them to understand their considerations, and at the same time, discuss how we can help to refine implementation on the ground for their budget meal options," said the two agencies. 
 
They added that they are exploring various measures to raise public awareness of these budget meals, and to encourage more operators beyond the existing coffee shops under the programme, to voluntarily offer budget meals to residents.
Over in Malaysia, there are similar question marks as to whether Menu Rahmah is sustainable for the long term, and able to continue helping the poor if inflation persists.
Some retailers told CNA that factors like the increasing costs of raw produce like chicken, eggs, rice and vegetables could make it untenable to continue offering cheap budget meals. 
Smaller businesses are particularly susceptible, given that price volatility would impact their bottom line more directly. 
Bumiputera Petty Traders Association president Rosli Sulaiman said that "quite a large number" of fellow members of the association have stopped offering Menu Rahmah during Ramadan and in the lead-up to Hari Raya because the prices of raw ingredients rose amid the festive season. 
"The prices of fish, for example, have gone up. Catfish was previously RM7 per kg (before March) but today it's RM9 per kg. Threadfin was previously RM8 (per kg), and now it's RM12," said Mr Rosli. 
"I don't understand how the government can expect us to continue doing this, selling meals for RM5. We don't get any profit margin," he added.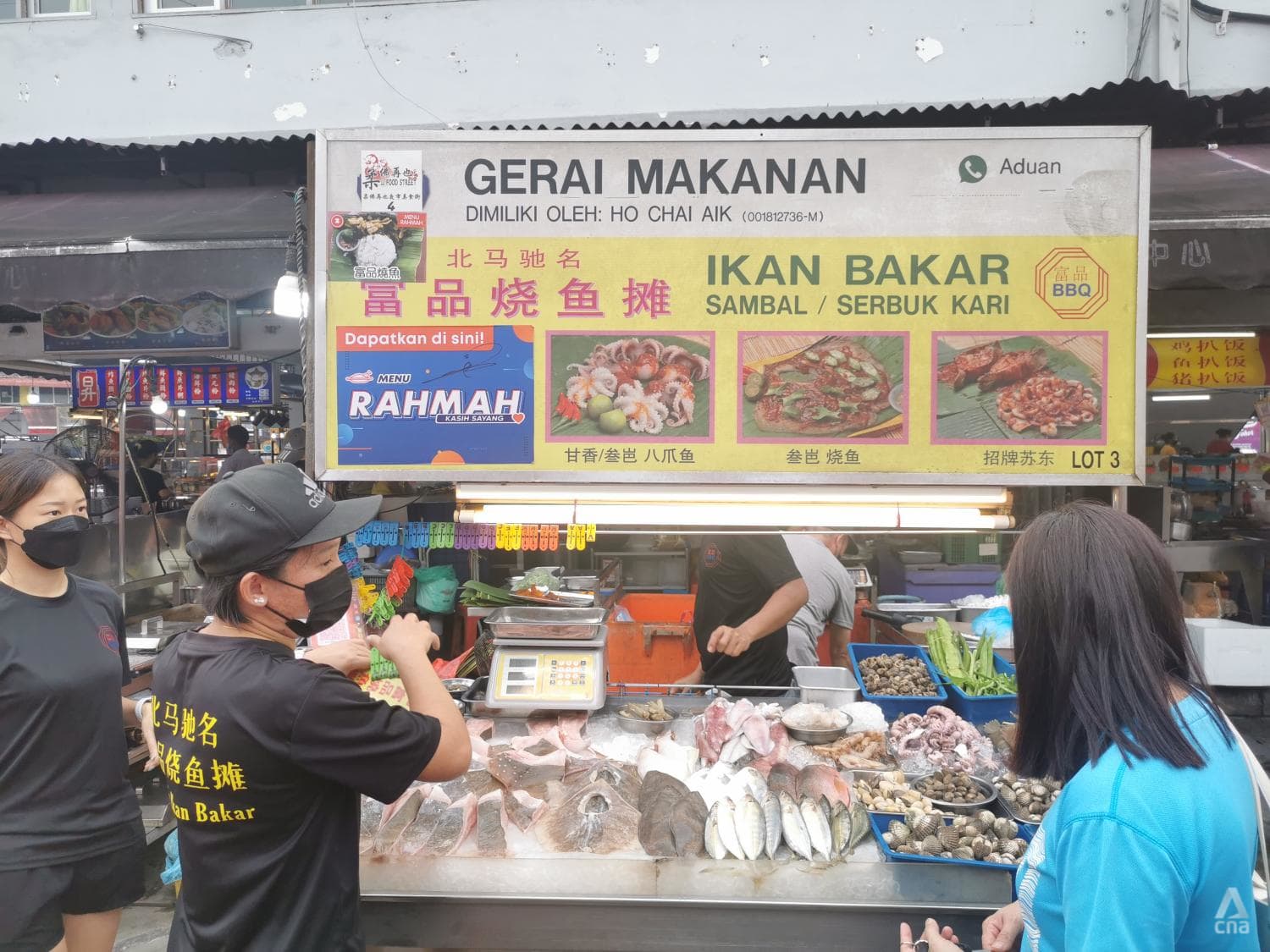 Mr Hussein Ibrahim, secretary of the Johor Indian Muslim Entrepreneurs Association (Perusim) told CNA that most of the association's members have paused selling Menu Rahmah during Ramadan due to a lack of demand. Most Perusim members operate eateries in the southern state and offer Menu Rahmah in the form of nasi kandar or nasi lemak.
"We did launch it, but during this fasting month, we realised there was absolutely no reception so we have closed it temporarily. It could just be that people are fasting so they eat out less or because the menu is typically offered for lunch and many of the customers are only dining in the evenings," said Mr Hussein. 
"So if we continue selling now, we will be losing money," he added. 
At a press conference on Apr 18, Mr Anwar announced that businesses that participate in the Menu Rahmah initiative will be able to purchase raw items at special discounted rates.
He said that the Malaysian government is collaborating with selected supermarkets to offer these operators special prices for items such as chicken, onions and other basic ingredients. 
"We are aware of the cost that has to be borne by the (Menu Rahmah) operators for raw materials and food items.
"We hope this initiative will bring relief to operators and ensure the continuity and sustainability of the Menu Rahmah programme," said the prime minister. 
In response to queries from CNA, Mr Salahuddin, the minister, said Menu Rahmah has been "widely accepted" by both consumers and businesses across the country over the past few months. 
"Moderating inflation is among the quick wins we have achieved from the Menu Rahmah initiative. Based on our feedback sessions with residents, it's very clear that the B40 (Bottom 40 per cent income group) and the M40 (middle 40 per cent income group) are very thankful," said Mr Salahuddin.
"But we have to remember that KPDN has never categorised Menu Rahmah as food options only for the poor, it is for everyone. So for those who are in need, they are welcome to pick Menu Rahmah as their choice for dining," he added.
ARE SUCH BUDGET MEALS HEALTHY?
There is also the question of nutritional value.
CNA sent nutritionist Siti Saifa 10 photos of the budget meals offered at various coffee shops in Singapore.
Ms Siti said that a healthy budget meal should incorporate a variety of food such as whole grains, vegetables and enough lean protein - so most budget meals cannot be considered a complete and healthy meal.
Several dishes lacked sufficient protein content, and some had processed food like fishcake or fishballs. 
"This may mislead the public to think that these food items were part of the protein sources. However, these food items are a poor source of protein and are high in sodium," said the lecturer from Temasek Polytechnic's School of Applied Sciences.
Other criticisms were that some meals included fried items, several meals had a very small portion of vegetables, and none included whole grains. For example, an aglio olio pasta from one Western food stall did not have any protein and vegetables.
"The economical rice that was served with chicken and two types of vegetables, was the only meal that almost met the recommended portions of vegetables and protein. This dish can be further improved by replacing the rice with brown rice and cooking the eggplant with less oil and sauce," she said.
In Malaysia, Menu Rahmah has drawn flak from some quarters for offering food of poor nutritional value.
In February, opposition lawmaker Halimah Ali sparked controversy when she appeared to suggest that Menu Rahmah options are of low quality and could expose consumers to cancer, autoimmune diseases as well as autism. 
According to Hansard, the Parti Islam Se-Malaysia (PAS) lawmaker said in her parliamentary speech: "I have no issues with the phrase 'rahmah', but don't give the B40 low-quality food supplies that may cause them to be exposed to cancer, autoimmune disease, autism, among others."
Her remarks sparked criticism by the ruling coalition lawmakers. Dr Halimah later apologised for her remarks.
However, there is a common theme among many of the Menu Rahmah options. Many of the protein sources in the meals - chicken or fish - are deep-fried. 
Mr Rosli of the Bumiputera Petty Traders Association acknowledged that some of the association members have no choice but to offer fried fish or fried chicken over steamed or grilled options as these food items tend to last longer without going bad. Most members of the association are food retailers in the Klang Valley. 
"The reality is that sometimes at the end of the day, not everything is sold. Frying fish and chicken gives these retailers an option to repurpose the menu, perhaps frying the meat again with soya sauce so that it remains fresh (for consumption) the next day," said Mr Rosli.
Medical expert Dr Zainul Ariffin Omar, who is an adviser to the Malaysian Public Health Organization, told CNA that most options offered by Menu Rahmah he encountered were sufficiently nutritious. 
"For instance, I sampled the options at the Mydin food courts, they were decent. The nasi kandar had rice, vegetables and fish, with curry. The quality is good, and has a good balance of carbohydrates, protein and fibre," he said. 
"But for some others, like fast-food chains, they offer less healthy food and they may be leveraging Menu Rahmah to promote some of their food," said Dr Zainul Arrifin.
He added that whether Menu Rahmah options are nutritious is dependent on the consumer. He urged consumers to be discerning of what they are purchasing. 
"Customers must be aware that paying low prices doesn't mean they should accept low quality," he said.