Increase in luxury car taxes 'reinforces exclusivity', unlikely to affect ultra-rich: Analysts
Adjustments to the additional registration fee system mean owners of high-end luxury cars will soon pay more in taxes.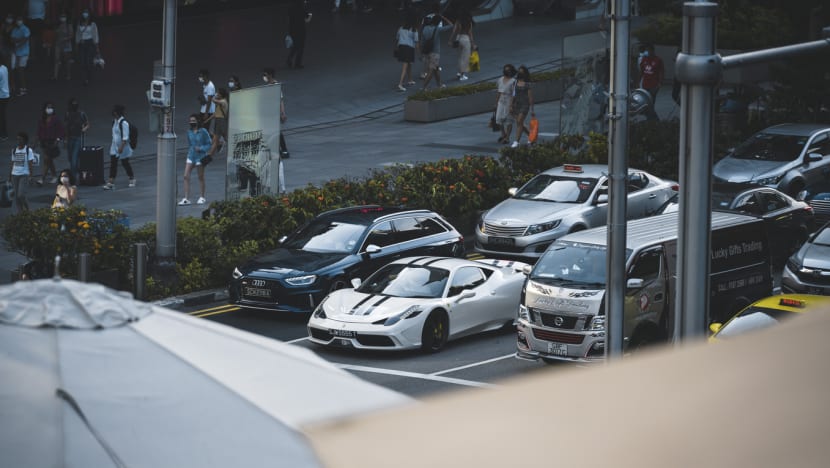 SINGAPORE: If an ultra-luxury car is chump change, the additional registration fee (ARF) adjustments are unlikely to break the bank, suggested analysts who spoke to CNA on Wednesday (Feb 15). 
Some even pointed out that the tax increase could reinforce a sense of exclusivity for buyers eyeing these luxury vehicles.
With the aim of achieving a more progressive vehicle tax system, adjustments to the ARF will be implemented for cars with an open market value (OMV) of above S$40,000, announced Deputy Prime Minister Lawrence Wong on Tuesday in his Budget speech.
The ARF is a tax imposed when you register a vehicle, and is calculated based on a percentage of your vehicle's OMV. The OMV is the cost of a vehicle imported into Singapore.
The biggest increase in ARF rates will hit vehicles with an OMV of above S$80,000. The ARF for such cars will be raised to 320 per cent on the part of their OMV above S$80,000, up from 220 per cent.
For example, the Bentley Flying Spur V8 model, which has an OMV within the highest tier of S$200,001 to S$300,000, currently has a maximum ARF payable of S$600,000. The revised rates, which take effect from the next round of Certificate of Entitlement (COE) bidding this month, will raise its maximum ARF to S$840,000. 
DEMAND FOR LUXURY CARS UNLIKELY TO DECREASE 
Analysts who spoke to CNA said the new changes would not create a significant dent in consumer demand.
"Customers who are in this buying (category) tend to be more affluent and the recently adjusted ARF structure will not significantly dampen demand," said Mr Aaron Tan, co-founder of online car marketplace, Carro. 
Wealthy car buyers are generally less cost-sensitive and would be less affected by the ARF increase, as the cost of a luxury car would "only form a small proportion of their wealth", added Ms Kylie Luo from tax advisory BDO Singapore. 
She pointed out that the luxury cars segment "remains affordable" for such buyers even with the ARF adjustments.
"This is especially so in the context of Singapore, which has positioned itself as a financial hub. In recent years, Singapore has attracted many high net-worth individuals and families, (who) are usually multi-millionaires," said Ms Luo, who leads BDO's asset and wealth management (tax) team. 
Economist Saktiandi Supaat believes that super-luxury cars and sports cars are in demand precisely because they tend to be "Veblen goods". 
A Veblen good is one for which demand increases as the price increases.
"(The revised ARF) will (lead) to higher tax revenues and tax on the wealthy. That may help other segments, assuming the collections are distributed optimally to those who need them more," added Mr Saktiandi, who has spoken up several times in Parliament on vehicle taxes as an MP for Bishan-Toa Payoh under the People's Action Party.
COST OF LUXURY CARS LIKELY KEPT HIGH DUE TO "PRESTIGE" 
As the demand for luxury cars is unlikely to dip, the cost of these vehicles is unlikely to decrease too. 
"In the case of high-end vehicles in Singapore, it is well known that sellers have extremely large margins – the difference between the retail price and the cost of sales – generally in the tens to hundreds of thousands of dollars for the most expensive vehicles," said Associate Professor Walter Theseira who teaches economics at the Singapore University of Social Sciences. 
"This is because many high-end vehicles have limited allocations or production runs, and there is a prestige value to owning a rare vehicle in Singapore. So sellers which control distribution of limited availability vehicles have been able to command very high premiums."
Assoc Prof Theseira noted that he expects "very little" impact on overall sales of the "most exclusive vehicles", as a price or tax increase "further reinforces the exclusivity of the vehicle" for that segment of the market. 
"Part of the point of owning a supercar is to convey the impression that you are extremely wealthy, which is helped by a substantial increase in tax costs," he said. 
"For that segment of the market, it will probably be macroeconomic factors relating to their sources of wealth, such as property and stocks, that will be more important in determining sales than this ARF increase." 
In the short term, luxury car ownership should not change due to the "self-compensatory correction of prices", added Assistant Professor Raymond Ong from the Department of Civil and Environmental Engineering at the National University of Singapore
"The number of new cars bought, which drives down prices through COE or market demand, will negate the cost of buying a car due to increase in ARF," he explained. 
Dr Ong, who researches transport infrastructure, said that the policies are "very targeted at portions of the population that buy luxury cars", and hence are more likely seen as "an additional cost of ownership" to this group of owners or potential owners. 
"This group may be generalised into two subgroups: One who will buy these cars because they are financially in the position to do so, and the second are those who may be buying the lower end of the luxury car range due to their net wealth growth and decide that it is okay to pay more for the luxury branding," he said. 
The first group of individuals is not going to be affected, "no matter what changes". They will continue to buy these cars "simply because they can afford to do so". 
But the second group, added Dr Ong, might think twice before buying a luxury car. 
When that happens, the cost of ownership of non-luxury cars may increase. This group of owners or potential owners might choose to "downgrade" and "compete with other potential buyers of non-luxury cars", hence driving demand up.
POSSIBLE RISE IN PRICE FOR OTHER CARS?
The trickle-down effect of the ARF increase might be felt in more affordable segments of cars if the "substitution effect" comes into play, analysts suggested. 
This could happen if car buyers who intended to buy more expensive models decide to switch to cheaper non-luxury models, driving up prices for the tier below, said Mr Saktiandi.
The ARF adjustments can thus be expected to "disproportionately impact the middle class who aspire to buy and own luxury cars", said tax adviser Ms Luo.
Ms Luo and Carro's Mr Tan also highlighted that the second-hand market could see a spike in demand, with used cars that have OMVs above S$80,000 becoming more attractive compared with new cars.
But Assoc Prof Theseira noted that even in the "mass premium end" of the Singapore vehicle market, consumers still "derive considerable prestige value from owning a premium make or model". 
As such, while "lower- to medium-level BMWs and Mercedes Benz, such as the 3 Series and C Class" sit just above the S$40,000 OMV mark, exposing them to the impact of the ARF increase, dealers for this market segment "still charge margins above cost, in the order of tens of thousands of dollars, or far greater margins than the projected ARF increase will be".
He predicted that the price change would thus be "less than the full ARF increase", as dealers would have to "absorb part of it as a reduction in profits". 
Those in the entry-level market or planning to buy a lower-end vehicle, however, should remain unscathed and feel "no impact", added Assoc Prof Theseira.
"The main constraint there is that with high COE prices, there is very little market for vehicles with OMVs much below S$40,000. Because the kind of buyer who wants, say, an entry-level Japanese or Korean car probably also does not want to pay S$80,000 for a Category A COE," he said. 
"And I do not think that a price change of a few thousand dollars in ARF is going to turn a buyer from a mid-luxury continental car into an entry-level Japanese or Korean car buyer. That simply doesn't happen in the Singapore car market."