Commentary: Budget 2023 - A sensible fiscal balance will keep Singapore competitive and resilient
Looking ahead, FY2024 may be the crunch time where Singapore makes up for the previous few years of deficits, says OCBC chief economist Selena Ling.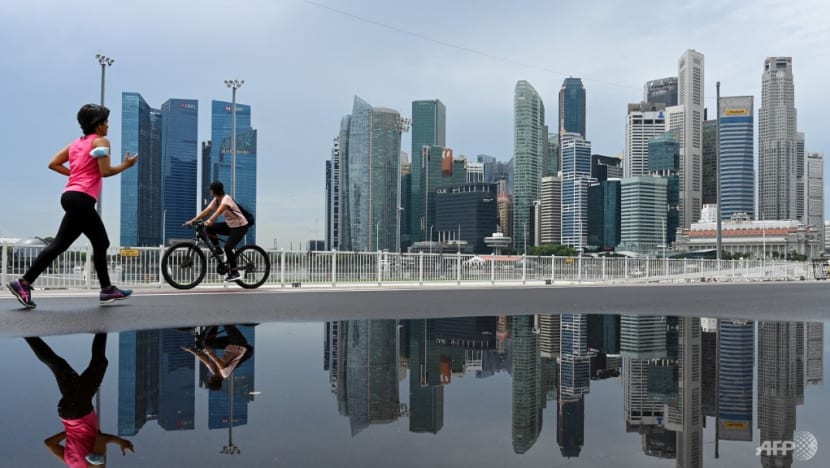 SINGAPORE: There was love all around for Budget 2023, with everyone receiving a Valentine's Day present from the Singapore Government.
Deputy Prime Minister and Finance Minister Lawrence Wong announced on Tuesday (Feb 14) a series of measures that would provide comprehensive help for all Singaporeans, including first-time home buyers, seniors, parents-to-be, people with disabilities, and small- and medium-sized enterprises (SMEs). 
Prior to the Budget announcement, I anticipated that there might be "tough love" from the Government, with firm signals that inflation relief measures would be temporary.
This is because a government must seek to ensure that the economy remains dynamic rather than to just continually give handouts.
Though a top-up to the Assurance Package was expected, the magnitude of the top-up – bringing the package to S$9.6 billion – appeared to err on the side of generosity but it came with the caveat not to expect this year after year.
On the flipside, we are getting more equitable taxes, with higher taxes on high-end properties, luxury cars and tobacco – the so-called wealth taxes coming into play again, but more reminiscent of a Robin Hood with a light touch. Balance and prioritisation of needs were definitely key in this budget.
HELPING HOUSEHOLDS, ENHANCING COMPETITIVENESS
This budget's expenditure plus special transfers is the largest outside of the pandemic at nearly S$124 billion.
The focus on households is not a bad thing, especially since inflation is a big challenge at this juncture and there is no guarantee that the current brutal inflation streak will ease significantly anytime soon. The enhanced GST and CDC voucher schemes, as well as other one-off payments, will bring much needed relief to low-income Singaporeans and families immediately.
In addition, investing in areas such as addressing the needs of an ageing population, improving infrastructure, and enhancing the competitiveness of Singapore is also the right move.
At the end of the day, it has to be about building up local capabilities and upskilling our workforce. That will make the Singapore economy more resilient in the medium- to long-term in a new era where the global economic landscape is more fragmented with greater contestation between the major powers.
Some areas that Budget 2023 did not touch on were the issue of unemployment transition support and how to manage the current manpower squeeze, including the foreign manpower policy, especially since the hospitality and food and beverage industries are gearing up for the return of international visitors with China's reopening. The question remains as to where the workers are going to come from in the short-term, or will we see companies trying to outbid each other for workers.
Overall, I am hopeful following the Budget 2023 announcement. The COVID-19 pandemic has been trying for both the economy and Singaporeans over the past few years, but we have emerged stronger from it.
A sensible fiscal balance between the short- and medium-term priorities will keep Singapore competitive and resilient. In fact, if global and domestic growth manages to surprise on the upside this year, we may even see a small surplus manifest in FY2023.
MINDSET OF FISCAL PRUDENCE
Going forward, it is still important to explore other revenue sources to ensure Singapore adheres to a mindset of fiscal prudence.
Singapore has managed the situation admirably by running a deficit during the COVID-19 pandemic years, similar to many other global economies.
In the financial year ahead, the Government expects to spend S$104.2 billion, which works out to 2.6 per cent less than the S$107 billion spent in the revised 2022 figure.
Operating revenue for FY2023 is projected to be S$96.7 billion, which is 7.1 per cent more than the previous year's revised S$90.3 billion of takings.
Overall, the Government is expecting a slight deficit of S$0.4 billion in FY2023, or 0.1 per cent of Singapore's GDP. This is a decrease from 2022's deficit of S$2 billion, or 0.3 per cent of the GDP.
Unlike the last three years when the Government had to draw on past reserves to cope with the unexpected shocks and disruptions from COVID-19, it will not be doing so this year as things return to normal.
The total expected draw on past reserves from FY2020 to FY2022 is expected to be S$40 billion, lower than the initial S$52 billion that the Government had sought the President's approval for.
Mr Wong in his Budget speech said that this reflects the Government's prudent approach in the use of reserves.
Budget marksmanship traditionally works in more normal economic cycles. An unexpected pandemic is difficult to predict or assess the magnitude of the resources needed, so it is even more challenging to assess if the budget marksmanship is up to par. The role of the policymakers may be "kiasu" but the need to repeatedly go back to the President for approval to draw on past reserves may have contributed to putting in an initially larger estimate.
When Singapore last drew on its reserves during the global financial crisis in 2008, it spent S$4 billion in FY2009 and was able to put back what it drew two years later due to the sharp recovery in the economy and in its fiscal position.
This time, however, it is "highly unlikely" that Singapore will be able to put back what it has drawn from past reserves because it "continues to be in a tight fiscal position", said Mr Wong.
With the projected modest fiscal deficit for FY2023, the shortfall of S$7.3 billion for FY2021 to FY2023 needs to be made good for this term of government even if the S$40 billion draw on past reserves is not returned.
While the size of the past reserves is now minus S$40 billion, the fiscal prudence principle should continue to mean Singapore safeguards the remaining reserve pool and grows it sustainably over time to meet future crises and needs.
Singapore had ample reserves to tap on in crisis time without needing to chalk up potentially onerous debt for future generations.
It looks like FY2024 may be the crunch time where we have to make up for the previous few years of deficits as policymakers seek to balance the books for this term of Government.
Selena Ling is the Chief Economist and Head of Treasury Research and Strategy at OCBC Bank.