Facebook Marketplace, Carousell get lowest anti-scam scores in new government e-commerce rating system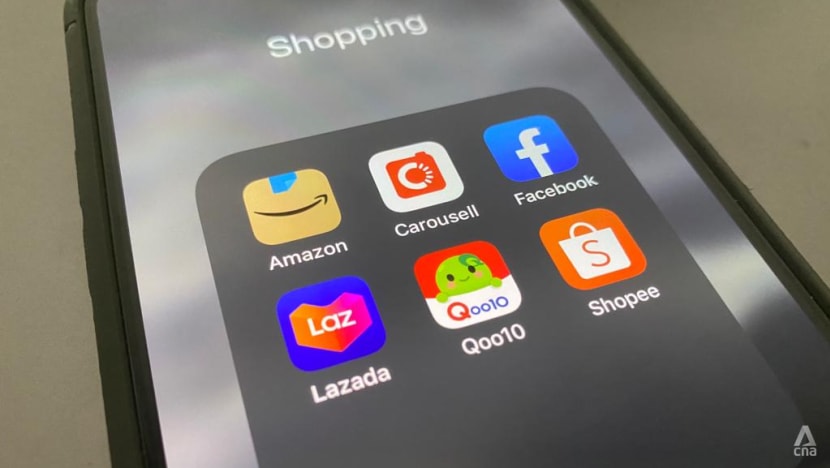 SINGAPORE: Facebook Marketplace and Carousell were rated the lowest among six e-commerce platforms for their "critical" anti-scam measures, the Ministry of Home Affairs (MHA) said on Saturday (May 14).
Facebook Marketplace and Carousell were awarded one tick and two ticks respectively, while Shopee received three ticks. Amazon, Lazada and Qoo10 were rated the full four ticks.
The e-commerce marketplace transaction safety ratings, a government initiative that was launched on Saturday, serve to better inform consumers about the platforms' anti-scam measures and create a safer online environment, Minister of State for Home Affairs Desmond Tan told reporters.
"Essentially, it is a rating system to inform our consumers on what are the measures they have to look out for in transacting online, and when buying goods online," he said on Friday.
"And at the same time, we also give them the information about the existing e-commerce platforms, and what are the measures they have in place to secure the transactions online."
Mr Tan chairs the Inter-Ministry Committee on Scams, which rates these platforms based on five measures: Seller identity verification, fraudulent seller behaviour monitoring, secure payment solutions, maintenance of transaction records and user data, as well as reporting and dispute resolution mechanisms.
Consumers can visit this microsite to see how the platforms perform in each measure. Platforms with all the critical anti-scam measures in place will be awarded four ticks, MHA said, adding that the ratings will be reviewed annually.
Facebook Marketplace, for instance, does not offer secure payment solutions or seller identity verification, while Carousell makes these features optional.
The ratings system, first announced during the police's annual statistics briefing this year, comes as S$5.8 million was lost to e-commerce scams in 2021.
The 2,707 e-commerce scam cases reported last year made it the third-most prevalent type of scam, behind phishing scams and job scams.
The ratings system was developed together with the six e-commerce platforms, and covers major platforms with a significant local reach or a significant number of e-commerce scams reported, MHA said.
It does not cover businesses that have their own e-commerce platforms, like Courts or IKEA, as these have been assessed to be less susceptible to scams.
Beyond the ticks, consumers can refer to the microsite for general advisories that elaborate on the five safety features. These advisories will be refreshed every year.
The microsite also has platform-specific advisories, accessible by clicking on the platforms' logos, that provide details on their safety features and the number of scam reports linked to each platform. These will be updated every six months to allow the platforms to post more frequent updates on their latest safety features.
B2C VERSUS C2C
The ratings also classify the platforms on whether they are business-to-consumer (B2C) or consumer-to-consumer (C2C).
B2C refers to the selling of products and services between a business and consumers. The sellers on B2C platforms are often screened, and thus these transactions tend to be highly controlled, the microsite said.
C2C refers to the buying and selling of products and services between individuals, where the seller may not be a business entity. Compared to B2C marketplaces, there are a lot more variables to consider and to safeguard against, the microsite added.
The platforms that did not get the full four ticks – Shopee, Carousell and Facebook Marketplace – have C2C elements, where convenience of transaction, especially for second-hand products, might be prioritised.
A Carousell spokesperson said the platform is a C2C marketplace that allows buying and selling between "regular people".
"So, our goal is really to make transacting the second-hand marketplace as convenient and as trusted as any e-commerce platforms, so that second-hand can truly be the first choice for people," said its policy and escalations manager Jessica Chen.
"But the reality is that there are a lot more variables to consider and to safeguard against when comparing a C2C marketplace to that of a B2C marketplace."
Ms Chen said Carousell invests "heavily" in technology, employees, user education, and collaboration with authorities to create a "safe and conducive" environment for buying and selling.
Facebook's parent company Meta said the ratings are an "important effort" to educate consumers.
"But we note that it applies a uniform rating to platforms that have differing features and therefore have different ways of protecting their users," said its head of public policy for Singapore and ASEAN Clara Koh.
"We are committed to ensuring a positive and safe experience for those using Facebook Marketplace and will continue to collaborate with the Government and our community partners on public education initiatives."
REVISION OF TECHNICAL GUIDELINES
The national standard for e-commerce transactions, called TR 76, has also been revised to include additional anti-scam guidelines for e-retailers and e-commerce marketplaces, MHA said. TR 76 is not legally binding.
The additional guidelines will offer better protection for consumers transacting online, the ministry said, adding that platforms which adopt these guidelines will generally get better ratings.
"These best practices secure different areas of transactions, covering pre-, during- and post-purchase activities, customer support and merchant verification," MHA said.
"The intent is to better enable merchant authenticity, improve transaction security and aid enforcement against e-commerce scams."
Singapore Retailers Association executive director Rose Tong said the revision and ratings system will give retailers "greater assurance" of their tie-ups with e-commerce platforms.
"It actually also resonates and commensurates with the branding of the various retailers on the marketplace," she said.