Carousell fake buyer scam losses top S$1 million in December, surpassing total for rest of 2022
A significant proportion of the scam reports lodged involved unauthorised overseas PayNow transfers, say the police.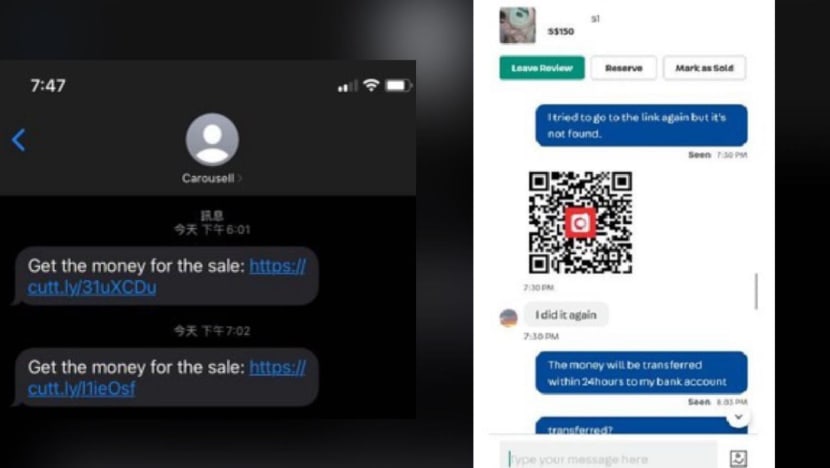 SINGAPORE: The number of phishing scam victims on e-commerce platform Carousell and the amount lost in December alone exceeded those reported from the first eleven months of 2022.
In December, at least 1,115 victims were cheated by fake buyers, losing a total of at least S$1 million, the police said on Sunday (Jan 1).
This compares to at least 975 victims, with reported losses adding up to at least $938,000, from January to November in 2022.
"Based on investigations, a significant proportion of the reports lodged involved unauthorised overseas PayNow transfers," the police added.
"This is a troubling trend, because once money is moved overseas, the chances of recovery are very slim."
HOW THE PHISHING SCAMS WORK
Scammers would pose as prospective buyers on Carousell, who would then ask sellers - in this case, victims - to key in their banking details on spoofed websites to facilitate payment.
Unauthorised transactions would be made from their bank accounts or cards.
"To curb this scam surge, key partners in the ecosystem including Carousell and the Association of Banks in Singapore are implementing measures to protect their customers," said the police on Sunday.
"These include but are not limited to adding friction into overseas PayNow transfers as the affected banks deem appropriate until this threat subsides."
EDUCATION IS KEY
In response to queries from CNA, a spokesperson for Carousell said the platform has been working closely with the police to clamp down on the recent phishing cases, adding that it has taken action to suspend fraudulent accounts.
"Combatting the ever-evolving nature of scams is an arms race, and we strongly believe that education for users is key to tackling the different forms that phishing scams may take."
The spokesperson said Carousell has put up a banner on its home screen advising users to be wary of buyers asking for email addresses or phone numbers through Carousell Protection.
"Carousell has also taken action to introduce a mandatory warning page when any non-Carousell link is introduced on a chat by a user, to make sure that the other party examines the link before proceeding," said the spokesperson, adding that there has also been a standing advisory in the Carousell chat interface "for many years" which warns users against taking their chats out of the platform.
Users are strongly urged to heed these warnings and to be very cautious when clicking on foreign links that direct them outside the platform, said Carousell. 
BANKS' SYSTEMS REMAIN SECURE
Director of the Association of Banks in Singapore (ABS), Mrs Ong-Ang Ai Boon assured customers that banks' systems remain secure.
In its response to queries from CNA, ABS advised customers to be on heightened alert amid the widespread phishing scam.
Mrs Ong-Ang said that banks have been working with partners such as Carousell and the Singapore Police Force to implement measures to disrupt the scammers.
She added that the disruption may result in friction or delay in transactions.