Singapore's co-living spaces in high demand; rental prices heating up
Despite the increasing rental, those staying in co-living spaces said that they are more affordable compared to the open market.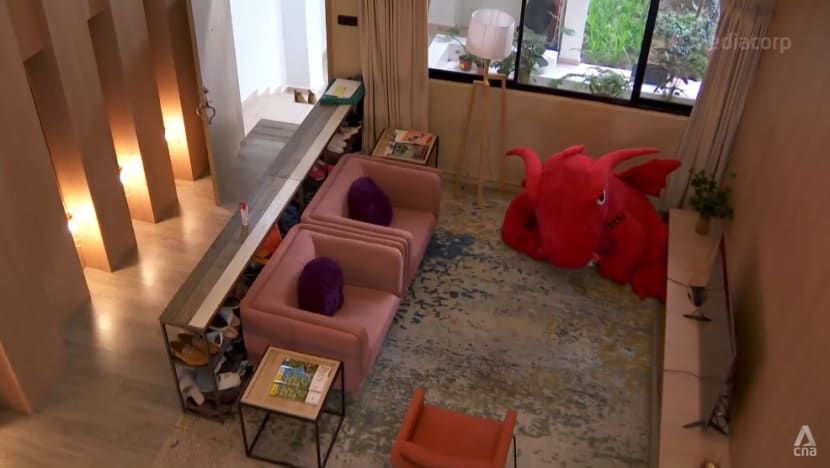 SINGAPORE: Higher demand for co-living spaces in Singapore is driving occupancy rates above 95 per cent, operators said last week.
This is due to more people seeking temporary housing while waiting for their new homes to be ready, and expatriates returning to Singapore for work following the COVID-19 pandemic.
The co-living experience is popular with both locals and foreigners. Some are attracted by the temporary accommodation, where they do not need to sign a long lease. For others, it is a communal living option that allows for socialising and networking.
With demand climbing in a pricey market that is already short on supply, industry players said that rental looks set to shoot up.
But this is in line with rental prices across the board, they said.
CNA reported this week that rental prices of Housing and Development Board (HDB) flats have hit record highs in heartland areas. For private housing, some have complained that their rent has soared by as much as 70 per cent.
"This is a trend that we don't see (just) for co-living, it's actually across the industry. So we actually did increase the rates to be aligned with the market," said Ms Genevieve Khua, area manager of co-living operator Lyf. 
The co-living operator said it will be raising rent by between 20 and 25 per cent.
Ms Khua, who is also country director of revenue at The Ascott, which owns Lyf, added that the increase in prices will help the company cope with inflation, as well as the rising costs of manpower and utilities.
The operator said it prides itself on the range of services and activities it offers tenants, and hopes that its co-living spaces will stay attractive despite the rental hike.
Competitor Coliwoo is also raising its rent, but said it is trying to keep prices affordable by capping its increase at S$200.
"I think we are able to control the pricing so definitely there will be high demand for people to come in and try the co-living experience," said Ms Chong Ching Yeng, Coliwoo's chief commercial officer.
"With the affordable pricing rate compared to the open markets, there will really be a high demand for (our space)," she added.
CO-LIVING SPACES CHEAPER COMPARED TO OPEN MARKET
Despite the increasing rental, those staying in co-living spaces said that they are still more affordable compared to the open market.
 
One such renter is Mr Solomzi Moleketi, a graduate student renting one of Coliwoo's co-living spaces for about S$2,900 a month.
Mr Moleketi said the price is significantly lesser than what his friends are faced with on the open market, where rising rent means a similar unit can now cost at least S$4,500 per month.
His friends have been struggling with the rental prices, and some have been forced to move out from city areas to less convenient neighbourhoods, he said.
"Being students and also some of them being young professionals, they don't really have the ability to just shell out more money for something that they know will continue to be a strain on their life," he said.
He added that prices on the open market have led to more people considering co-living spaces, instead of sticking to conventional rentals.
WHY ARE CO-LIVING RENTALS CHEAPER?
Co-living operators can offer slightly better rates for now because of the way they operate – where rates are more fixed and cost pressures can be spread out, said industry experts.
Analysts said these companies have been able to offer more competitive rates because they have a company policy on room rates. This is in comparison with individual landlords, who may have their own requirements and expectations when it comes to rental prices.
While co-living operators are enjoying strong robust growth with a high occupancy rate at the moment, they will need to look for more homes to lease to cater to an increasing number of renters, said Alice Tan, head of consultancy at real estate firm Knight Frank Singapore.
However, should rental prices continue to spike, landlords might find it more lucrative to rent directly to the open market rather than leasing them to co-living operators, she cautioned.
"In the midst of the new pipeline of supply of condominiums and apartments coming in from next year, we might see these landlords deciding to rent out on their own over renting out to co-living players," she added.
Industry players added that rental prices are expected to continue to climb in the coming months, until more supply of homes enters the market next year.