IN FOCUS: Why is cleanliness at coffee shops and their toilets seen to be getting worse?
This year's public cleanliness survey has shown that when it comes to food outlet cleanliness, people are the least satisfied with coffee shops. CNA explores how they can shake off what has been a constant association with poor hygiene standards.
Seventy-seven per cent of respondents in a survey said they were satisfied with the cleanliness in coffee shops, compared to 83 per cent in hawker centres, 84 per cent in wet markets and 96 per cent in food courts.
32 per cent of respondents – up from 16 per cent in 2019 – felt that the thoroughness of cleaning at coffee shops was insufficient.
Experts say that while coffee shops could do more on cleanliness, customers have a role to play too.
SINGAPORE: On Apr 16, Facebook user Haider Mail was waiting for his food order at a coffee shop in Clementi when he saw something that left him repulsed.
Looking into a roast duck stall, Mr Haider spotted what appeared to be two pieces of whole raw chicken placed on the floor.
Recounting the incident in a Facebook post, Mr Haider said: "Hopefully the cook gets what he deserves," adding that he was "feeling disgusted".
His Facebook post went viral, attracting more than 800 comments and 6,100 shares.
In response to queries from CNA, the Singapore Food Agency (SFA) said on Thursday (Sep 2) that it has inspected the stall after getting feedback and taken enforcement action for the "hygiene lapses" detected.
While SFA did not specify what enforcement action was taken, those convicted of an offence under the Environmental Public Health (Food Hygiene) Regulations could be fined up to S$2,000.
"Under the regulations, no person shall sell or prepare for sale any food which is found to be on the ground or floor of a licensed premises," the agency said.
"SFA conducts regular inspections of food retail establishments to ensure compliance with our regulations, and will not hesitate to take enforcement action if necessary."
Singapore's coffee shops have never had the best reputation for cleanliness.
Their floors and toilets could be filthy, patrons told CNA, while authorities have over the years tried to raise hygiene standards by imposing tougher penalties on errant operators and educating the public on returning trays and not littering.

Still, the fourth edition of the public cleanliness survey, conducted by the Singapore Management University (SMU) and released on Aug 18, showed that people think hygiene standards at coffee shops have become worse.
In the food outlet category, more than 2,000 Singapore residents were asked if they were satisfied with the general cleanliness in coffee shops, hawker centres, wet markets and air-conditioned food courts.
Seventy-seven per cent of respondents said they were satisfied with the cleanliness in coffee shops, compared to 83 per cent in hawker centres, 84 per cent in wet markets and 96 per cent in food courts.
The percentage for coffee shops was a "significant decrease" from the previous edition of the survey in 2019, when 86 per cent of respondents said they were satisfied, the survey report noted. Then, coffee shops still fared better than wet markets.
This year's survey also indicated that 32 per cent of respondents – up from 16 per cent in 2019 – felt that the thoroughness of cleaning at coffee shops was insufficient. This figure is the highest among nine public spaces, including hawker centres, wet markets and neighbourhood common areas.
The difference between coffee shops, hawker centres and food courts
Coffee shops
Coffee shops, colloquially known as kopitiams, are privately owned and are usually found in housing or industrial estates. There are about 1,200 coffee shops in Singapore.
A coffee shop typically has about five to seven stalls, usually selling dishes like mixed rice, chicken rice and fishball noodles. The coffee shop will have a drink stall, which is often operated and run by the owner of the coffee shop, according to lifestyle website Soak in Singapore.
Major coffee shop chains include Broadway, Chang Cheng, GHK and Kimly. Some outlets have been sold for tens of millions of dollars.
Hawker centres
Hawker centres are larger food centres mostly managed by the National Environment Agency. They are typically found in the heart of a housing estate, next to a wet market and other amenities. There are 114 markets and hawker centres in Singapore.
Hawker centres can have more than 50 stalls with a wide range of offerings. Singapore's hawker culture is officially part of a UNESCO cultural heritage list, while 42 hawker stalls have made Michelin's Bib Gourmand list in 2021.
In 2018, a different type of hawker centres – run by social enterprises – made the headlines, amid allegations of poor management practices as well as high rentals and auxiliary costs.
Food courts
Food courts are generally air-conditioned, unlike coffee shops and hawker centres, and can be found in many shopping malls in Singapore. Food courts also offer a wide variety of dishes. 
Food courts are consistently thought of as cleaner than the other two, although dishes are generally more expensive. The main food court operators in Singapore include Food Junction, Food Republic, Kopitiam and Koufu.
SMU sociology professor Paulin Straughan, who led the survey, said the poorer perception of cleanliness at coffee shops could be attributed to several reasons, including how the COVID-19 pandemic has raised hygiene expectations and reduced tolerance for dirt.
"Second, coffee shops are community spaces with very high footfall. So when you have so many flowing in and out, it is very difficult for operations to conduct thorough cleaning during rush hour," she told CNA.
"Third, to keep prices low and affordable, I suspect the operators may not spend as much on professional cleaning services compared to the high-end shopping malls and food and beverage (F&B) outlets."
Public hygiene experts CNA interviewed said coffee shop operators should take cleanliness more seriously and step up their cleaning regimes.
World Toilet Organization founder Jack Sim believes that the operators see hygiene as a secondary part of what is primarily a food business, behind factors like food quality and variety, and thus are more reluctant to spend on cleanliness.
Mr Sim also urged authorities to get tougher on errant operators, adding that user-targeted measures were not effective as he feels inconsiderate customers only form the minority.
In the latest of such measures, coffee shop diners who do not return their trays could be fined from January next year.
The Ministry of Sustainability and the Environment (MSE) told CNA there is "room for improvement" in some public spaces, particularly in F&B premises like food centres and coffee shops.
The National Environment Agency (NEA) has introduced several initiatives, like this year's Clean Tables campaign, to improve public cleanliness and hygiene standards, a ministry spokesperson said, citing the latest tray return initiative.
"This self-service approach is a more sustainable way of keeping our community dining places safe and clean," the spokesperson said.
Coffee shops will also have to adhere to mandatory baseline standards under a new environmental sanitation regime from March next year.
They will be required to perform routine cleaning and disinfection of specific areas, including toilets, at stipulated frequencies. They will also have to undergo thorough periodic cleaning once every three months.
As for the toilets, the MSE spokesperson said operators are legally required to equip them with basic amenities, such as enough liquid soap, toilet paper, hand dryers or paper towels, and litter bins. These must be kept in good working condition.
"They should also ensure that cleaning contractors or in-house cleaning staff perform regular cleaning and maintenance of their toilets," the spokesperson said.
"NEA and SFA conduct regular inspections of public toilets, including at food establishments. Enforcement actions are taken against errant toilet operators or owners who fail to comply with requirements."
Coffee shop operators that CNA spoke to said these measures will raise hygiene standards, and asked for patrons' patience for the improvements to take place.
They said they were already doing their best to keep their premises clean, and rejected suggestions that they prioritised profits over hygiene. Rising labour and utility costs mean they were not earning as much as they used to, they highlighted.
MSE said everyone has a role to play in upholding good hygiene standards at coffee shops.
"We call on all individuals to adopt good personal hygiene habits, do their part to keep our public spaces and toilets clean, and support our efforts to make cleanliness a part of our social norm," the spokesperson said.
PATRONS COMPLAIN ABOUT TOILETS
Mr Kenneth Tang, who buys food from different coffee shops in the Bedok area every day, agrees that patrons can contribute to maintaining hygiene standards.
"Customers can play a part to keep the place clean, but this is more like civic awareness. Wherever they go, they should not dirty the place," the 66-year-old retiree said.
"But in the long run, they don't really have to be responsible for the cleanliness of the coffee shops. The responsibility is still on the management of the coffee shops."
Mr Tang feels that coffee shop operators "do not care" about hygiene, calling their overall level of cleanliness "unsatisfactory".
"I found that most of the coffee shops that I have visited, the floors are oily and dirty," he said, adding that patrons could slip and fall. "The cleanliness of the washrooms of most of the coffee shops are far from acceptable."
According to the 2021 public cleanliness survey, 61 per cent of respondents said they were satisfied with the cleanliness of coffee shop toilets.
This is the lowest proportion among toilets in public places, including shopping malls (96 per cent), bus interchanges (87 per cent), MRT stations (86 per cent), outdoor parks (84 per cent) and hawker centres (66 per cent).
The three most common issues with coffee shop toilets were bad odour, dirty toilet seats or urinals, and an absence of toilet paper, the survey showed.
A separate SMU study last year also found that coffee shop toilets had stayed "dirty and largely unchanged" compared to findings from a similar study conducted four years ago.
The NEA is trying to change this by introducing in June last year a programme to improve coffee shop toilets, which offers co-funding of up to S$45,000 to improve toilet designs, install sanitary fittings and adopt technology to help keep conditions clean.
As of the end of July, an NEA spokesperson told CNA it has received applications from 37 eligible coffee shops. There are about 1,200 coffee shops in Singapore.
One coffee shop owner believes there are few applications as the co-funding comes with some conditions, including removing smoking corners to get the highest grant, and engaging a licensed cleaning business to deep clean the toilets every fortnight for a minimum of one year.
The cost of doing the latter would outweigh the benefits of the co-funding, the owner said.
Mr Tang feels that coffee shop operators do not value cleanliness as it comes with "extra work, cost, time and effort", as he urged authorities to come down harder on errant operators.
Nevertheless, Mr Tang said some newly renovated coffee shops are "relatively cleaner".
A fellow patron, who only wanted to be known as Mr Chia, 60, feels the general cleanliness of coffee shops is acceptable.
"Every time I see people finish their meal, they automatically return their tray, and the helpers are also very quick in the way they clean up the table," said the private hire driver, who has his meals at various coffee shops around Singapore during breaks.
"But of course, the toilet can't be helped because it's used a lot by the public. With the lack of manpower now, it's very difficult for operators to keep a normal standard of cleanliness for toilets."
Mr Sim from the World Toilet Organization said that coffee shop operators could outsource cleaning tasks to a professional company, but choose not to do so to save costs.
This is different from how a shopping mall, for instance, views toilet cleanliness, he said. Shopping mall operators hire a professional cleaning service as clean toilets will keep shoppers in the mall longer, he explained.
"The coffee shop owner, on the other hand, has a very different outlook. They say that people come to eat in their coffee shop regardless of whether the toilet is clean or dirty," he said.
This mindset extends to the amenities in the toilets, Mr Sim said, pointing to how some of the toilets only offer "very diluted" hand soap.
"That's already a very clear sign that they are trying to save money. The coffee shop doesn't see any benefits of keeping the toilet clean," he added, stressing that dirty toilets could impact food hygiene as cooks often use them.
Mr Tang suggested that some people still visit unhygienic coffee shops for the "good food", while SMU's Prof Straughan said people's patronage is likely due to "convenience and affordability".
Regardless, Mr Sim urged authorities to ramp up enforcement efforts, saying that tougher fines will push operators towards engaging professional cleaning services.
"The coffee shop problem is actually due to coffee shop owner negligence," he stated. "Authorities have been talking about user negligence for the last 30 years, and it didn't change anything."
COFFEE SHOPS "DOING THEIR BEST"
Coffee shop operators, however, disagreed, saying that they have emphasised cleanliness and improved standards alongside tougher regulations over the years.
"Operators are doing their best," said Mr Hong Poh Hin, vice-chairman of the Foochow Coffee Restaurant and Bar Merchants Association, which counts more than 400 coffee shops as members.
About 400 coffee shops have been SG Clean certified for meeting improved hygiene standards in their premises and toilets. This includes having a cleaning regime in place, and identifying the person responsible for that regime.
Mr Hong said about half of the association's member coffee shops engage a cleaning service, while the rest hire their own cleaners.
While he acknowledged that a professional service offers better standards, he said this could cost around S$9,000 a month for three cleaners who work eight-hour shifts each day. There are usually two shifts a day.
On the other hand, coffee shops that deploy two of their own cleaners per shift will spend about 20 per cent less, he said.
These outsourced or in-house cleaners will complete a number of cleaning tasks every day, including clearing tables, cleaning toilets and sweeping the floor.
This year's public cleanliness survey report highlighted that cleaning contractors are "expected to be effective in their service delivery". "In addition to proper training and sufficient allocation of manpower, cleaning companies should ensure that cleaners are aware of their responsibilities," it said.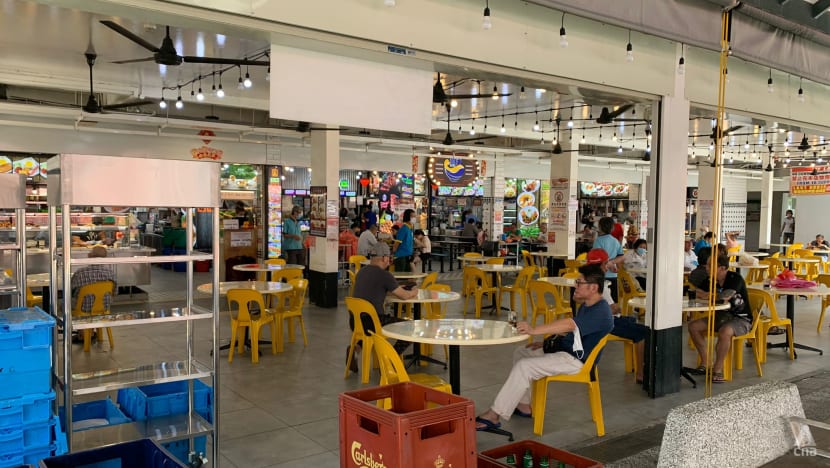 In line with this, the new environmental sanitation regime requires coffee shop operators to appoint a coordinator who must attend and pass a training course with NEA.
The training will help coordinators plan and implement a full range of environmental measures, including cleaning and disinfection.
The coordinator will also take charge of the coffee shop's team of in-house cleaners and hopefully better train them, Mr Hong said.
"This will improve the cleanliness of coffee shops. But it will involve more costs," he added, although he suggested that some coffee shops could choose to share one coordinator.
Mr Kenneth Lee, who owns the Hai Fong Restaurant coffee shop in Toa Payoh, said it is unfair to assume that coffee shops prioritise profits over hygiene.
"You cannot say we only want money. Who doesn't want money? If I don't want money, then what do I want to run a business for?" the 59-year-old said.
"Toilets – of course I will clean them, but not like a shopping mall. Shopping malls are one grade higher than us. The food is more expensive there."
Ultimately, Mr Lee believes the general cleanliness at coffee shops is acceptable.
"Right now, most coffee shops have cleaners cleaning the tables," he added. "You have to give some time (for hygiene standards to rise)."
CLEANERS HAVE IT TOUGH
When CNA visited a coffee shop in Bedok South, cleaner Jane (not her real name) was the only one on shift taking drink orders and clearing tables as her colleague was on leave. She said the cleaners there have four days off a month. The coffee shop is open every day.
The floor at some parts of the coffee shop was littered with tissue and cigarette butts, although Jane was quick to clear the tables after patrons were done eating, CNA observed.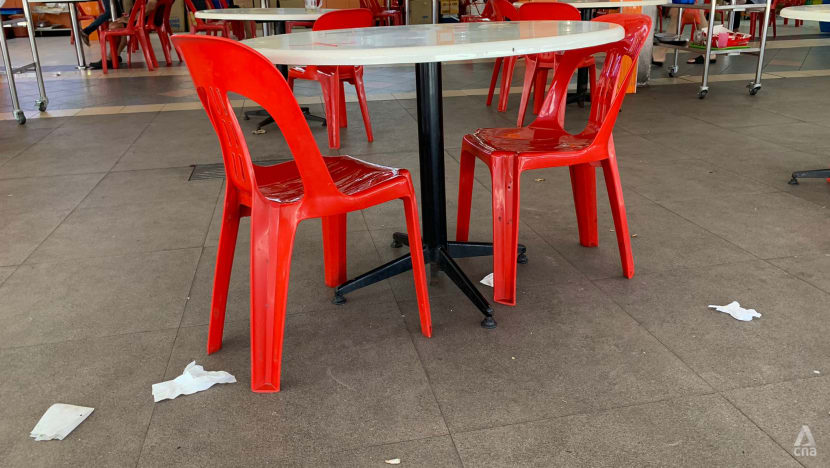 In the 30 minutes that CNA was there, Jane did not manage to sweep the floor or clean the toilet. She was also seen taking out the trash before having a short break.
Jane, who is in her 40s, said she does not really feel tired, but admitted that she has pain in her legs from the constant shuttling between tables.
"The cleanliness here is still okay," she told CNA. "If I see any dirty tables, I will clean it."
While Mr Lee acknowledged that cleaners have a difficult job, he said hiring more cleaners would mean passing on the extra costs to stall owners and in turn to patrons.
"We don't want to add costs for consumers. They will complain about why the food is very expensive," he said.
Mr Lee said the progressive wages for cleaners and minimum local salaries for businesses that hire foreigners also mean coffee shops were not earning as much as before.
"Many consumers think coffee shops make a lot of money. It's not true," he said. "You can still earn, but it depends on how you do it."
Mr Lee encouraged patrons to also play their part, noting that some inconsiderate users litter at the tables and throw tissue in the urinals.
Mr Hong said some members of the public will continue to be "selfish", but noted that more education and tougher regulations will improve behaviour.
"After COVID-19, it will be better. Everybody knows what is hygiene; everybody will take care of it themselves," he added.
SHARED RESPONSIBILITY
Public Hygiene Council chairman Edward D'Silva agreed that some members of the public continue to have "poor personal responsibility" by littering, not returning trays and dirtying the toilets.
"For instance, even with more regular cleanings scheduled, it only takes one inconsiderate user to foul up the coffee shop toilet between cleanings," he said.
However, Mr D'Silva called the raising of hygiene standards at coffee shops a "shared responsibility" that includes "critical" cooperation from operators.
"Coffee shop owners need to consider implementing the right infrastructure, upgrading of existing toilet facilities and design," he said.
"They must look at these issues more seriously, commit to higher standards and step up their cleaning regimes."
The council said it will hold a dialogue session with operators later this month to "further reinforce" the importance of keeping their premises clean and hygienic.
SMU's Prof Straughan likewise believes in the shared responsibility of keeping coffee shops clean.
For example, cleaners can mop the floors, dispose garbage and wipe grim off tables, she said. Patrons can return trays, take care of simple wipes, and inform cleaners about messy spills or overflowing tray return stations.
"How is it that our workplace pantries or our school canteens are generally cleaner spaces? We don't have official fines and policing in these places but we do have internal social policing," she added.
"If we can raise consciousness to the fact that coffee shops are our neighbourhood social gathering points and canteens, we might be more willing to step up in doing our part."