Some contractors face delays of up to two months, as more workers fall sick due to warmer weather
To cope with the heat, one company is monitoring the water intake of its workers through group chats while another has in place two mandatory breaks daily.
SINGAPORE: Some contractors are facing delays of up to two months in their projects, as more workers are calling in sick due to the recent soaring temperatures. 
The temperature hit 37 degrees Celsius in Ang Mo Kio last Saturday (May 13), equalling a 40-year record for the highest daily maximum temperature here, according to the National Environment Agency (NEA). 
The last time such a high was recorded was on Apr 17, 1983, in Tengah. NEA added that several locations across Singapore also recorded temperatures exceeding 36 degrees Celsius last Saturday.
CONSTRUCTION DELAYS DUE TO THE HEAT
To beat the heat, many contractors are ramping up measures, such as allowing their workers to have more rest and ensuring they also have plenty of water.
For these workers, long hours in the sun are part and parcel of the job.
However, the higher temperatures are taking a toll on their health.
Migrant worker Selvarasu Senthil, who fell sick last week, said: "I went to see a doctor. The doctor said I've been exposed too much to the sun, so I have a headache, fever, and feel faint."
At Hitomo Construction, between 10 and 30 per cent of workers have called in sick each day for the past few weeks.
Its chief executive officer Serene Pan believes more workers are falling ill due to the scorching heat. 
"We have seen an increase in the number of medical leave taken. So in terms of schedules, timeline, we seem to have taken a hit," she said.  
"And I think schedule wise, probably maybe a month or two months of delay due to the hot weather."
The company said these delays could see profit margins shrinking by 10 per cent.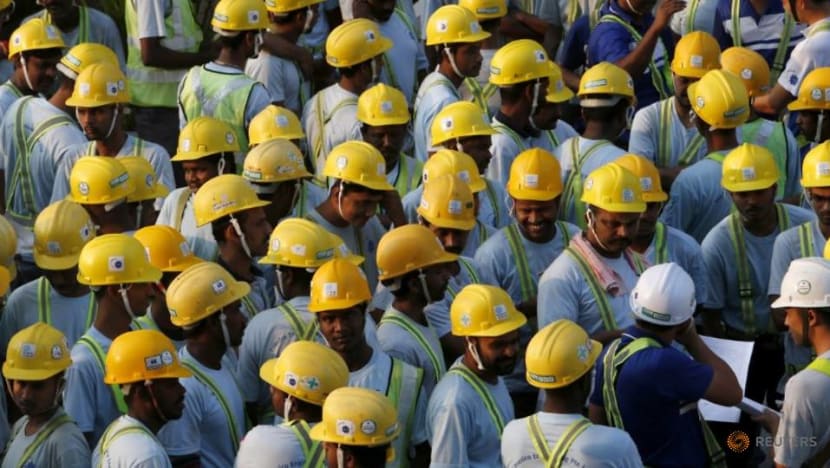 RAMPING UP MEASURES TO BEAT THE HEAT
Meanwhile, Arc Urban Services is actively monitoring water intake of its workers through group chats, and providing amenities to make sure they do not fall sick.
"We recently ordered some outdoor portable fans that the men can use outside if it gets too hot," said Mr Isaac Ho, project manager at Arc Urban Services. 
"And we also have these big tentage shelters that the men can fold and bring to whichever site they go to provide them a sheltered area."
To help firms manage heat stress, companies can consult the Workplace Safety and Health Council's WSH Guidelines. These include recommendations to provide a shaded rest area and ensure workers are properly hydrated.
Straits Construction, for instance, has mandated two scheduled breaks for workers a day.
But the company said workers too, need to speak up when they feel unwell.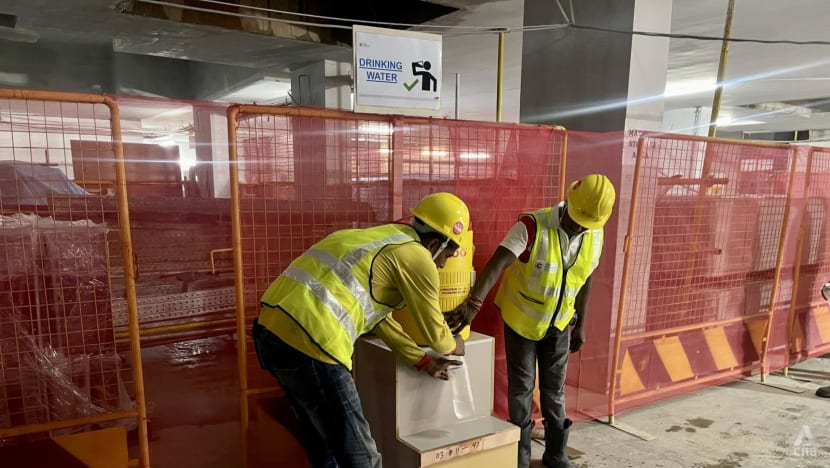 "They have to be wary of the situation. They have to keep themselves fit and safe," said Straits Construction executive director and chief operating officer Kenneth Loo, adding that workers should look out for their peers and report signs of heatstroke.
"The individual will have to take responsibility on their part. Of course, as an employer, we have to make sure that they do it in a sense. But I think at the end of the day, they need to stand up if they feel unwell."