Offenders who possess large amounts of controlled drugs will face up to 30 years' jail from Jun 1
These drugs include cannabis, cocaine, methamphetamine and heroin, which the Ministry of Home Affairs said "cause the most serious harms".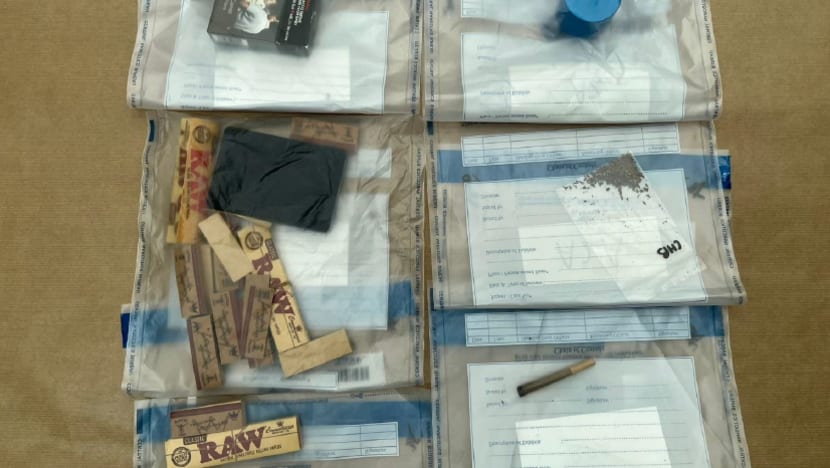 SINGAPORE: Offenders caught with large quantities of certain Class A controlled drugs, such as cannabis and methamphetamine, will face stiffer penalties – including caning – from Thursday (Jun 1), said the Ministry of Home Affairs (MHA).
The previous maximum punishment for possession of any controlled drug, regardless of weight, was 10 years' jail, a fine of up to $20,000, or both.
Now, offenders can be caned depending on the amount of drugs they possess. Mandatory minimum sentences for certain weight thresholds have also been set, while the maximum punishment will now be 30 years' jail and 15 strokes of the cane.
Amendments to Singapore's main drugs legislation, the Misuse of Drugs Act, were passed in parliament in March.
The eight controlled drugs that this will apply to are cannabis, cannabis mixture, cannabis resin, cocaine, diamorphine (pure heroin), methamphetamine, morphine and opium.
For example, those who possess less than 10g of diamorphine can be jailed for up to 10 years or fined up to S$20,000, or both. There is no statutory minimum.
Those convicted of possessing at least 10g but less than 15g of diamorphine will face a minimum of 10 years' jail and five strokes of the cane. The maximum sentence is double that.
Those who possess more than 15g will receive at least 20 years' jail and 10 strokes of the cane. The maximum sentence is 30 years' jail and 15 strokes of the cane.
MHA previously said that the old sentencing framework for drug possession did not sufficiently account for the potential harm that could be caused by those who possess large quantities of drugs.
These eight drugs were selected because they "cause the most serious harms", it added.
MHA also said that in recent years, the Central Narcotics Bureau (CNB) has observed that syndicates are willing to deal in larger quantities of controlled drugs in each transaction – a shift that may correlate with abusers purchasing larger quantities of drugs in a single transaction, instead of multiple smaller quantity purchases.
In February, CNB revealed in its annual statistics report that the number of cannabis abusers aged below 20 who were arrested increased from eight in 2021 to 26 in 2022.
CNB director Sam Tee told reporters in an interview late last year that the drug enforcement agency has plans to step up engagement with parents.
Methamphetamine remained the most abused drug in Singapore last year, with the 1,445 abusers arrested making up 51 per cent of the total number.
Other amendments to the Misuse of Drugs Act that will take effect from Thursday include the director of CNB being able to recall Singapore Armed Forces (SAF) personnel convicted of drug consumption under the SAF Act and get them to take a urine test.
This is in line with the CNB director's current powers to recall any former drug abuser to report for a urine test throughout the person's life, to ensure they are no longer drug addicts.
CNB officers can also now make seizures based on reasonable suspicion, aligning these powers with those provided for under the Criminal Procedure Code.
New laws that were also passed in March to better tackle psychoactive substances, which produce the same or similar effects as controlled drugs, will take effect in the first half of 2024. More details will be announced in due course, MHA said.