Work-from-home arrangement among measures some firms are taking amid Singapore's COVID-19 wave
One company is encouraging employees to work from home until the end of April after many of its staff members fell ill over the past month.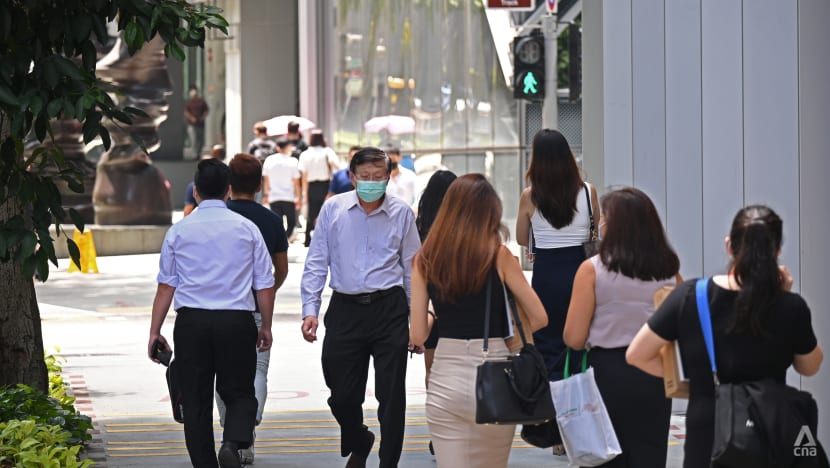 SINGAPORE: Amid Singapore's COVID-19 wave, some companies have been taking additional precautions such as encouraging employees to work from home.
Public relations firm Tate Anzur, for instance, decided to implement a "health reset" last week to break the chain of infection, after seeing a rise in the number of employees falling ill. 
Over the past month, nearly half of its employees - 21 out of 50 - took medical leave. Four of them tested positive for COVID-19.
To minimise their time in transit and in the office, the company is encouraging staff members to work from home until the end of April, instead of returning to the office two days a week. 
"We hope that with the company and the employees all doing our part, we can have a team that is healthy and energised to do our best at work regardless of the rising number of cases that we are seeing today," said the company's founder and managing director Yvonne Li.
Health Minister Ong Ye Kung said on Apr 14 that Singapore has been in the middle of a COVID-19 wave over the past month, with daily infections rising from about 1,400 in March to roughly 4,000 cases a day the week before.
But he noted that the case count has "stabilised" or even fallen.
According to the Ministry of Health's (MOH) website on Monday (Apr 17), there were 16,018 cases recorded in the week between Apr 2 and 8 - slightly over half the previous week's figure of 28,410 cases.
The ministry has been updating COVID-19 infection numbers on a weekly basis under the endemic phase. Figures for Apr 9 onwards have not been published.
Tourist attraction Madame Tussauds Singapore - which allows non-customer-facing employees to work from home - said it has seen an average of two to four staff members from its customer-facing team taking medical leave over the past few weeks.
"Surprisingly, (we have had) zero COVID-19 cases in the last few weeks, but we do have a lot of common cold circulating," said the attraction's head of commercial operations Sylvia Tan.
"Our workforce is still very lean so we are quite cautious because we can't afford for half the team to be down."
Among the measures taken, the attraction provides COVID-19 test kits in the office for those who feel unwell.
"If positive, they are immediately sent home and test kits (will be) deployed to close contacts and areas will be thoroughly sanitised," said Ms Tan.
While the company does not require medical certificates for those who test positive, she said employees have to send a video of themselves taking the test and show their results. Employees are only allowed to return to work after five days or when they test negative for COVID-19.
However, not all companies are tightening their measures.
Minor Group, which operates 16 F&B brands including Thai Express and Poulet, said it has not implemented any additional precautions since Singapore stepped down its disease alert to its lowest level in February. 
Employees are also not required to inform the company if they have COVID-19, said the group's chairman and CEO Dellen Soh.
"We usually take cues from the government on what measures to implement, restrictions to impose or things we need to do," said Mr Soh.
"The protocol now is that COVID-19 doesn't need to be reported any more, it's just like another flu."
While Mr Soh said the company has not seen a surge in the number of employees taking sick leave, he noted that people might be feeling more "protective" over their jobs - which could mean being reluctant to take sick leave - given the current economic situation and reports of retrenchments in various sectors.
"A lot of people tend to be more serious about keeping their jobs because the future in the next one or two years is not going to be very rosy, so it's very uncertain," he said.
STAY AT HOME IF YOU'RE UNWELL
While waves of infections are expected as immunity rises and falls in the population, infectious diseases experts said it is important for companies to continue practising good public health.
Citing several research, Professor Paul Tambyah noted that presenteeism - which refers to unproductive attendance at work when employees work long hours or show up for work despite feeling sick or distracted - has long been recognised as "a major public health hazard" even before the pandemic.
"I do not think that companies should take additional precautions. They just need to practice good public health – encourage good hygiene and also make sure that staff do not work while sick," said Prof Tambyah, who is the president of the International Society for Infectious Diseases.
Echoing his sentiment, Associate Professor Alex Cook said allowing sick employees to work from home should be the default even if it is not COVID-19.
"Other respiratory illnesses such as influenza are also killers, so even a negative ART should not remove the need for a mask if you are symptomatic," said Assoc Prof Cook, vice dean of research at the National University of Singapore's (NUS) Saw Swee Hock School of Public Health.
"When working from home is not practical, they should encourage mask-wearing for staff who have symptoms of a cough or cold," he added.
Professor Dale Fisher from NUS' Yong Loo Lin School of Medicine said that companies could also try to redesign rosters and infrastructure to stop crowding as well as ensure that the workplace is well-ventilated.
"We have to act differently now compared to the heat of the pandemic. Our actions now need to be more 'normal' as this is sustainable," he added.
"Rather than mandate, workplaces need to understand that this is the way to keep their staff healthy."