Travelling overseas? 7 destinations in Asia that have eased COVID-19 entry rules
Are COVID-19 tests and quarantine still needed? Here's a look at the requirements across key Asian destinations, including Japan and South Korea.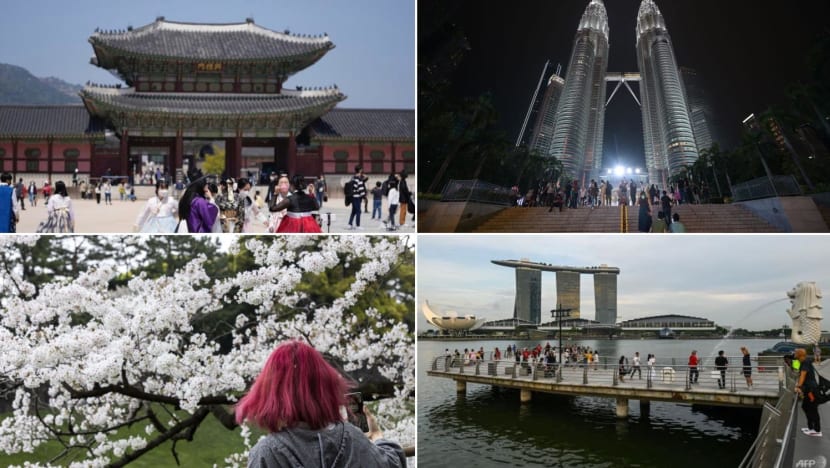 SINGAPORE: Destinations around the world have been easing COVID-19 entry restrictions as the pandemic wanes, with Japan, Taiwan and South Korea among the latest to announce relaxed rules.
Japanese Prime Minister Fumio Kishida said on Thursday (Sep 22) that his country will lift tough restrictions on foreign tourists, reopening its borders after two-and-a-half years.
As travel picks up, here's a look at the updated entry rules for some key Asian destinations.
JAPAN
From Oct 11, Japan will restore individual tourism and visa-waiver travel to people from certain countries as long as they are vaccinated against COVID-19.
At the same time, it will also scrap a daily cap on arrivals, currently set at 50,000.
Japan had maintained some of the strictest border measures among major economies, effectively blocking entry to visitors for two years until it began a gradual reopening in June.
But only about 8,000 people arrived in July, compared with more than 80,000 visitors a day before the pandemic.
Ahead of the Oct 11 reopening, tourists can visit Japan on package tours without a guide. This has been allowed since Sep 7.
Pre-departure tests were required for all travellers. But since Sep 7, all arrivals, including Japanese nationals, have been exempt from submitting proof of a negative COVID-19 test if they have received their third vaccine shot.
On-arrival tests and quarantine may be needed depending on where a visitor is travelling from.
For instance, countries like Singapore, Malaysia, Thailand, the Philippines, the United States, the United Kingdom and France, are on Japan's blue list - meaning on arrival tests and quarantine will not be required. There is also no need to submit a COVID-19 vaccination certificate.
Travellers from countries on the yellow list - for instance, India, Vietnam, Sri Lanka and Portugal - need to quarantine for three days if they do not have a valid vaccination certificate. 
TAIWAN
The Taiwan government confirmed on Sep 29 that it will end its mandatory COVID-19 quarantine for arrivals from Oct 13.
Cabinet spokesman Lo Ping-cheng previously said that visa-free entry would resume from Sep 29 for citizens of all countries that previously had that status.
The government will also increase weekly arrival limits for international travellers by 10,000 to 60,000, he said on Sep 22, with no more polymerase chain reaction (PCR) tests for arrivals. The arrival cap will be raised further to 150,000 a week with the end of mandatory quarantine, Lo said at the time.
In his latest statement on Sep 29, Lo said that with a well-vaccinated population and the pandemic under control at home, the time had come to reopen Taiwan's borders.
Arrivals will still need to monitor their health for a seven-day period and take rapid tests, but tourists will be allowed to return, he added.
Taiwan previously removed the requirement for negative pre-departure PCR tests. In June, it cut the number of days spent in isolation for arrivals from seven days to three.
SOUTH KOREA
If you're going to South Korea, you will soon no longer need to present a negative on-arrival PCR test within 24 hours of your arrival.

This will come into effect from Oct 1, ending all COVID-19 restrictions on inbound travellers. 
South Korea had already removed the mandatory pre-departure COVID-19 testing requirement for inbound travellers in September.
All travellers, including children below the age of six, are required to register for Q-code before departure.
A QR code will then be issued to the traveller's email. This is valid for one-time entry, according to the Embassy of the Republic of Korea to Singapore.
Travellers eligible for visa-free entry must also register for the Korea Electronic Travel Authorisation, or K-ETA, if they are visiting for fewer than 90 days. 
The country also lifted quarantine requirements for all travellers, regardless of vaccination status, from Jun 8.
HONG KONG
From Sep 26, hotel quarantine will no longer be required for international arrivals to Hong Kong. 
The territory on Sep 23 announced that it is scrapping the three-day hotel quarantine requirement, ending travel curbs that have kept the finance hub globally isolated for the past two-and-a-half years. 
Travellers arriving from overseas will be able to return home or to their accommodation and they will have to self-monitor for three days after entering Hong Kong.
During this three-day period, they will be allowed to go to work or school but will not be allowed to enter bars or restaurants.
A pre-flight PCR test which was required for travellers to Hong Kong 48 hours before flying will be replaced by a rapid antigen test.

Upon arrival, travellers will be subject to PCR tests. Overseas arrivals will also need further PCR tests on days two, four and six in the city.
Tourists who test positive for COVID-19 face being isolated in hotel rooms at their own expense. 
Hong Kong's pandemic rules will continue to stay in place, including social distancing restrictions, mandatory mask wearing and digital health codes to enter public venues.
Group gatherings of more than four people in public remain banned.
SINGAPORE
From Aug 29, non-fully vaccinated short-term visitors aged 13 and above travelling to Singapore no longer need to apply for entry approval. 
They are not required to undergo a seven-day stay-home notice upon arrival or take a PCR test at the end of the stay-home notice period, the Health Ministry said, pointing to the improving local and global COVID-19 situation.
However, travellers who are not fully vaccinated must still present a negative pre-departure test within two days before departing for Singapore. They must also buy COVID-19 travel insurance to cover the duration of their stay.
All travellers entering Singapore via air or sea must submit their electronic health declaration before they enter Singapore, using the SG Arrival Card e-service up to three days before arrival.
MALAYSIA
All travellers are allowed to enter Malaysia regardless of their COVID-19 vaccination status and do not require a pre-departure or on-arrival COVID-19 test, from Aug 1.
They will no longer need to fill in the traveller's card in the MySejahtera mobile application.
Health Minister Khairy Jamaluddin said authorities will step up the monitoring of travellers' health symptoms at all international entry points in Malaysia.
All travellers who have just arrived from overseas should self-monitor their health, comply with the standard operating procedures and are advised to go to a health facility if they are unwell, added Mr Khairy. 
THAILAND
Travellers are no longer required to apply for Thailand Pass, which was an online platform to submit documents before entry to Thailand.
At the point of entry to Thailand, travellers will only need to show proof of either a certificate of vaccination.
Those who are not fully vaccinated need to show a negative PCR test result or a professionally administered ART result.
If these requirements are met, there is no need to quarantine.
Editor's note: This article has been updated to reflect the latest announcements by Japan, Taiwan and Hong Kong.