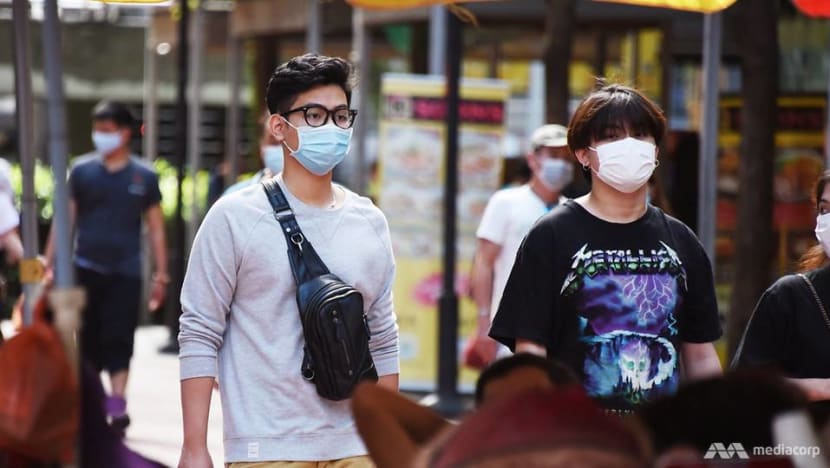 SINGAPORE: Singapore reported 117 new COVID-19 cases as of noon on Friday (Aug 21), including six in the community and 13 imported infections, said the Ministry of Health (MOH). 
This brings the total number of COVID-19 cases in the country to 56,216. 
Three of the community cases are Singaporeans, while the other three involve work permit holders, said MOH.
A 14-year-old Singaporean was identified as a contact of two previously confirmed cases.
"He had been placed on quarantine earlier, and was tested during quarantine to determine his status," said the ministry.
FIVE COMMUNITY CASES UNLINKED
Five of the community cases are currently unlinked, said MOH. Two are Singaporeans - a 61-year-old man who went to work at SLR Revolution at Excelsior Shopping Centre, and a 47-year-old woman.
The woman was tested as part of MOH's efforts to screen individuals working in frontline COVID-19 operations while the 61-year-old man was detected to have the coronavirus after he was diagnosed with acute respiratory infection.
The remaining three unlinked community cases were identified as a result of rostered routine testing of workers in the construction, marine and process sectors who are living outside dormitories, said the ministry.
"Epidemiological investigations of the unlinked cases are in progress," said MOH. 
"In the meantime, all the identified close contacts of the cases have been isolated and placed on quarantine, and will be tested at the start and end of their quarantine period so that we can detect asymptomatic cases. 
"We will also conduct serological tests for their household contacts to determine if these cases could have been infected by them."
Besides the polymerase chain reaction (PCR) test, serological tests were also conducted to determine if some of the cases were current or past infections.
The serological tests for two cases - the 14-year-old Singaporean and the 47-year-old Singaporean woman - came back positive, which indicate likely past infections, said MOH.
The test results for the remaining cases are still pending.
Overall, the number of new cases in the community has remained stable at an average of two cases per day in the past two weeks.
The number of unlinked cases in the community has also remained stable at an average of one case per day in the past two weeks.
"We will continue to closely monitor these numbers, as well as the cases detected through our surveillance programme," said the ministry.
Four shopping malls - Tampines Mall, West Mall, Century Square, and Gek Poh Shopping Centre - were added to a list of public places visited by COVID-19 cases in the community during their infectious period, said MOH on Friday.
The new locations are as follows: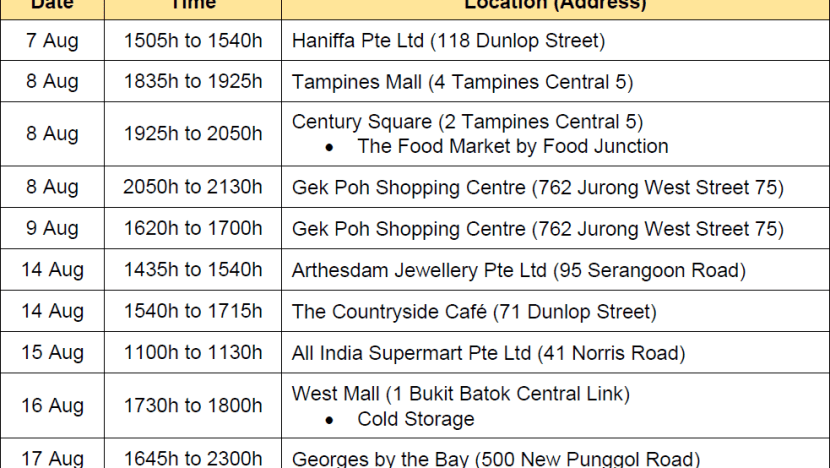 SINGAPOREAN RETURNING FROM INDIA AMONG 13 IMPORTED CASES
The 13 imported cases were all placed on stay-home notices after arriving in Singapore. 
A 49-year-old Singaporean man who returned from India on Aug 7 was among the imported cases reported on Friday.
Another five cases were work pass or work permit holders currently employed in Singapore and had arrived from the Philippines between Aug 7 and Aug 9, as well as from the UK on Aug 10.
Four dependant's pass holders and a long-term visit pass holder who arrived from India on Aug 10 and the UK between Aug 8 and 10 were also among the imported cases.
The remaining two imported cases were short-term pass holders who arrived from India on Aug 7 and the Philippines on Aug 9.
"They were allowed entry into Singapore because one is a spouse and caregiver of a patient who has been receiving medical treatment in Singapore and another is employed on a project basis to work in Singapore," said MOH.
All the imported cases were tested while serving their stay-home notices at dedicated facilities. 
Of the 117 new cases reported on Friday, 98 were work permit holders living in dormitories.
"There are currently about 14,300 workers who are still serving out their quarantine period. These workers will be tested when their quarantine ends, and we expect the case counts to remain high in the coming days, before tapering down thereafter," the health ministry added.
532 MORE PATIENTS DISCHARGED
A total of 532 more patients have been discharged from hospitals or community isolation facilities. In all, 53,651 have fully recovered from the infection and have been discharged.
There are 72 COVID-19 patients who are still in hospital. Most of these patients are stable or improving and none is in the intensive care unit.
MOH reported that 2,466 patients are isolated and cared for at community facilities. These are people who have mild symptoms or are clinically well but still test positive for COVID-19.
Twenty-seven have died from complications due to COVID-19.
RESTRICTIONS EASED FOR SOME TRAVELLERS
Singapore announced on Friday that it is easing some border controls to allow visitors from Brunei and New Zealand. 
Those who have remained in those two countries in the last consecutive 14 days before entering Singapore will not be required to serve a stay-home notice from Sep 1.
Instead they will take a COVID-19 test at Changi Airport, and only be allowed to go around Singapore after receiving a negative result.
For travellers from other "low-risk" countries or regions - mainland China, Macau, Taiwan, Vietnam, Malaysia and Australia (excluding Victoria state) - the stay-home duration will be reduced from 14 days to seven. 

Other measures announced by the COVID-19 multi-ministry taskforce on Friday include the introduction of odd and even date entry restrictions on weekends at Lucky Plaza and Peninsula Plaza, to better manage crowds.
From Aug 29, those whose NRIC or FIN numbers end in even digits (0,2,4,6,8) can only visit the two malls on even dates on weekends, while those whose numbers end in odd digits (1,3,5,7,9) can only do so on odd dates.
Meanwhile, more public facilities will be available from Sep 1 for registered instructors conducting outdoor exercise classes, including open spaces at SportSG centres and common areas managed by the Housing and Development Board (HDB).
It was also announced that households with more than five people can book more than one table at food and beverage outlets, but they should limit interaction between tables.

Earlier on Friday, the Ministry of Education and Singapore Examinations and Assessment Board said that the national year-end exams will proceed amid the COVID-19 pandemic, with special arrangements to keep students safe.
Students with COVID-19, or who have been placed on quarantine order, stay-home notice or leave of absence will not be allowed to sit for the exams.
In the continued effort to understand the virus and develop treatments, researchers in Singapore have discovered a new COVID-19 variant that causes less severe symptoms in patients, opening up new avenues for vaccine development and treatments.
Patients who had contracted the milder variant were less likely to develop low blood oxygen or required intensive care, according to a study released on Friday by the National Centre for Infectious Diseases, A*STAR's Singapore Immunology Network and Duke-NUS Medical School.
Download our app or subscribe to our Telegram channel for the latest updates on the coronavirus outbreak: https://cna.asia/telegram