Woman selling crochet pieces at Toa Payoh MRT station just wants people to value her craft
Mrs Catherine Ang's mini crochet business at Toa Payoh MRT station went viral after a Facebook user posted about it in a community kindness group.
SINGAPORE: It was half past eight on a Thursday morning (Aug 18) at Toa Payoh MRT station, as commuters filed into Exit D on their way to the train platforms.
Many of these people were about to start their day, but for Mrs Catherine Ang, who sat on the bare, brown-tiled floor along the underground walkway to the fare gates, the day is about halfway done.
Mrs Ang, 56, crochets coasters, bottle holders and little handbags at home as a decades-old hobby. From 6am to 9am every weekday, she sells these items for between S$1.50 and S$6 at the MRT station. Then she makes the short walk home to rest before spending the rest of her day crocheting again.
Her mini business went viral after Facebook user Jaya Dutta posted about it in a community kindness group on Saturday. Ms Dutta said she bought some crochet bottle holders from Mrs Ang, who "broke out in tears as she had no (sales) for last few days". 
The post also led to several media articles and a Reddit thread.
This might be why Mrs Ang's wares were almost sold out when CNA visited on Thursday. She was about to keep a brown picnic mat she uses to display her items, although she still had a few bottle holders and small handbags left to sell.
Mrs Ang welcomes custom orders, saying that she has crocheted shawls, decorative pieces, larger handbags and tablecloths. These pieces, however, cost more and take much longer to make. For instance, she can crochet a tablecloth in two to three weeks and sell it for S$60.
"Whatever you want, I can make," she told CNA, often repeating this line throughout the hour-long chat.
GROWING UP WITH CROCHETS
A closer look at Mrs Ang's spartan set-up - she sits barefooted on the floor with no mat - also reveals several handwritten signs showing a price list and a message behind what she does: That she needed money to top up her transport fare card and support her sister.
Mrs Ang said she and her twin sister, Christabel, became orphans when they were two-and-a-half months old, after their parents died in a car crash. They were cared for by a foster family until they were 11, then moved to a children's home where they grew up.
This was also where Mrs Ang learnt how to crochet, sew and make carpets as a teenager, a passion she held on to until now. Christabel was eventually found to have a mental condition - Mrs Ang said she can't walk and talk properly - and now lives in a welfare home in Telok Blangah.
Mrs Ang visits her sister every Saturday. "I've been visiting her for 35 years," she said as she showed a video of her teasing a smiling Christabel at the home. "She's older than me by five minutes - you tell me, how can the younger one look after the elder?"
But Mrs Ang is determined to support her in whatever way she can, pointing out that her crochet sales give her extra pocket money. Mrs Ang also gets financial support from the Government each month, and lives with her 65-year-old husband who works as a cleaner. They have no children.
Soon, a man came by and decided to snap up the remaining four bottle holders for S$24. Mrs Ang is happy when people say her items look nice and buy them. She treats the calculation of giving change as a mental exercise, and crochets to pass time at home.
"I am an artist; this is my art and skill. Once I start (crocheting), my hands cannot stop," she said, gesturing at other people who stood across her to sell tissue paper, probably to feed off the interest generated by Mrs Ang's products.
"I didn't ask people for money. These two men are selling tissue, but I'm selling handbags, coasters, tablecloths. Whatever you want, I can make."
Mrs Ang acknowledged legal concerns about selling things at an MRT station, saying that station staff have previously asked her to move. She has been selling at the walkway for the past four years as it is near her home and gets decent footfall.
Mrs Ang insisted that she was only there to sell what she has made at home, and that she would immediately leave the area if told to.
SELLING ONLINE
Another customer soon arrived and sat with Mrs Ang.
Ms Olivia Wee, 31, said she had read about Mrs Ang and cried, and vowed to buy some of her crochet products to help her out. Ms Wee, who works in a tech company, rushed to Toa Payoh MRT station before going into the office on Thursday, only to find that Mrs Ang had sold out.
Ms Wee was disappointed, but Mrs Ang was soon fishing out several crochet pattern books for her latest customer to peruse. 
Mrs Ang said she uses these books as a reference for her designs. She added that she could also crochet basic designs merely from sight, albeit with more time needed.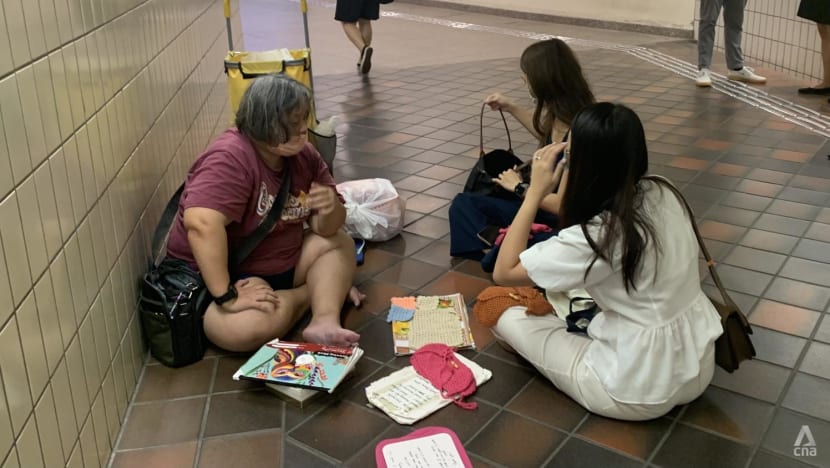 Ms Wee eventually bought two small handbags for S$12 each, and together with a colleague who also dropped by, ordered two larger handbags for about S$25 each.
They had initially decided on a more colourful handbag from the book, but it seems that even Mrs Ang's talent had a limit: She said her eyes would be confused by the seven different-coloured sets of yarn.
Ms Wee and her colleague asked why Mrs Ang did not try selling her products on online platforms. Mrs Ang replied that she did not know how to, so the two younger women offered to help.
Ms Wee's colleague urged Mrs Ang to focus on a few products to maximise her supplies, and take photos of them so people could see them online. Ms Wee also asked if Mrs Ang was making enough profit and pricing her products correctly. S$1.50 for a coaster seemed too low, she said.
This sentiment was echoed on the Reddit thread, with another person who crochets saying that Mrs Ang's art pieces take hours to make and were "super underpriced".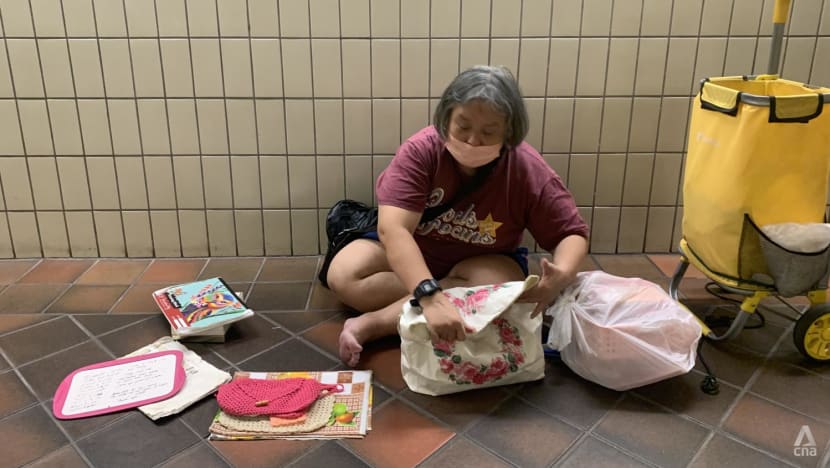 CROCHETING "NOT EASY"
Mrs Ang said people could pay her more if they wanted to, but generally brushed off these queries, instead focusing on how her products needed money to make.
She later told CNA that she buys a ball of yarn from a shop in Ang Mo Kio at a slightly discounted price of S$6.90. This ball can make up to seven coasters, meaning she makes a profit of S$3.60 if she manages to sell seven coasters for S$1.50 each.
Mrs Ang said she can produce one to two coasters a day at a comfortable pace, adding that the work is "not easy" and that she needs to rest her hands.
When asked if she has considered doing this as a full-time job, Mrs Ang said she has tried looking for employment at the Ang Mo Kio shop, but was told that there were no vacancies.
She has also worked as a production operator making television remote controllers, but the job did not appeal to her. She also worked as cleaner, but said the boss eventually "did not want" her.
"My interest is in crochet and making things for people," she said. "After I make them, I will display and customers will buy. They say it's very nice."