MAS reminds cryptocurrency exchanges in Singapore to comply with sanctions against Russia
Research has found that pro-Russia groups have raised millions of dollars in cryptocurrency donations to support Moscow's war in Ukraine.
SINGAPORE: Cryptocurrency exchanges licensed to operate in Singapore must comply with financial sanctions against Russia, the Monetary Authority of Singapore (MAS) said on Monday (Oct 31), after research found that pro-Russia groups have raised millions of dollars in crypto donations to support Moscow's war in Ukraine.
In March, following Russia's invasion of Ukraine, MAS introduced financial measures targeted at designated Russian banks, entities and activities in Russia, as well as fundraising activities benefiting the Russian government.
"These measures apply to all financial institutions in Singapore, including digital payment token service providers (DPTSP) licensed to operate in Singapore," the central bank said in response to queries from CNA.
MAS did not say if it has received reports of exchanges operating in Singapore being used to donate cryptocurrency to pro-Russia groups, but stressed that DPTSPs must have "robust controls" to avoid dealing with sanctioned banks and prohibited activities.
"For instance, DPTSPs have to perform customer due diligence to identify and verify the identities of their customers and the customers' beneficial owners, and screen their customers and their transacting counterparties," a spokesperson said.
"DPTSPs are also required to have robust ongoing monitoring to detect potential attempts to evade the prohibitions, for example, identifying transactions that have used technologies with anonymity features (such as mixers and tumblers) to obfuscate the identities of counterparties."
Singapore has welcomed the adoption of cryptocurrencies as they play a supporting role in the broader digital asset ecosystem, but it has tightened regulations after calling the trading of these assets "highly risky".
On Oct 26, MAS proposed that retail investors in Singapore go through a risk awareness assessment before being allowed to trade cryptocurrencies. They will also not be able to use credit cards or any form of borrowing to trade cryptocurrencies.
On the other hand, cryptocurrency exchanges play an important role in stopping illicit flows of funds as they allow users to send or receive cryptocurrency and convert it into cash to be spent freely.
In July, cryptocurrency-tracing firm Chainalysis published a report saying it has identified 54 organisations that have collectively received over US$2.2 million worth of cryptocurrency, primarily from Bitcoin and Ether donations, to support the war in Ukraine.
This includes the financing of pro-Russian propaganda sites and the purchase of military items like drones, weapons, bulletproof vests and communication devices, the report said.
Mr Andrew Fierman, head of sanctions strategy at Chainalysis, told CNA that the donations raised have hit US$4.8 million, a figure that could still rise given the ongoing conflict.
"That almost U$5 million is making an impact, because we're not talking about really expensive items. We're talking about your everyday items to continue your war efforts," he said.
"And so that US$5 million goes a long way in facilitating the efforts of the militia groups on the Russian side."
HOW DONATIONS ARE SOLICITED
According to Chainalysis, the groups are using public social media pages to call for donations through various methods, including cryptocurrency wallet addresses.
In some cases, the groups even put up "laundry lists" of military equipment they need to buy, Mr Fierman said.
"On the back end of it, they're very transparent, so they actually would show what they purchased with that money to kind of promote: 'Hey, listen, if you're going to keep helping us, we promise you we are going to keep buying more military items to help facilitate our war efforts,'" he said.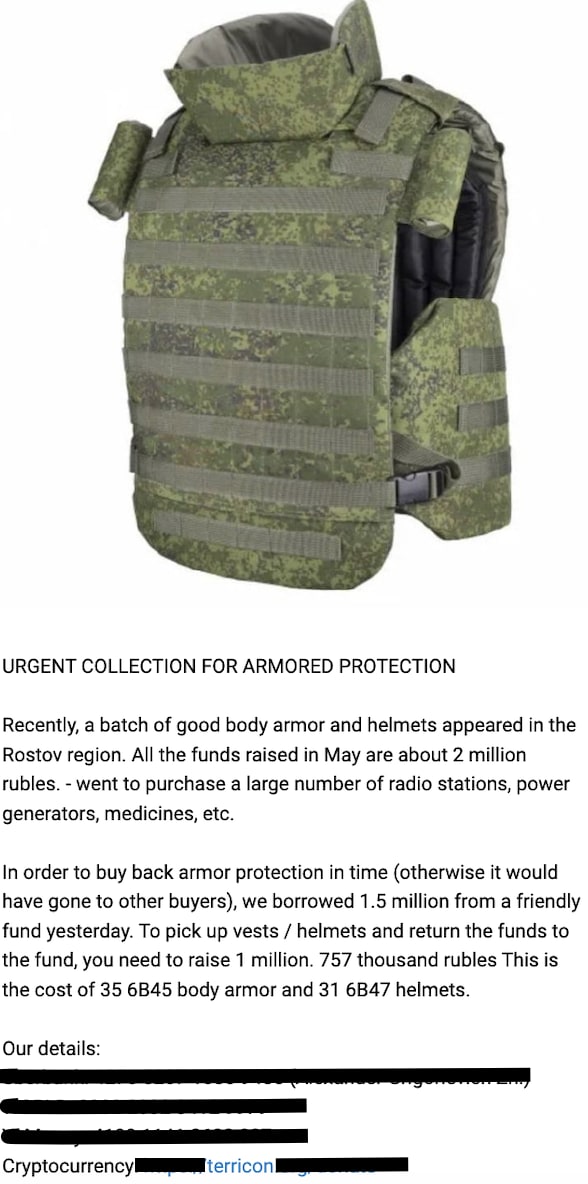 Research from TRM Labs, another cryptocurrency-tracing firm, published on Oct 7 showed that while some groups maintain their own websites, they use Telegram as the "principal way" to promote cryptocurrency addresses for donations.
TRM Labs found that as of Sep 22, these groups have collectively raised almost US$400,000 since the start of Russia's invasion on Feb 24.
"According to Telegram postings, the groups' funds are used to purchase supplies for Russian-affiliated militias and to support combat training at physical locations close to the Russia-Ukraine border," TRM Labs said in a report published on its website.
The groups identified in the research by the two firms include Task Force Rusich, a paramilitary group sanctioned by the US Office of Foreign Assets Control in September for participating in combat alongside Russia's military in Ukraine.
Task Force Rusich maintains at least 14 addresses across seven different blockchains, and their messages are spread on other pro-Russian Telegram channels, TRM Labs said. The group has received over US$144,000 in cryptocurrency since the start of the invasion.
Mr Fierman said Chainalysis "can't say for sure" if crypto exchanges in Singapore have been used to donate to these groups. But he noted that because these groups have public cryptocurrency wallets, anyone with access to cryptocurrency "could conceptually make a payment" to them.
CHALLENGES IN TRACING DONATIONS
However, Mr Fierman said it is important to note that the crypto market does not have the liquidity to support Russian sanctions evasion in large quantities.
"The assets of sanctioned actors far exceed what one could hope to sell without either crashing the prices of crypto assets or drawing the attention of blockchain observers," he said.
Mr Fierman said this means that crypto-based sanctions evasion will look like other forms of money laundering observed on the blockchain: Small amounts of cryptocurrency gradually moved to cashout points.
"While that may mean the threat is reduced, it makes uncovering it even harder - these transactions would likely look like everyday transaction activity at first glance," he added.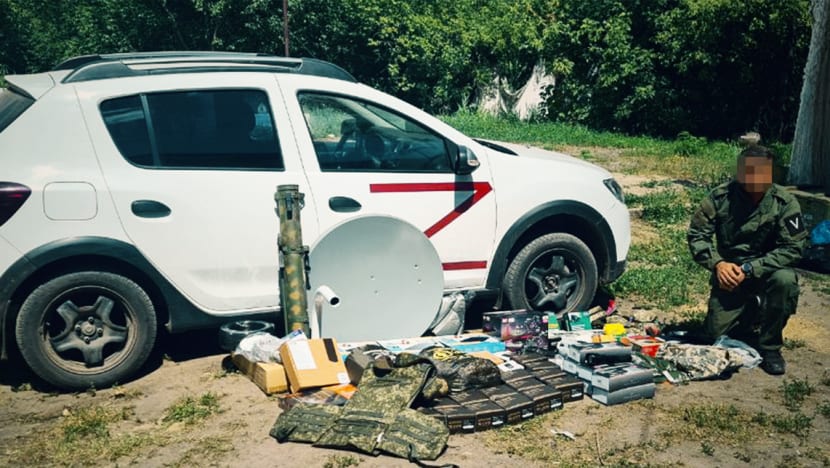 These pro-Russia groups could also funnel the donations through different cryptocurrency exchanges to obfuscate cashout points.
For instance, research by TRM Labs showed that Task Force Rusich posted a message on Jun 28 indicating that collections were closed, before disseminating a new wallet address on Sep 6.
"After Task Force Rusich's message on Jun 28, 2022, the addresses disseminated by the channel deposited over 99% of the funds received into a different exchange, with no further observable funds being deposited at addresses at the previous exchange," TRM's report said.
On top of that, some transactions involving these pro-Russia groups go through what is known as a mixer, a service that mixes different streams of potentially identifiable cryptocurrency to make it harder to trace.
Chainalysis' research shows that Project Terricon, which has solicited cryptocurrency donations to support Donbas militia groups, has received roughly 11 per cent of its funds indirectly from mixers.
"Terricon explicitly states on their website that they are using cryptocurrency due to the imposition of sanctions, and have even offered several non-fungible tokens for fundraising," the report said.
Mr Fierman said the "comprehensive sanctions" slapped on Russia since it invaded Ukraine, cutting out traditional currency support, is one reason these groups are turning to cryptocurrency.
"However, through strong know-your-customer policies, due diligence and advanced blockchain analytics, cryptocurrency exchanges can gain further insights into the specific blockchain wallet," he said.
"Thanks to the transparency of the blockchain, exchanges can also retroactively trace back funds that were moved for these illicit activities and flag high-risk activity to the respective law enforcement agencies."
WHAT CRYPTO EXCHANGES ARE DOING
Sparrow, a cryptocurrency exchange operating in Singapore, said it refuses business relationships and prohibits transactions that involve entities and individuals from sanctioned countries, including Russia.
"We analyse the source and destination of funds from or to crypto wallets to verify it's not coming from or going to Russia," the firm's chief risk and compliance officer Mak Chung Yee told CNA.
"We also screen against updated lists of sanctioned individuals and entities using a mix of public and proprietary data sources. Finally, we block IP addresses in Russia from accessing the Sparrow platform."
Ms Mak warned that it is very difficult for the average user to determine the beneficiaries of a cause, or if a wallet is linked with illicit or war-related activities, as this typically requires the use of costly systems and data sources.
"That is why it is important to transact with a licensed and responsible financial institution that operates with high standards of compliance. They can carry out customer due diligence meticulously and monitor transactions in real-time," she said.
Ultimately, Ms Mak said Sparrow works closely with relevant authorities to report "all suspicious activities", adding that she is unable to disclose specifics.
MAS said financial institutions with information on prohibited activities are required to inform the central bank immediately.
"Financial institutions are required to demonstrate to MAS their compliance with the Financial Measures Notices and are subject to scrutiny and inspection by MAS," the spokesperson said.
"MAS will take appropriate regulatory action against financial institutions if they are found to be in breach of the Financial Measures Notices."
Under the MAS Act, a financial institution convicted of breaking any MAS regulation could be fined up to S$1 million.