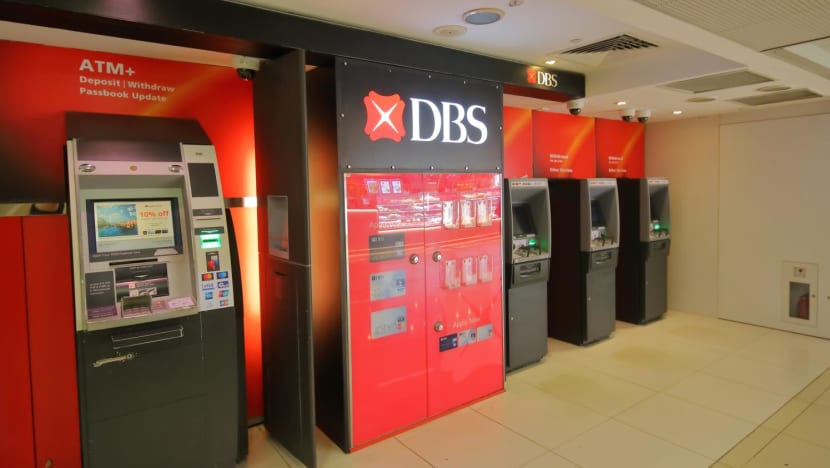 SINGAPORE: Banks warned on Wednesday (Jan 19) that scammers are targeting customers via suspicious login alert messages.
The warning comes on the back of a recent spate of phishing scams that affected hundreds of OCBC Bank customers, with total losses amounting to at least S$8.5 million.
DBS said in an alert on its website that those targeted will receive a fraudulent SMS claiming their account has been suspended. Victims will then be directed to verify their details by logging into a phishing website.
The SMS is sent from a generic account, with SenderIDs such as INFO, INFOSMS, Notice and other variants.
Those who click on the link will then be redirected to phishing sites asking for their username, password and one-time PIN.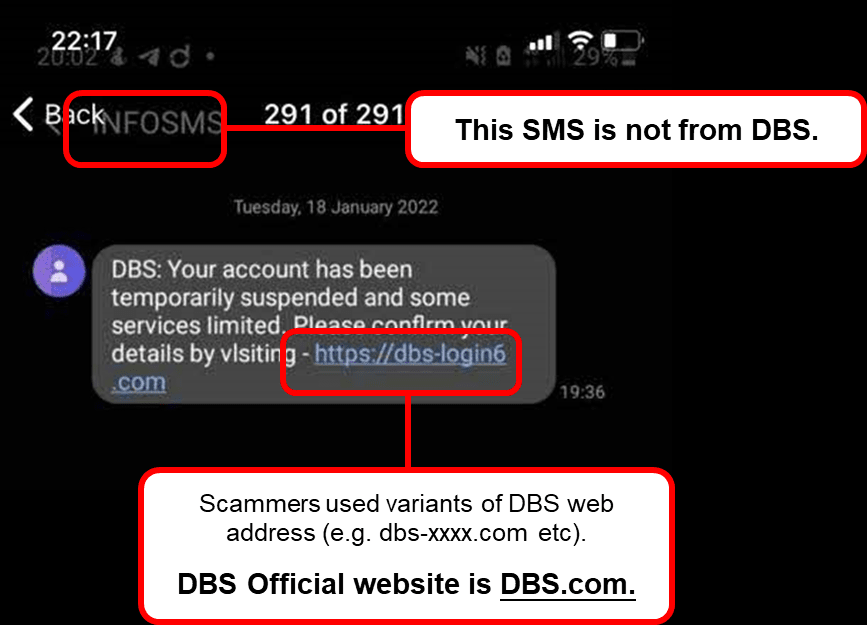 "These phishing sites make use of various web address such as dbs-login6.com, online.webdbslistonline.com etc. The scammer will exploit the stolen banking credentials to take over the victim's Internet Banking account," said DBS.
"Customers are advised to be mindful of such scams."
DBS reminded customers to ensure that they are on its official website, or to use DBS' official mobile applications to conduct any DBS-related request.
"Go directly to https://www.dbs.com to ensure that you are on our website," it added.
In a Facebook post on Wednesday, DBS said that it would never ask for account details or one-time PINs over the phone, email or SMS.
"Please be assured that we are actively taking down such phishing sites," it said.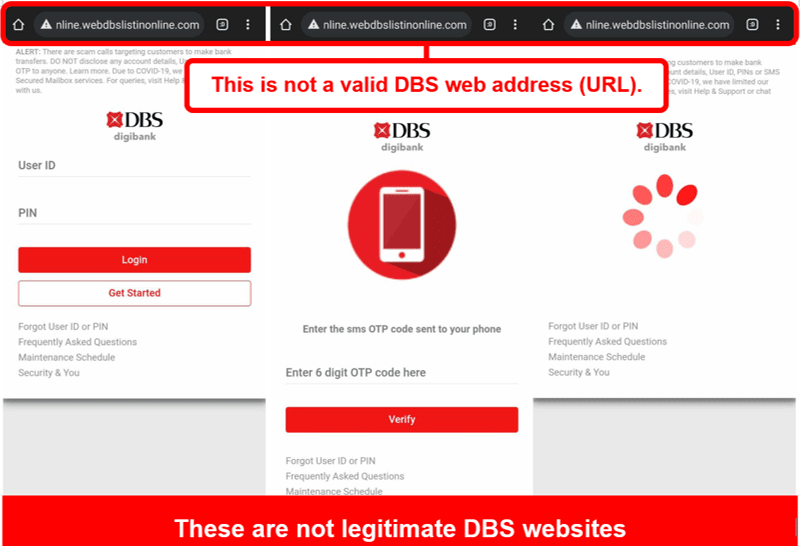 United Overseas Bank (UOB) issued a similar warning on Wednesday night, adding that they are working with the police to stop the fraudulent use of the bank's name and images.
"Please do not call the number," it said in a Facebook post. 
"The person on the end of the line is not a UOB employee. If you suspect that you are a victim of a phishing scam, you can call us at 6255 0160 or make a police report immediately."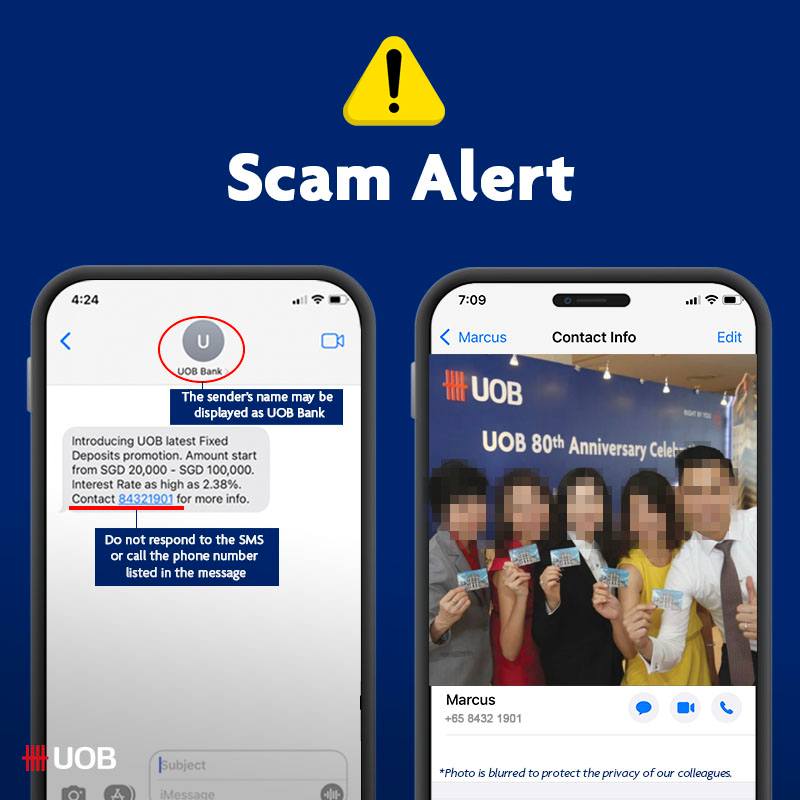 DBS advises those who suspect they are victims of fraud, or notice any unexpected banking or card transactions to contact them immediately at the following hotlines:
Singapore: 1800-339-6963 or 6339-6963

China: 400-820-8988

Hong Kong: 2290 8888

India: 1-860-210-3456

Indonesia: 0804 1500 327

Taiwan: (02) 6612 9889 / 0800 808 889
Nearly 470 people fell victim to similar SMS phishing scams involving OCBC in December.
OCBC said on Monday it had begun making "goodwill payouts" to its affected customers covering the amount they lost. It then said on Wednesday that all affected customers would receive their full payouts by next week.
The Monetary Authority of Singapore (MAS) said on Monday it takes a "serious view" of the scam and will consider taking supervisory action against OCBC. 
In November, a two-day disruption to DBS digital banking services resulted in both DBS and POSB Bank customers unable to access online banking services.
The bank, Southeast Asia's largest lender, said that the disruption had been caused by "an issue with (its) access control servers", with DBS Group CEO Piyush Gupta assuring customers that there was no cyberattack that led to the disruption.