MOM will have strong enforcement measures against 'gaming' of Employment Pass system: Tan See Leng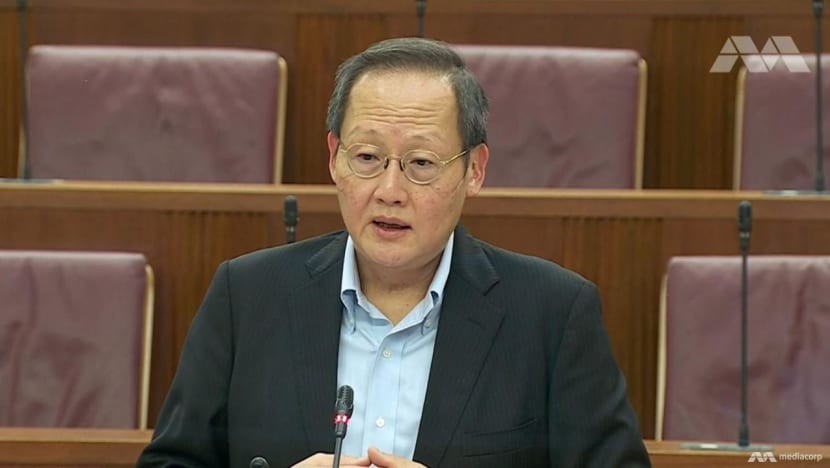 SINGAPORE: The Ministry of Manpower (MOM) will have strong governance measures against attempts to game a points system for Employment Passes (EP) that will be introduced in 2023, said Manpower Minister Tan See Leng in Parliament on Monday (Mar 7).
"It is not our intention, but we will not hesitate to take employers to task if firms are found to have falsely declared information to get the application approved," said Dr Tan.
He was responding to clarifications from Members of Parliament on the new Complementarity Assessment Framework or COMPASS, which is to come into effect for new EP applicants in September 2023.
Mr Yip Hon Weng (PAP-Yio Chu Kang) had asked the minister whether the transparency of the COMPASS framework would allow employers to "game the new system".
The new framework requires firms hiring foreigners on EPs to chalk up at least 40 points on various criteria, including the candidate's salary, qualifications, the firm's nationality diversity and its support for local employment.
The application can also score bonus points if the candidate fills a job on a list of occupations that are short of workers.  
Dr Tan said that the ministry already has "strong governance measures" to guard against "dishonest attempts" to game the system and will strengthen its enforcement process.
"Today we already have processes to enforce against fraud for criteria considered in our current framework such as salary and qualifications," he said.
"Similarly, we will also develop processes around additional criteria such as the shortage occupation list."
Firms will not be able to "get away" with changing the job title to claim bonus points, said the Manpower Minister.
"There will be some firms who do not meet this bar. These include firms that make a habit out of hiring EP holders not due to the high calibre of skills, but based on the convenience of old networks in an old boys kind of club, without heed of our calls to develop our workforce," said Dr Tan.
"COMPASS ensures that these firms cannot simply carry on with their status quo and they must fundamentally relook at their hiring practices."
Mr Yip and Mr Liang Eng Hwa (PAP-Bukit Panjang) also asked if the new framework may result in more EP holders entering Singapore. Dr Tan, in his response, said that COMPASS is an additional stage in the application process, on top of the qualifying salary, and will "in no way" loosen the current EP framework.
To get an EP, a candidate has to first meet a minimum qualifying salary of S$4,500, or for the financial sector, S$5,000. This is set to go up by S$500 this September.
"We are trying to make this framework a very highly differentiated system, a set of criteria which allow us to titrate, to be able to right-size, right-site and continuously uplift our level of competitiveness," said Dr Tan.
"We are also cognisant of the fact that with the multiple disruptions ... the accelerated change and transformation happening around the world, I think it behoves us to now move into a system where every EP holder coming in ... will have to pull his weight in working, complementing our local (workers), at the same time supporting and driving our economy."
S$20,000 SALARY CEILING
Mr Desmond Choo (PAP-Tampines) asked the Manpower Minister why COMPASS only applies to workers with monthly salaries below S$20,000.
Dr Tan said that MOM took a "practical approach" on this, as EP holders at that pay range are typically senior management or specialists at the top of their fields.
"They have gone through even more selective hiring processes to be appointed in the company, since these roles typically require very specific capabilities or skill sets," he said.
"Regardless of these exemptions, firms are expected to provide to practise fair hiring."
Like all of the qualifying salaries, the S$20,000 exemption bar will be reviewed from time to time, he added.
Mr Patrick Tay (PAP-Pioneer) wanted to know what constitutes a "top-tier institution" under the "qualifications" criterion and if the qualification needs to be relevant to the job.
Dr Tan said that the list of the top-tier universities will be available on the MOM website, and they do not just include universities, but also technical institutes, polytechnics and some vocational institutes.
Mr Gerald Giam (WP-Aljunied) wanted to know if the minister expects the foreign-local talent mix to remain largely unchanged moving forward, in addition to other clarifications.
Dr Tan said that COMPASS has taken into consideration many months of data analytics in the hiring patterns of firms based on diversity, educational qualification and also the concentration of PMETs within the firm to come up with the framework.
"The fact that the vast majority of the companies actually pass when we put them through this COMPASS framework ... is actually a testimony to the fact that many companies in the past many years have actually been very progressive, very responsive and very nimble to their needs of our economy," he added.
Dr Tan also said that the nationality diversity criterion would help to diversify the risk of being overly dependent on any source of talent - something that was highlighted as a risk factor during the COVID-19 pandemic as borders closed.
Leader of the Opposition and Workers' Party chief Pritam Singh asked if, going forward, the evaluation criteria for EP renewals could include whether there had been a real transfer of skills from foreign hires to local workers. This will address a "long-term bugbear", he said.
Dr Tan said this could be considered in the future, but that Singapore must also ensure that companies who want invest in Singapore do not have the impression that the goalposts are always moving.
Mr Sharael Taha (PAP-Pasir Ris Punggol) was concerned that these additional requirements may create a bottleneck in the recruitment process.
But Dr Tan said that COMPASS will not make the application process more cumbersome or lengthier, as much of the information required is already "collected upstream" by MOM.
"I have also shared that there will be a rubric, a framework that will be published on our website. Companies,  before they even apply, they can actually score the the potential candidate on the rubric and know, before they even apply ... what is the chance of this EP being approved," he said.