Carousell, Facebook Marketplace remain at bottom of anti-scam rating system
Both e-commerce platforms were awarded the same rating last year.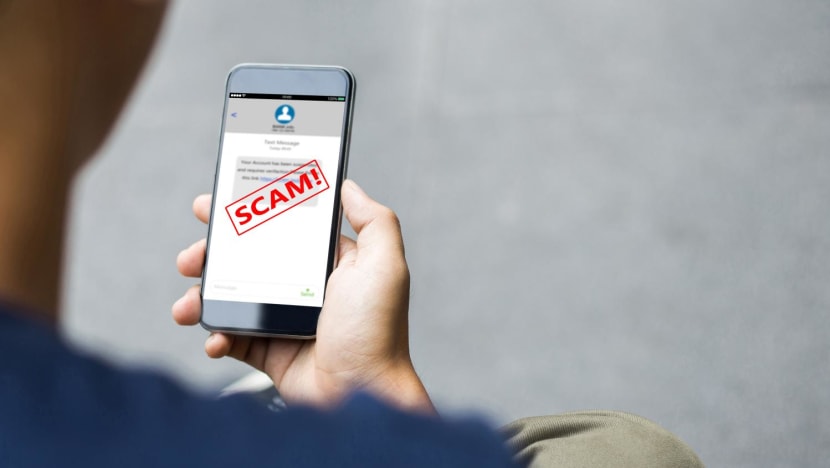 SINGAPORE: Carousell and Facebook Marketplace have been rated the lowest out of six e-commerce platforms for their anti-scam measures in place to ensure the security of online transactions, the Inter-Ministry Committee on Scams (IMCS) said on Thursday (May 4). 
The findings were published in the 2023 E-commerce Marketplace Transaction Safety Ratings (TSR), which is an annual update to the ratings assigned to major e-commerce platforms based on their security features.
The TSR was first launched in May 2022 and serves to provide consumers with information on the anti-scam measures that popular e-commerce platforms have implemented. 
The overall safety ratings assigned to each platform indicate the extent of the implemented measures to safeguard users against scams. 
These include user authenticity, transaction safety, availability of loss remediation channels for consumers, as well as the effectiveness of their anti-scam measures. The ratings range from one to four ticks, with four ticks being the highest rating. 
They remain unchanged from last year, with Facebook Marketplace and Carousell awarded one tick and two ticks respectively.
Shopee obtained three ticks, while Amazon, Lazada and Qoo10 received all four ticks. 
E-commerce scams are one of the top scam types in Singapore. 
In 2022, there were 4,762 reported e-commerce scam cases, an increase of 74.5 per cent compared to 2,729 cases the year before.
The majority of e-commerce scams reported - about 62 per cent - were perpetuated on Carousell and Facebook. 
"These scams generally involve the sale of goods and services online, where said goods and services are not delivered after payment has been made," said the committee.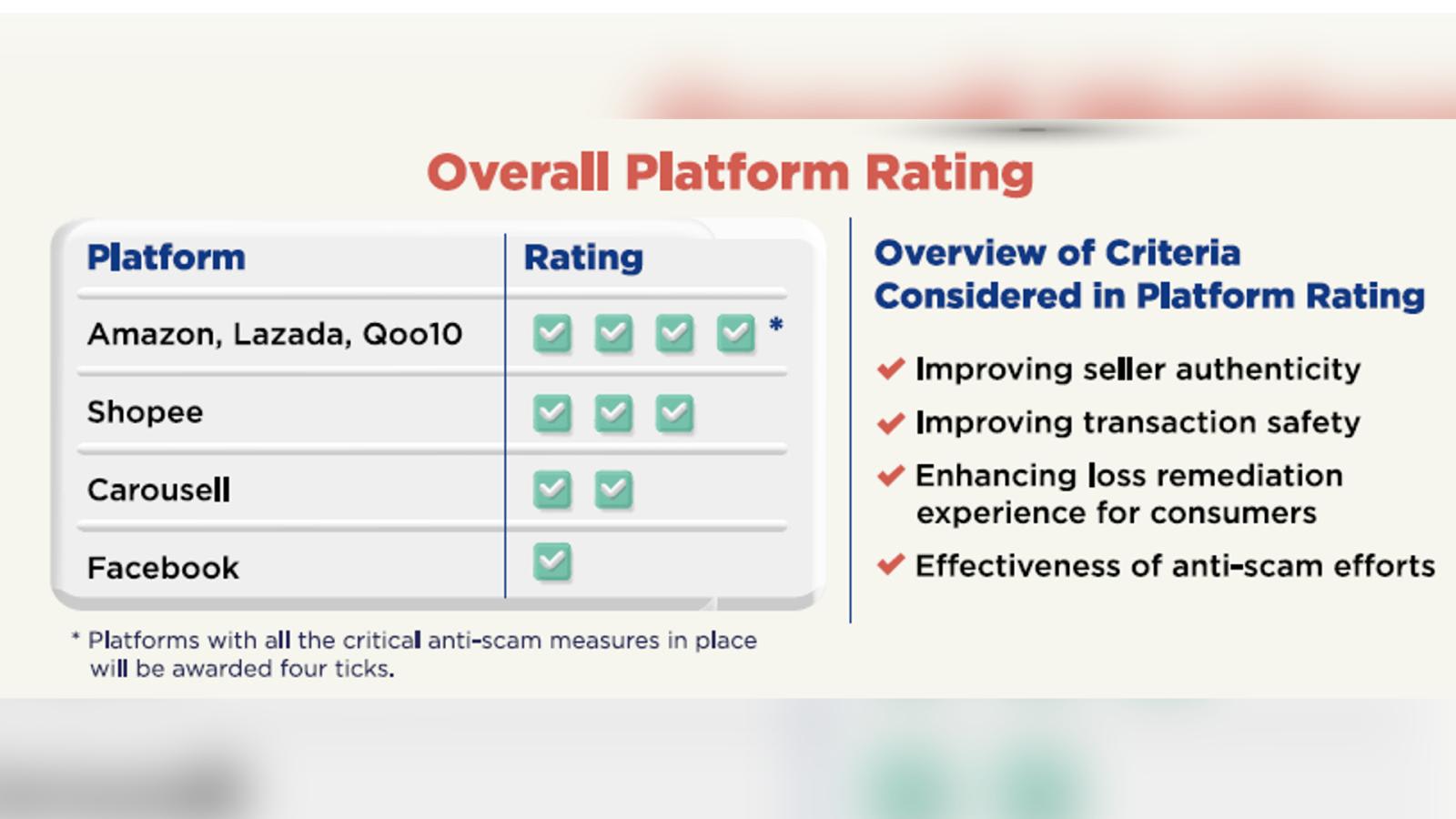 CHECK BEFORE TRANSACTING
In January, the Ministry of Home Affairs launched a national anti-scam campaign, encouraging members of the public to take three key actions - add, check and tell - to avoid e-commerce scams. 
Under 'check', consumers are advised to check the TSR for platform ratings and availability of critical safety features when transacting online. 
The TSR, apart from the overall ratings, also provides general consumer advice on how one can safeguard themselves during online transactions and marketplace-specific advisory on the safety features each e-commerce platform has put in place. 
Consumers should look out for seller accounts that have their identities verified against government-issued documentation by the platforms and to use secured payment options for online purchases. 
Scammers are more likely to use unverified accounts to list their products and services, and tend to direct buyers to make payments via other channels like bank transfers.
IMPROVED SAFETY MEASURES
The IMCS has been working with major e-commerce marketplaces to further improve the safety of online transactions. 
Lazada, for instance, in December 2022 launched a buyer confirmation feature, which holds payment to the seller for a confirmation period. 
The funds will only be released when the buyer has confirmed receipt and is satisfied with the order, or after the confirmation period. 
Since December 2022, Shopee has mandated the verification of seller identities based on government-issued documentation, before they can list their products on the platform. Previously, this step was only applicable to "preferred" or "mall" sellers.
Carousell has also launched its "certified" programme for second-hand luxury bags, mobile phones and cars.
This means they have been checked for quality and authenticity before being sold on the platform. All certified luxury bags and mobile phone listings also have a money-back guarantee for buyers not satisfied with their purchase.
Ms Sun Xueling, chairman of the IMCS and Minister of State, Ministry of Home Affairs and Ministry of Social and Family Development, said: "This is an important initiative that will better secure e-commerce transactions and protect our consumers from e-commerce scams.
"We strongly encourage all e-commerce marketplaces to implement safety features, such as user verification and secured payment options." 
In a Facebook post on Thursday, Consumers Association of Singapore (CASE) President Melvin Yong said he hoped the ratings would give consumers better awareness of the risks involved when shopping on e-commerce platforms. 
However, he said more could be done to better protect online consumers. 
"CASE calls on the government to make it mandatory for e-marketplaces to authenticate sellers and protect consumers' prepayments through mechanisms such as escrows," said Mr Yong. 
An escrow is a third party where funds are held while relevant parties complete a transaction. In this case, sellers would only receive payment after the consumer has received their product. 
CASE is also working on a new CaseTrust accreditation scheme for e-businesses that will help to address common consumer problems when shopping online, said Mr Yong.