IN FOCUS: With rising private home prices, is climbing the property ladder harder?
Analysts had differing views on whether prices in the private and public property markets are diverging and if this can lead to more inequality.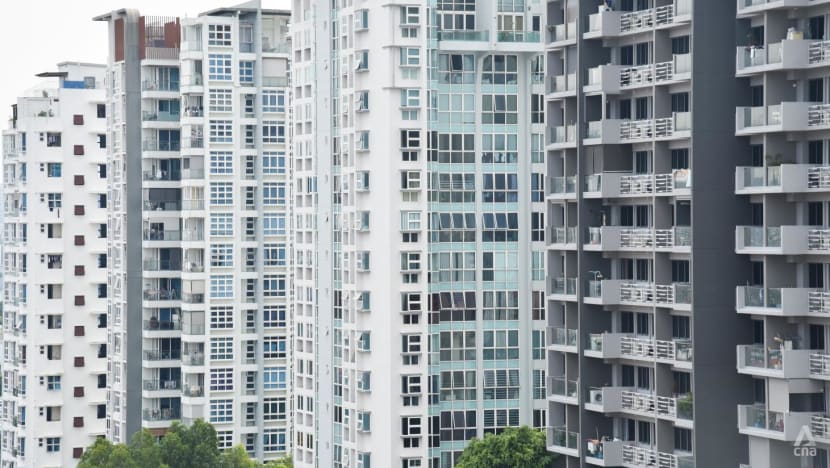 SINGAPORE: Ms Chen and her husband, who live in a 3-room flat, hope to move to a condominium with dog-friendly facilities and gated walking areas in about five years' time.
The 29-year-old professional and her husband bought a resale flat last year as they were not willing to wait four to five years for a Build-To Order (BTO) unit. However, the couple don't think they can bank on using the profit from selling their flat to finance a new home.
Amid high private property prices, she wonders if their upgrading plans will work out as they're not sure what the situation will be when the five-year minimum occupation period (MOP) for their Housing & Development Board (HDB) flat is up.
"A lot can change in five years … historically, prices of private houses have only increased, not decreased. Supply, that is land, is finite but demand doesn't have a ceiling," she said.
"No one's certain of where prices will be in five years."
While flash estimates show private property prices dipping in the second quarter of 2023 by 0.4 per cent, they are still at an all-time high, having risen about 28 per cent in the past three years. In particular, new launch condo prices have risen substantially higher than resale units.
A common measure to assess housing affordability is the ratio of the median or average home price to median household income - which reflects how many years it takes to purchase a home if one saves one's entire income.
A 2023 Urban Land Institute (ULI) study comparing housing prices in the region found that the median private home price in Singapore was 13.7 times the median household income. The same ratio for HDB flats was 4.7. 
Dr Lee Kwan Ok, a researcher who contributed to the study, said that housing is usually considered not attainable and unaffordable in a city if the ratio goes beyond five.
"Therefore, HDB (4.7) is quite attainable while private housing (13.7) is not," said the deputy head at the Department of Real Estate at NUS Business School.
"It is true that public housing is more attainable in Singapore compared to other Asian global cities. But, it is questionable if private housing is more attainable."
Data from the study show that private homes in Singapore are the most expensive in the region, but the nation's high median income means that housing affordability is in the middle of the pack compared to many other cities.
Dr Lee noted that compared with many other global cities, Singapore private housing "does not do too bad", as the housing-to-income multiple is much higher in other Asian cities: 29.3 in Beijing, 35 in Shenzhen, 26.5 in Hong Kong, 17.8 in Tokyo and 17.3 in Seoul.
ATTAINABILITY OVER THE YEARS
In Singapore, the Urban Redevelopment Authority (URA) Private Property Index for non-landed property, which reflects the price of condominiums, has risen substantially over the last decade, but so have household incomes.
In 2022, the median household income was S$10,099, a 33 per cent rise from S$7,566 in 2012. In the same period, the median condo price rose from S$1.07 million to S$1.59 million.
An analysis of median private housing prices in Singapore compared with median household income shows that the ratio fell from 11.73 in 2012 to 10.87 in 2015, then slowly rose to 13.14 in 2022.
But this masks the different trends for new launch and resale condominiums. 
According to the 99-SRX price index for resale HDB and private housing, property prices have been growing below median income over the last 10 years, but new private housing prices have outpaced income.
"Where median income increased around 39 per cent in the in the last 10 years, resale condos increased 32 per cent while new sale condos increased 74 per cent," said Mr Luqman Hakim, chief data & analytics officer at 99.co.
Data from the URA analysed by OrangeTee & Tie Research & Analytics show that the median price of a new launch condo was S$1.95 million last year, about half a million dollars more than the median price of a resale condo, which was S$1.39 million.
Comparing this with household income data, the housing affordability ratio for new launch condominiums has risen substantially in the last five years, from 10.84 to 16.06 - meaning that it now takes about 16 years of income for an average household to afford a median new launch unit.
Conversely, it has stayed flat for resale condos at about 11 to 12 times median income. HDB resale flats have remained affordable in the last decade, as the ratio has remained under five.
And while private housing is above the affordability threshold, it should be noted that private housing accommodates less than 30 per cent of Singapore's population, meaning that it was never affordable for the median income, and arguably not meant to be.
ATTAINABLE FOR INCOMES OF S$12,000 AND ABOVE
At S$1.6 million, the median condominium unit is affordable for a couple with a combined income of about S$10,500, based on the 99.co affordability calculator.
This assumes the hypothetical couple can take a housing loan of up to S$1.2 million, or 75 per cent of the value of the property, for 30 years at 4 per cent interest. They must also have set aside funds for a down payment, legal fees and other expenses.  
Of course, this does not take into account that many middle-income families have car loans and many other household expenses. It also assumes that they don't have a first property, and won't incur the Additional Buyer's Stamp Duty (ABSD).
But this simplistic example shows that private property can be attainable for about 40 per cent of income earners in Singapore - provided their other financial commitments are minimal. A more realistic estimate would be that it is available to the top 30 per cent of households by income. 
For those whose household incomes are just above the median income of S$10,099, executive condominiums are another option. ECs have one other advantage - there's no need to pay the ABSD upfront.
"We still see good value and reasonable price points in some new sale and resale condominium projects, including ECs, that are attainable for households that generally have joint incomes of S$12,000 and above," said Mr Luqman.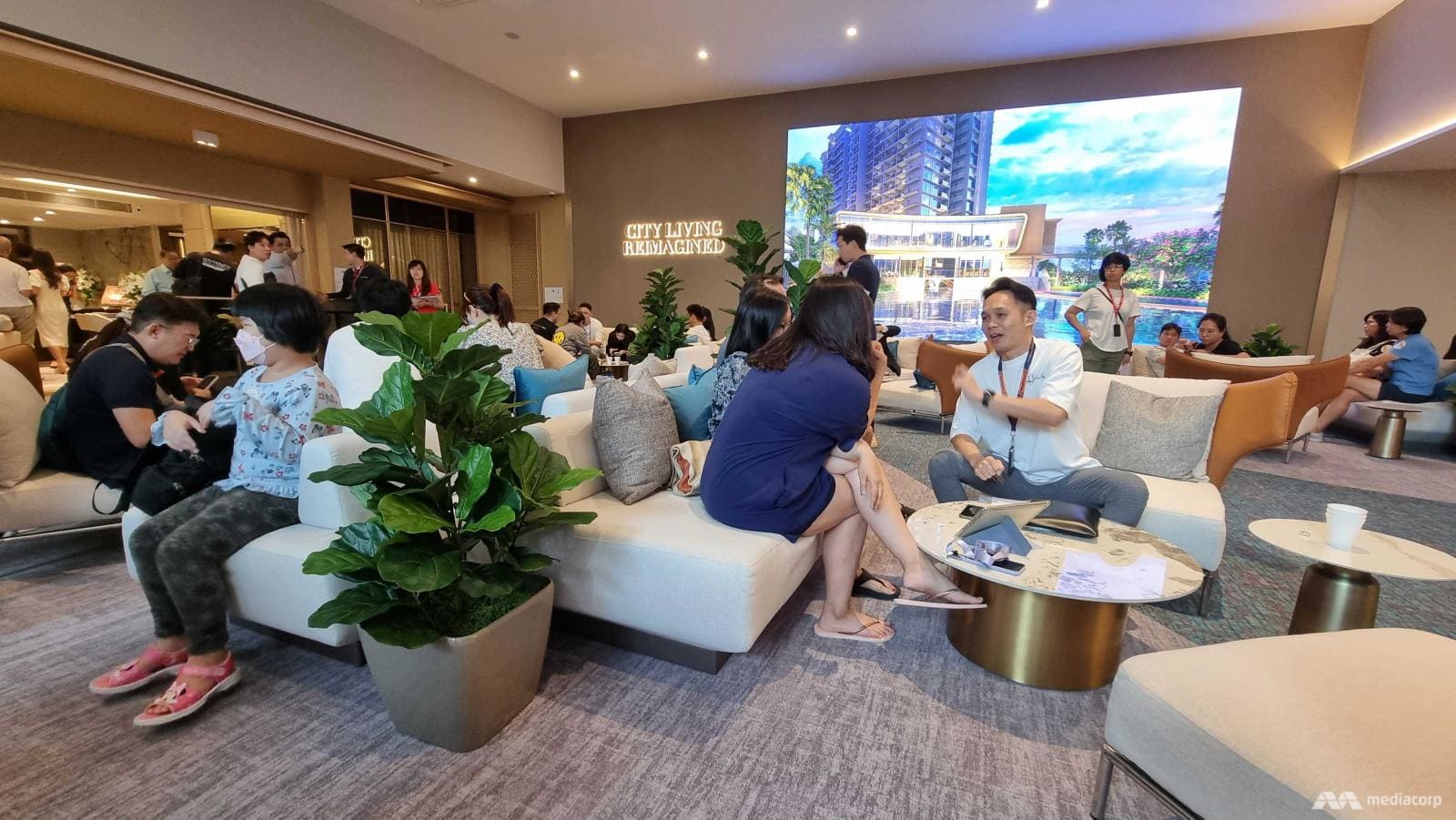 New launch condos are another story, as their prices have jumped since the COVID-19 pandemic, with the median price of new launch condos closer to S$2 million. Median psf price for new launches also crossed the S$2,000 mark last year.
But it's well known that condo launches are often full of interested buyers, with thousands thronging showflats for popular developments on weekends. Grand Dunman, dubbed a "mega launch" as it is the only development with more than 1,000 units this year, attracted about 10,000 people on the first weekend of preview, Huttons estimated.
And they're not just there to browse, as recent condominium launches have clocked impressive sales, even amid high interest rates and an uncertain economic outlook.
Grand Dunman, which is on the city fringe and a short walk from the Dakota MRT station, sold more than 520 units on its launch weekend. Other launches in the first quarter of 2023, such as Tembusu Grand, also did well, selling 53 per cent, or 340 of its 638 units, during its launch in early April at an average selling price of S$2,465 per sq ft.
Mr Leonard Tay, head of research at Knight Frank Singapore, said the robust demand for new homes has been fueled by the "continued aspirations" of Singaporeans who grew up in an era of "steadily improving affluence" and have the resources to purchase these new homes, said Mr Tay.
Who are these buyers? Reports from property firms after each launch indicate that the majority of buyers are first-time Singaporean property buyers.
Mr Luqman said that he's noticed in recent five years that purchasers of new private residential projects are already staying in private property. 
"The trend was different prior to that where purchasers of such properties are likely upgraders from HDB," he said.
He thinks that profits from the sale of current private property to purchase a new launch plus growing incomes likely contribute to the large crowds seen in new launch showrooms in spite of a substantial increase in prices.
The Business Times reported on May 28 that the Reserve Residences in Upper Bukit Timah sold the majority of units (520 out of the 635 units released) at an average price of S$2,460 per sq ft. The report mentioned that those aged between 31 and 40 made up 41 per cent of all buyers, but it also attracted those between 21 and 30 years of age, which comprised 22 per cent of buyers.
Mr Luqman said that anecdotally there are more millennial households at new condo launches. Analysts said this younger crowd could have higher disposable income, and/or have some help from their family.
"These households typically have dual incomes and smaller family sizes, something which is less common comparing to previous generations, leading to higher disposable incomes which can be used for financing their properties," said Mr Luqman.
Meanwhile, some analysts think they could have got a leg-up from asset-rich parents. Mr Tay said that household income is one indicator housing affordability, but is not the only source of household capital.
"At least two generations of Singaporeans have benefitted from asset appreciation from developing to developed nation status in the last 50 years," he said. "The savings amassed largely by the baby boomers and in part by Generation X might also have been redeployed to fund their children's private home aspirations in recent years."
He added that families upgrading from HDB flats bought through the BTO process would also be able to use the profits from the sale after the five-year MOP to make the transition into the private market.
"Historically, a family's ascension up the property ladder was not as closely tied to the assets of their parents. But we've seen this connection strengthen over time," said Dr Lee Nai Jia, head of real estate intelligence at PropertyGuru.
Are rental properties still a worthwhile investment in 2023? Listen to Money Talks:
HOUSING & SOCIAL MOBILITY
Given that HDB flats - which house 78 per cent of the Singapore population - remain affordable to most Singaporeans, what is the significance of having some of the most expensive private residential real estate in Asia? After all, Singapore has one of the highest home ownership rates in the world.
If condominium price increases are much faster and greater than HDB price appreciation, some potential buyers will choose to invest in private condos, said Dr Lee Kwan Ok. As a result, the markets will diverge further and this may lead to unequal financial outcomes among households.
Dr Lee Nai Jia thinks that the quest for property isn't solely a matter of securing a roof over one's head. A potential consequence of two diverging housing markets is the deepening divide within society, particularly between asset-rich parents and those without such advantages, he said.
"It's intrinsically tied to the aspiration of social mobility … Therefore, we need to rethink housing solutions that don't just address affordability, but also foster a healthy social fabric and personal development," he said.
"Such an economic chasm poses a threat to societal stability. This is precisely why the government's strategic emphasis has been directed towards preserving our social contract and prioritising the accessibility of public housing."
But Professor Qian Wenlan, director of NUS' Institute of Real Estate and Urban Studies, does not see a sharp divergence materialising and thinks that the majority of the Singapore population would be more concerned about the affordability of public housing.
Furthermore, she sees the spillover effect also moving in the opposite direction, with public housing prices possibly affecting private property prices.
"The injection of supply downstream will mitigate inflation in the public housing market, which may even have a spillover effect on the property market as a whole," she said.
"By and large, we expect public housing to remain highly affordable to the majority of the population, especially since the government's policy is to price BTO flats according to median incomes rather than market demand."
"PRIORITISING WHAT REALLY MATTERS"
Analysts agreed that in general, the Singapore government has done a good job at housing the nation.
This is unlike cities like Seoul and Hong Kong where residents "struggle a lot" due to housing attainability, said Dr Lee Kwan Ok. 
"For example, public housing supply is limited and private housing prices are very high in Seoul, so many young people give up their marriage and childbirth due to housing unaffordability," she said. 
"In Hong Kong, the waiting time for public rental housing is very long, and many are forced to turn to private housing which is very unaffordable."
Sociologist Tan Ern Ser said that in a society like Singapore, social mobility is always possible to all, but the probability of moving up is unequal across classes.
He thinks the government has been making make public housing more affordable and attractive, with new housing developments, such as Bidadari, Tengah, and the Southern Water Front, for instance; while persuading Singaporeans to redefine success in less material terms.
"I don't think we could solve this problem of the bifurcation of public and private housing satisfactorily, but we could aim to live a 'good enough' life, prioritising what really matters:  our mental and physical health, family and friends, and community life," said Dr Tan.