'Not zero-sum game': Careful balance needed for foreign manpower policies, says Tan See Leng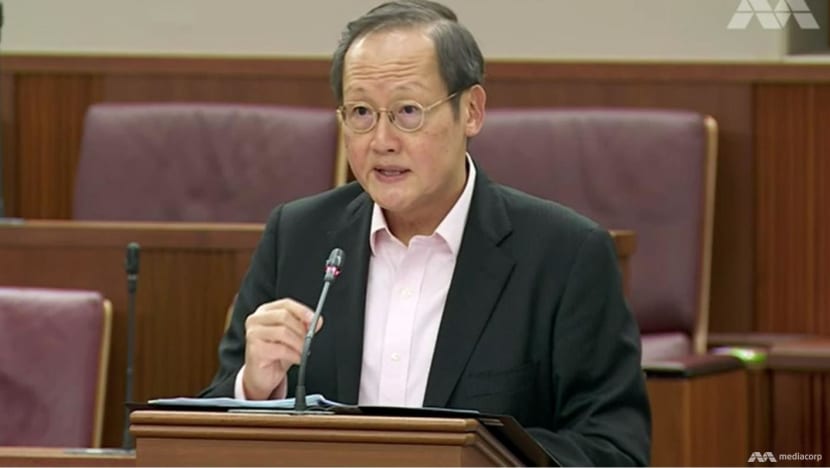 SINGAPORE: Singapore is an attractive place for companies to do business, resulting in good jobs and careers for Singaporeans, said Manpower Minister Tan See Leng in Parliament on Monday (Oct 3).
Conversely, companies may exit Singapore if they do not have access to the complementary foreign manpower they need, taking the jobs for Singaporeans with them, Dr Tan said.
"When it comes to foreign workforce policies, the way to advance it is to strike a very careful, as well as a very delicate balance," said the minister.
Replying to parliamentary questions from Members of Parliament, Dr Tan, who had delivered a ministerial statement on changes to Singapore's foreign manpower policies last month, was responding to several additional questions from MPs on the issue.
This focus in foreign manpower comes in the wake of Singapore reopening its borders after the COVID-19 pandemic, and Dr Tan's recent announcement of a new work pass for global top talent. 
"Being open, being connected, and bringing in complementary global talent, has helped to grow the overall pie for Singapore and more good job opportunities for locals," Dr Tan emphasised.
Ms Jessica Tan's (PAP - East Coast) had asked if there is data to show that Singaporeans are getting quality jobs in key sectors, while Mr Liang Eng Hwa (PAP - Bukit Panjang) had asked about the number of Employment Pass holders in the Information & Communications (ICT) sector, compared to other sectors.
Dr Tan said that more locals are in higher-skilled jobs for Professionals, Managers, Executives and Technicians (PMETs), and there has been "sustained wage growth" for local workers.
He cited figures showing how the proportion of resident workers in PMET jobs has increased - from 55 per cent in 2016 to 62 per cent in 2021. He also said the median income of full-time employed residents has grown from S$4,100 to S$4,700 in those years, an increase in real wages of 2.1 per cent a year.
Wages for lower-income workers have also gone up, with the real income of locals at the 20th percentile rising 2.7 per cent per annum over the same period, he said.
On jobs in the ICT sector, Dr Tan said that the industry is a fast-growing one facing talent shortages worldwide. In 2021, one-fifth of EP holders here worked in the ICT sector, an increase from one-sixth in 2016.
"The growth of the Information & Communications sector has also resulted in the creation of more jobs for our locals - in the same timeframe, we saw strong growth in the number of local PMETs by 34,400," said Dr Tan.
"Median local wages in the sector also continue to increase. Therefore, we can see quite clearly that this is not a zero-sum game."
In his answer to Mr Gerald Giam's (WP - Aljunied) question on whether MOM can consider imposing a quota for the "bottom half of income earners" among EP holders, Dr Tan said that at the EP level, the focus is on ensuring that the workers are "of good quality".
The authorities do not impose quotas, as this will restrict Singapore's ability to compete and hold back companies here. Dr Tan said that MOM has made significant adjustments to the EP framework to emphasise quality.
Some changes include benchmarking the EP qualifying salary to the top one-third of the local PMET workforce, and introducing a points-based Complementarity Assessment Framework (COMPASS) from Sep 1 next year.
"Companies whose candidates cannot meet the EP qualifying salary or pass COMPASS will have to apply for an S Pass instead, where they will be subject to a quota. This is a neater solution than what Mr Giam is suggesting," said Dr Tan.
"Compared to his suggestion where some EP holders are subjected to a quota while others are not, our current approach has the merit of keeping the positioning and the criteria of each pass type clear, and overall work pass framework simpler for businesses."
Dr Tan also addressed questions from Ms Tan and Ms Mariam Jaafar (PAP - Sembawang) on bringing back overseas Singaporean talent, and developing local talent. 
"Local talent development already happens organically in tandem with economic growth," Dr Tan said.
"As businesses expand their investments here, they will need to find manpower to fill various roles and invest in training and upgrading their workers.
"By working in leading firms and alongside global talent, our local workers will also gain exposure to new ideas and best practices from around the world."
The Government and tripartite partners help to "catalyse this process" with its programmes, Dr Tan said, highlighting that there are transformation plans across 23 sectors through the Industry Transformation Maps.
"We have also put in place a whole ecosystem of programmes and schemes which businesses can tap on to prepare their workers for jobs of the future," he said.
Dr Tan said that strengthening Singapore's position as a global hub for talent which is "brimming with exciting opportunities" will help to bring back overseas Singaporeans who are keen to contribute and be a part of this ecosystem.
He said that the Government actively engages overseas Singaporeans, so that they can make an informed decision about whether and when to return to Singapore, citing the Singapore Global Network as an example.
MPs also asked about the Fair Consideration Framework (FCF), which sets out requirements for all employers to consider local workers fairly for job opportunities. 
Dr Tan said that from 2017 to 2021, MOM took enforcement action against about 300 companies, including issuing warnings, and being barred from hiring or renewing foreign workers.
In addition, the Tripartite Alliance for Fair & Progressive Employment Practices (TAFEP) has engaged with more than 1,700 employers under the FCF.
These are firms on an FCF Watchlist that have an exceptionally high share of foreign PMETs compared to their industry peers, or a high concentration of a single foreign nationality source.  But firms on the watchlist have not flouted any rules, Dr Tan reiterated.
Dr Tan said that while the number of cases of discriminatory practices is small, MOM will remain vigilant.
Besides investigating complaints lodged with TAFEP, the ministry uses data analytics to identify suspicious cases for further investigation.
"There is no place for discrimination in Singapore. The Ministry of Manpower does not and will not tolerate unfair hiring practices, and employers who do not give locals a fair chance will face stiff penalties," he said.
"The Fair Consideration Framework or FCF sets out requirements for all employers to consider local workers fairly for job opportunities and work is now under way to enshrine this in legislation."
You may also be interested in: