Government will do 'utmost' to help Singaporeans cope with cost of living concerns: Lawrence Wong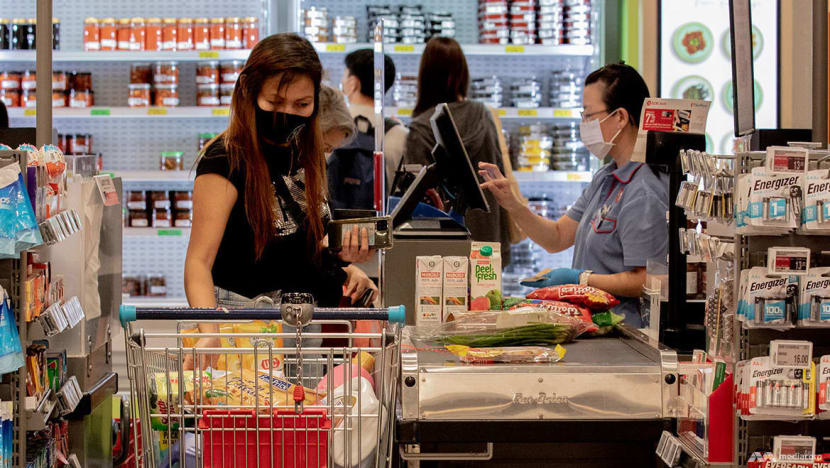 SINGAPORE: The Government will continue to do its "utmost" to help Singaporeans cope with concerns about cost of living, Finance Minister Lawrence Wong said on Tuesday (Feb 22).
"We understand the concerns that Singaporeans have about the cost of living and I want to assure everyone that we will continue to do our utmost to help Singaporeans cope with these concerns," he said during a post-Budget 2022 dialogue aired on Mediacorp's Channel 5 and CNA.
"In fact, it is precisely because of these concerns that I decided, despite our very pressing and urgent revenue needs, to delay and to stagger the GST (Goods and Services Tax) over two years.
"On top of that, we are providing Singaporeans with a significant package to cope with the cost of living concerns."
Mr Wong was responding to a question on how middle-income workers might be affected by rising costs of living amid inflation and the upcoming GST hike, and how their wages could be boosted in the coming years.
The Government will delay the planned GST hike to 2023 and stagger the increase in two steps, with the first increase from 7 per cent to 8 per cent taking place on Jan 1, 2023, and the second increase from 8 per cent to 9 per cent taking place on Jan 1, 2024.
To cushion the impact of the GST hike, the Government will add S$640 million to the S$6 billion Assurance Package and improve the GST Voucher scheme, Mr Wong had said in his Budget speech on Friday.
Beyond GST, latest official data showed that Singapore's headline or overall inflation for December edged up to 4 per cent on a year-on-year basis from 3.8 per cent in November, hitting a near nine-year high.
The pick-up in inflation spurred the Monetary Authority of Singapore to make an unexpected inter-meeting policy move and "raise slightly" the rate of appreciation of the Sing dollar nominal effective exchange rate policy band.
Mr Wong said on Tuesday that the projected outlook for the economy and inflation is based on certain assumptions and that the Government would "certainly respond" if things change.
"For example, if inflation were to become more persistent or turns out higher than expected, we can take actions on the monetary front to tackle inflation, but we can also provide more help to Singaporeans to cope with rising prices," he said.
CONCERNS OVER UTILITY BILLS
Another guest then asked how the Government can further help young, middle-income families cope with rising prices and electricity bills, pointing to the planned increase in carbon tax that was announced during the Budget speech.
"We are already doing everything we can, putting in place comprehensive help to support families, including those in the middle income," replied Mr Wong.
This includes the S$560m Household Support Package, GST vouchers and enhanced Assurance Package, he said, noting that these measures together represent a "considerable amount of help", including for utility bills.
"The question is what happens beyond this year or next year when carbon prices were to rise. We understand those concerns too. In fact, the rise in carbon prices, as I explained in the Budget, will filter down to electricity price, but not by a very much amount," Mr Wong said.
"I mean, we anticipated that. But when that time happens, we will look at additional utility vouchers to help households cope with the increase in their utility bills due to the rise in carbon tax."
Another concern raised was how the Government would ensure that low-income Singaporeans do not get left behind in the push for digitalisation.
Mr Wong agreed that this was not just an income problem, but also issues related to family and digital inclusion, pointing to an inconducive living environment for children as one example. He added that the Government was looking at how it can better coordinate the different help provided for such groups.
"Have dedicated befrienders, for example, to handhold them on this journey as they seek to improve their lives," he said.
"It's a big effort and we will certainly have to work more closely with social workers and our family service centres. But it's a priority area for us and we will put in the resources we need to uplift all our lower-income families in Singapore."
To do this, "customised bespoke solutions" will be required to help families in need, Mr Wong said.
"This also means we need more resources. It applies in healthcare, it applies in social care as well. And that's one of the reasons why our spending will have to go up in the future," he said.
"It's additional resources, but I think it's resources that we will have to spend. And then, of course, the onus is on us to make sure that these resources are spent well."
Using the example of the befriender scheme, Mr Wong said these befrienders are trained to understand the family's needs, and help them develop an action plan to stabilise finances and ensure the children stay in school.
"And then with that action plan, we start to pool together all the different resources from different government agencies so that it's more holistic, and we apply that to help the family achieve these outcomes," he said.
GENERATING REVENUE
Still, if the Government is to do more and spend more, it would need to generate revenue for that spending, Mr Wong said.
"We do think the Government ought to spend more in the coming years for healthcare, for ageing population, for all our pressing social needs. And that's why we have to raise revenues," he added.
"But the assurance to everyone is that when we raise revenues, we will ensure a fiscal system that is fair and progressive."
A fair and progressive system means everyone should contribute their share of taxes, but those with greater means will contribute more, Mr Wong explained.
In his Budget speech, Mr Wong had announced that Singapore would raise the personal income tax rate for top-tier earners, alongside adjustments to property taxes and an additional levy on luxury cars.
But Mr Wong said on Tuesday that "there is a limit" to this, in response to a question by host Diana Ser on whether taxing the wealthy could backfire and make them leave Singapore.
"I think with the moves that we have made, we should be all right because we have assessed it very carefully and we have calibrated the measures," Mr Wong said.
"If we start to have the attitude that most of the tax burden or everything can be borne by the top one per cent or the top five per cent, I think they will feel it grossly unfair and very soon you won't have the rich to tax in Singapore."
Calibrating these measures and finding a balance is necessary, he said.
"That's why I mentioned that when we talk about a progressive system, it doesn't mean that the tax burden is borne only by a small group of people. It means that everyone contributes their fair share, but those with greater means contribute more."
On the carbon tax, Mr Wong said everyone also has to do their part to help Singapore reach net-zero emissions, adding that the only way to tackle climate change is to have the right carbon price that is "felt by everyone" in the economy.
Mr Wong stressed that the carbon tax is not a revenue-generating exercise, with a large part of the revenue going to support decarbonisation efforts through investments into new low-carbon and more energy-efficient solutions.
This includes green technologies that will make a difference in helping Singapore achieve its emissions targets.
"We think that the more promising ones today are hydrogen, and carbon capture and utilisation and storage," he said, adding that the Government would not rule out other options.
"The key is to be able to green our energy source upstream, because today we are generating almost all of our electricity through natural gas."
While natural gas is "not bad" and is the cleanest of fossil fuels, natural gas is "not good enough" for Singapore's net-zero targets.
"We need to do more to reduce the emissions from power. And then if we do that, that will help to reduce emissions in Singapore significantly."
Watch the full dialogue: