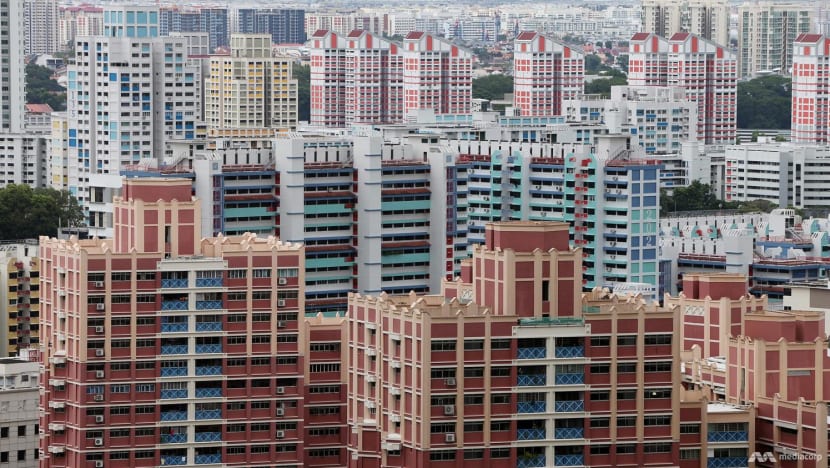 SINGAPORE: Prices of resale Housing and Development Board (HDB) flats rose 10.3 per cent last year, slower than the 12.7 per cent increase in 2021.
HDB's flash estimate of the resale price index (RPI) for the fourth quarter of 2022 was 171.7, an increase of 2.1 per cent over the third quarter of 2022.
This marks the 11th consecutive quarter that the RPI, which provides information on the general price movements in the resale public housing market, has risen.
The fourth quarter RPI is a slower increase than the 2.6 per cent increase in the third quarter of 2022, and is the slowest increase in the past year, HDB said in a press release on Tuesday (Jan 3).
HDB imposed cooling measures on Sep 30, including a 15-month wait-out period for private property downgraders and tighter loan limits.
Ms Christine Sun, senior vice president of research & analytics at OrangTee & Tie, said that last quarter's price growth was the smallest quarterly increment since Q3 2020, when prices grew by 1.5 per cent.
"Nevertheless, prices have risen for 11 consecutive quarters and remained at a record high last quarter," said Ms Sun.
The modest growth in the last quarter could be due to September's cooling measures and rising mortgage rates, she said. The fixed home loan rates offered by many banks are around 4 per cent, while some floating loan rates have already exceeded 3.5 per cent.
It can also be because there were fewer large flats sold last quarter, which typically fetch higher prices. The proportion of flats sold in mature estates also dipped.
But more time may be needed for prices to reflect the full impact of the cooling measures, she said.
Mr Lee Sze Teck, senior director of research at Huttons Asia, said that more HDB owners are open to negotiations after the cooling measures and it is reflected in the slower price increase.
Mr Lee said that the number of million-dollar flat transactions appeared to have moderated in the last quarter after the Sep 30 cooling measures.
A total of 91 such flats were sold in the fourth quarter last year, about 17 per cent lower than the preceding quarter.
Mr Mohan Sandrasegeran, senior analyst at One Global Group, said some of the million-dollar purchases were probably finalised before the introduction of the most recent wave of cooling measures and approved later.
This means that the overall trend in resale prices and the momentum of million-dollar deals do not fully reflect the effect of the cooling measures yet, but it is "moving in the right direction".
He expects HDB resale prices to moderate in the first half of 2023, possibly reaching up to 3 per cent as compared to the 5.3 per cent price change in the first half of 2022.
The resale volume in the fourth quarter, up to Dec 29, was 6,474, which is 15.8 per cent lower than the same period last year, when 7,692 units changed hands.
For the full year up to Dec 29, the total resale volume was 27,773, which is 9.7 per cent lower than the 30,769 transactions in the corresponding period last year.
UPCOMING FLAT SUPPLY
HDB said it has launched a total of 23,184 Build-to-Order (BTO) flats for sale in 2022 and this year, it plans to offer up to 23,000 BTO flats.
In February, HDB will offer about 4,400 BTO flats in towns and estates such as Jurong West, Kallang Whampoa, Queenstown, and Tengah. In May, HDB will offer between 3,800 to 4,800 flats in Bedok, Kallang Whampoa, Queenstown, Serangoon and Tengah.
HDB said these numbers are "subject to review as more project details will be firmed up closer to the launch dates".
Ms Sun said that the resale housing supply is expected to remain tight over the next few years.
Flats reaching their five-year minimum occupation period are slated to drop significantly from 31,325 units in 2022 to 15,748 units in 2023, dipping further to 13,093 units in 2024 and 8,234 units in 2025.
"Although supply will fall this year, prices are not expected to rise extensively, given the cooling measures," she said.
"Some buyers may also hesitate to pay too much for a flat when mortgage rates continue to climb. Prices of HDB resale flats are expected to grow at a slower pace of 5 to 8 per cent this year."
Dr Lee Nai Jia, head of real estate intelligence (data and software solutions) at PropertyGuru, also thinks HDB resale demand should gradually taper off in 2023, with more BTO offerings.
"We should expect the momentum of the price appreciation to slow and the HDB resale market to stabilise, barring any economic shocks," said Dr Lee.
The flats that are expected to fulfil the minimum occupation period are mostly located in Bukit Batok, Yishun, Buangkok and Sembawang, so these estates may see greater resale flat price growth in the coming year, he added.