IN FOCUS: Feeling the heat? Why it will get even hotter, and what we can do about it
CNA speaks to climate experts and doctors to find out what we can do to stay cool.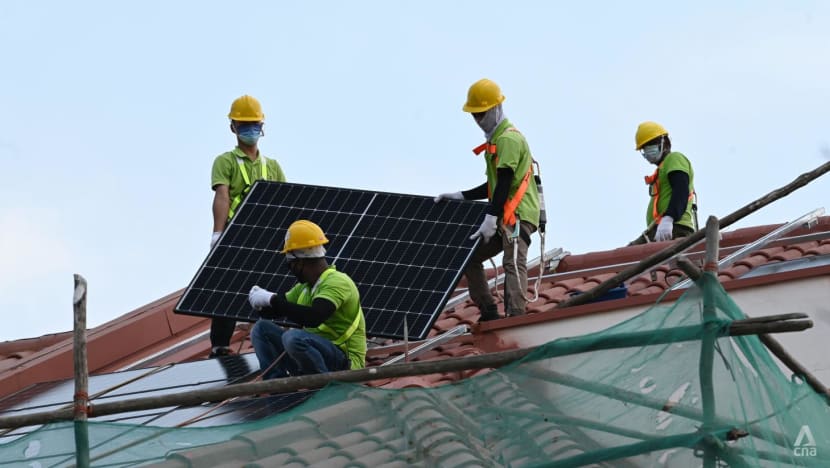 SINGAPORE: Under the searing sun, four workers were installing solar panels on the tiled roof of a house under construction in Serangoon Gardens.
The thermometer showed that for the time we were there, from about 1pm to 3pm, the temperature ranged from about 32 degrees Celsius to more than 41 degrees Celsius.
While the day's (May 31) temperature forecast was 32 degrees Celsius, factors like heat reflecting off the road and sidewalks can push up the mercury.
Up on the roof, the workers from Utica Solar had to wear safety equipment like helmets, harnesses and boots - not exactly light clothing. The solar panels and tiles were hot to the touch and scorching heat radiated off them.
Each solar panel is about 20kg in weight, and a team of six workers brought several up to the slanting roof for installation. They toiled for about an hour before climbing down for drinks and a break. 
As they sat in the shade, one turned on his handheld fan for some welcome breeze.
Mr Kenneth Chng, Utica Solar's CEO, told CNA that this was not an exceptionally hot day. As temperatures hit 35 or 36 degrees Celsius in April and May, there have been days when his staff stopped work for up to half a day.
"You have to consume a lot of water … and, many times, isotonic drinks to replenish the salt, otherwise, (they suffer from) fatigue," said Mr Chng 
"They take many breaks throughout the whole day - they need to. Some days, they stopped for at least one, two hours because it's really extreme. Last week, we stopped half a day, it was too hot."
Mr Chng, who has been in the industry for 18 years, said he's noticed that in the past five or six years, the weather has changed.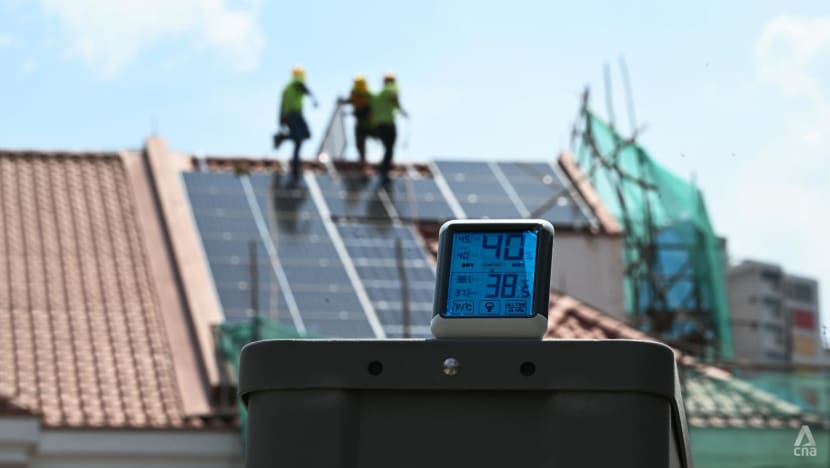 "The rain intensity is heavier … and also, the sun hours have increased. We noticed that the heat is a lot more intense as well."
RECORD TEMPERATURES
Singapore was feeling the heat in April and May as temperatures hit record highs. During this inter-monsoon season, it can get hotter with light winds and the sun directly overhead at noon.
On seven days in April, the daily maximum temperature was at least 35 degrees Celsius. A high of 36.8 degrees Celsius was recorded at Admiralty on Apr 1.
This is just 0.2 degrees Celsius shy of the island's all-time high of 37 degrees Celsius, which was registered at Tengah on Apr 17, 1983.
In May, there were 22 days with daily maximum temperatures exceeding 34 degrees Celsius. The temperature on 13 of these days reached more than 35 degrees Celsius.
And on May 13, the temperature went up to 36.7 degrees Celsius at Admiralty - the highest ever recorded here in May.
Due to Singapore's high humidity, it can feel even hotter than what the mercury reads.
When we perspire, our bodies cool as sweat evaporates from our skin. This is one of the main ways the body disperses heat, especially when the environment is warmer. But in hot and humid climes, a high amount of moisture in the air limits evaporation.
So even at the same temperature, our thermal comfort - one's perceived sense of hot or cold - can differ. Other factors that affect this are air circulation and personal differences like whether a person is acclimated to the tropical weather.
HOT AND HOTTER
There is no doubt that Singapore will need to adjust to higher temperatures.
Professor Gerhard Schmitt, Professor Emeritus at the Department of Architecture, ETH Zurich and Founding Director of the Singapore-ETH Centre, said that at the equator, people have adapted to higher temperatures and humidity over time, but that was before global warming.
"Once it gets above 30 to 33 degrees, with this high humidity, people just cannot adapt to that anymore, at least not as quickly as the temperature has risen in the last decades," he said.
"We can already see now and predict that productivity will definitely decrease and outdoor thermal comfort decrease even more."
From the 1950s to the present decade, the annual mean surface air temperature in Singapore has been rising at about 0.25 degrees Celsius per decade, said weather and climate scientist Associate Professor Koh Tieh Yong. The rise is approximately double the trend in global temperatures.
The main reasons are urbanisation and global climate change, said Assoc Prof Koh, who is from the School of Science and Technology at the Singapore University of Social Sciences (SUSS).
The Intergovernmental Panel on Climate Change (IPCC) has warned of more intense and frequent rainfall, rising sea levels and an increase in extreme heat events in the next few decades.
An IPCC report released last August said that human influence has warmed the climate at a rate that is unprecedented in at least the last 2,000 years.
The Centre for Climate Research Singapore has projected that Singapore's maximum daily temperature could reach 35 to 37 degrees Celsius by 2100. It is currently 31 to 33 degrees Celsius.
As a city, the temperature rise can be exacerbated by urbanisation due to the Urban Heat Island effect. Not only do vehicles and industry emit waste heat, buildings also trap considerable heat during the day which is dissipated at night.
The difference in temperature in urban areas in Singapore compared to less built-up areas can be as much as 4 to 7 degrees Celsius.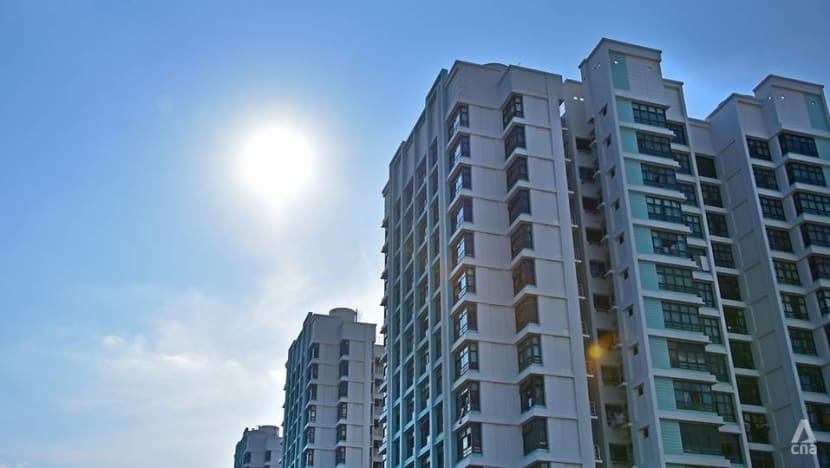 "Our local warming comes from the urban heat-island effect occurring against the backdrop of global climate change," said Assoc Prof Koh.
But he added that the pace of urbanisation in Singapore has slowed since the heydays of the 1960s to 1980s. 
"Whether Singapore's warming trend slows down or not depends much on global mitigation efforts, such as cutting down fossil-fuel burning, and on our local green initiatives that moderate the urban heat island effect," he said.
COOLING SINGAPORE
Prof Schmitt said that there are various sources of heat in cities related to human activity that can be reduced - ranging from heat-absorbing infrastructure to vehicle exhaust.  
Countries should switch to electric vehicles as much as possible, and using cleaner energy will lower temperatures significantly over time, he said. 
"Already a transformation is starting now but it has to be much more … towards producing and or importing renewable energy not made from fossil fuels, (but) mainly from solar and wind," he said.
"At the moment, electricity generation is through burning natural gas and that is a big heat source."
While there is no quick solution to mitigate global warming, there are ways of reducing the home-grown urban heat island effect, said Professor Matthias Roth from the Department of Geography at the National University of Singapore (NUS). 
He said that buildings which can accommodate generous vegetation, pervious surfaces and allow ventilation produce less extra heat. In addition, providing shade and ventilation will improve thermal comfort.
Assoc Prof Koh recommends having more green and blue spaces, like parks and ponds, and designing urban precincts so that wind can ventilate the surface and dissipate heat.
"We can also explore the deployment of novel paint coatings that reflect more sunlight than they absorb, and innovative windows that double up as solar panels for our buildings," he said.
Besides providing clean power, solar panels on roofs can lower the temperature as well, said Mr Benedict Goh, chief investment officer of Utica Solar.
"When you have a solar panel on top of the roof, it's an added insulation. The air that's trapped between the panel and the roof adds another layer, and … even if you don't switch on the aircon, it'll be at least two, two-and-a-half degrees cooler inside the building," he said.
Prof Schmitt said that all parts of a city interact with each other, forming a complex system and many things can be done to cool Singapore.
These include changing the material of the buildings, promoting greener industries and cleaner transport from cars to ships and switching from air-conditioning to other forms of cooling systems.
According to the National Environment Agency, nearly a quarter (24 per cent) of Singapore households' energy consumption goes to air-conditioning.
"All of these things are necessary to bring down temperatures … we will most likely not be able to bring it down by 4 to 7 degrees, but we will be able to lower the increase of temperature in Singapore," said Professor Schmitt.
KEEPING YOUR COOL
In the meantime, people living in Singapore need to manage the heat. Doctors told CNA that they have seen an increase in heat-related injuries and conditions in the past two months.
"With the rise in temperature due to global warming, we definitely expect to see more heat-related conditions but the main thing is actually for the public to understand how to cope with the heat," said Dr Lee Joon Loong, medical director at Paddington Medical Clinic.
Some common mild conditions due to heat are lethargy, light-headedness, cramps, heat rash, heat exhaustion and heat oedema, or the swelling of the limbs.
More severe forms of heat injury include heat syncope and heat stroke, which could lead to loss of consciousness.
Dr Lee said that he has also seen more people come to his clinic with ailments due to dehydration, including headaches, constipation and urinary tract infection. 
Doctors emphasised that one should stay out of the sun at times of extreme heat, and drink adequate water, especially if one is exercising or labouring outdoors.
However, they advised against drinking tea or coffee, or anything with caffeine, as these are diuretics that cause one to urinate more, leading to further dehydration.
"It will be good to wear loose, breathable clothing with other apparel such as hats to protect from direct sunlight. Make sure to drink plenty of water throughout the day," said Dr Kanak Naidu, senior consultant at Khoo Teck Puat Hospital's Department of Acute & Emergency Care.
"And take periodic breaks in a shaded area. Portable fans (even the handheld ones) are a great way to cool the body down as you perspire."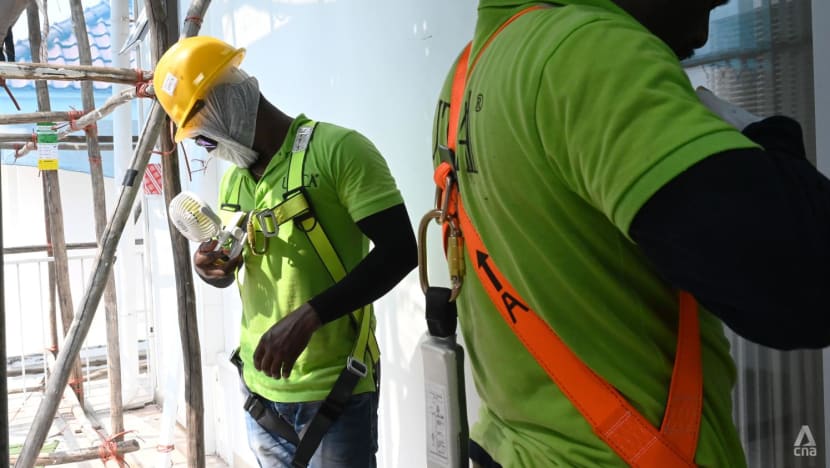 Certain groups of people should also take more care. Keep a look out for soldiers in training, emergency responders, delivery riders and anyone working outdoors, said Assoc Prof Jason Lee, deputy director of the Human Potential Translational Research Programme at the NUS Yong Loo Lin School of Medicine.
Elderly people with chronic conditions, such as cardiovascular diseases and diabetes, should also be wary because they have limited capacity to deal with thermal stress, he said.
For outdoor workers and those working in high heat environments indoors, the Ministry of Manpower (MOM) has guidelines for managing heat stress in the workplace.
Susceptibility to heat stress can vary from person to person, and workers who are unwell, on medication or have just recovered from an illness are at higher risk of developing heat stroke.
Other factors include one's fitness level, whether one is acclimatised to the temperature, and alcohol consumption.
Paddington's Dr Lee said that one should have at least seven hours of uninterrupted sleep and stop or limit alcohol intake a day before vigorous activity in the sun. 
At this time, with many people contracting COVID-19, Dr Lee also warned against intensive exercise, in or out of the sun, right after.
"For people who are recovering from viral infections like a cold, COVID or any other viral conditions … my advice is: Please don't be a hero. Make sure you're fully, 100 per cent well first and then resume light exercise," he said.
MOM's guidelines also advise employers to let new workers be acclimatised to the hot weather before increasing their workload. They may need at least one or two weeks to adjust to the local conditions, especially if the workers are from colder climates.
These pieces of advice are what the workers installing solar panels practise daily, and that many people in Singapore may need to take to heart.
Mr Yap Lee Choy, 48, a project manager at Utica Solar, said that he has adapted to working under the sun in the decade he has been in the job, but in recent years, the heat has become harsher.
"This job is not easy, we work with heights and we have to be in the sun. When we are on the roof, the heat is even stronger," he said.
"Recently, with even hotter days, our supervisors will ask the workers to rest every hour or so."
The company makes sure that the workers hydrate and rest, said CEO Mr Chng: "We feed them with isotonic drinks and also energy bars, otherwise it's very difficult to recover. 
"Anytime when they are tired or they don't feel well, anybody for any reason can stop and they come down and rest."
At the same time, one expert advised that to slow the rise of environmental temperature, society should try to harness sustainable methods of cooling.
"Even if you need to turn on the aircon, do not overcool the room, use fans. Keep your home ventilated," said Assoc Prof Lee.
"People can hide in an air-conditioning environment for a while but it is also good to allow the body to physiologically acclimatise to the rising temperatures so that the body can work to combat and dispel heat more effectively."