'Help, my house is on fire': What you need to do when you see black smoke and flames at home
SINGAPORE: Orange flames, charred walls and thick black smoke – these are sights every homeowner wishes never to see. But what are you doing to ensure a fire never breaks out in your home? And if a fire breaks out, do you know what to do?
There were 1,010 residential fires in Singapore last year, forming the majority of fire calls that the Singapore Civil Defence Force (SCDF) responded to, according to the latest statistics provided by SCDF.
While this was a 4.2 per cent decrease from the previous year, all three of the fire fatalities in Singapore last year involved residential fires.
One of the incidents was at a flat in Ang Mo Kio Avenue 10, where a blaze engulfed the living room due to the "vast accumulation of combustible items".
Such cases involving household contents accounted for one of the top three types of residential fires last year, along with unattended cooking and electrical fires.
What can be done to prevent a fire in your own home? And if a blaze does break out, what should you do to protect yourself and your loved ones? CNA talks to the experts to find out.
HOW DO I PREVENT FIRES AT HOME?
The best way to prevent fires is to eliminate the causes in the first place, according to safety tips by SCDF. 
In the kitchen, do not leave cooking unattended and switch off the gas supply and cooking appliances when they are not in use.
Keep appliances including the stove top, cooker hood and oven clean and free from grease, and in good working condition.
Keep flammable liquids like oil and alcohol as well as combustible materials away from heat sources.
Gas cylinders should be kept in a well-ventilated area, making sure that the supply hose connecting the cylinder to the stove is in good condition, tightly fitted and not leaking.
To prevent electrical fires, power sockets should not be overloaded and electrical appliances should be switched off when not in use.
Check appliances for frayed wires or cracked cords, and replace them if necessary. Do not run wires under carpets or mats, and keep them away from hot surfaces.
Use only electrical appliances and plugs that bear the SAFETY Mark: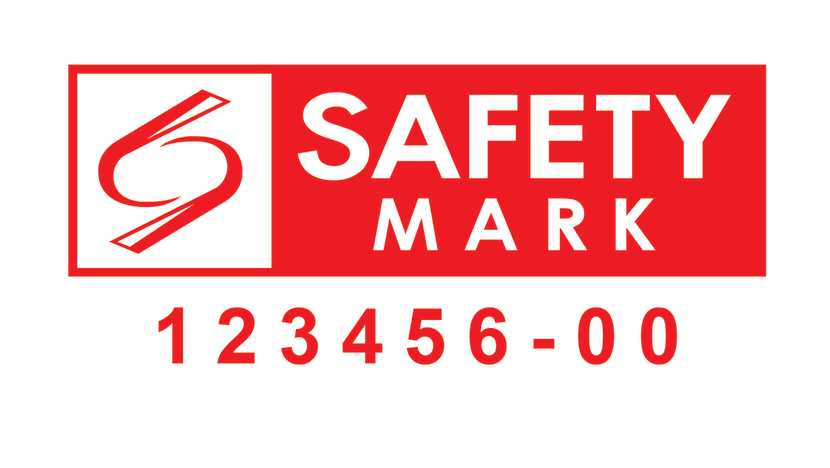 To prevent dropped light fires, make sure that items such as embers from charcoal and cigarettes are completely extinguished before they are thrown into bins or rubbish chutes.
Residents can use the household fire safety checklist in SCDF's Civil Defence Emergency Handbook to help them manage risks at home.
Make sure that others in the household know about these practices too. Educate children about fire hazards and do not allow pets to go near cooking surfaces or table tops, said fire safety engineer Vashdev A Khialani.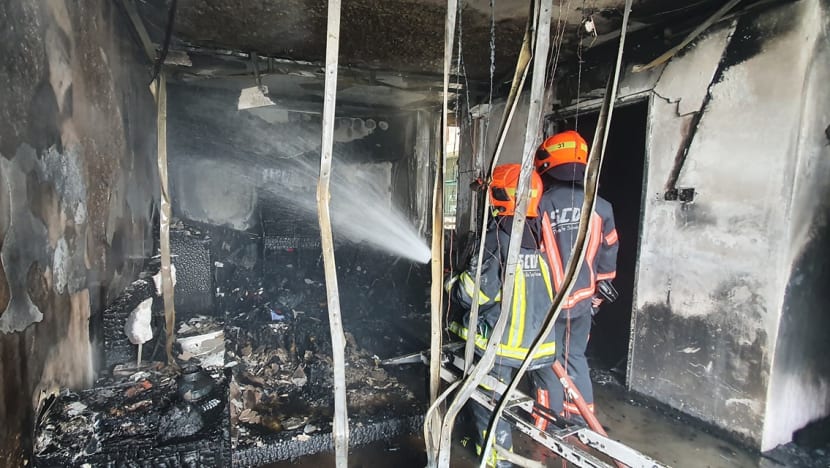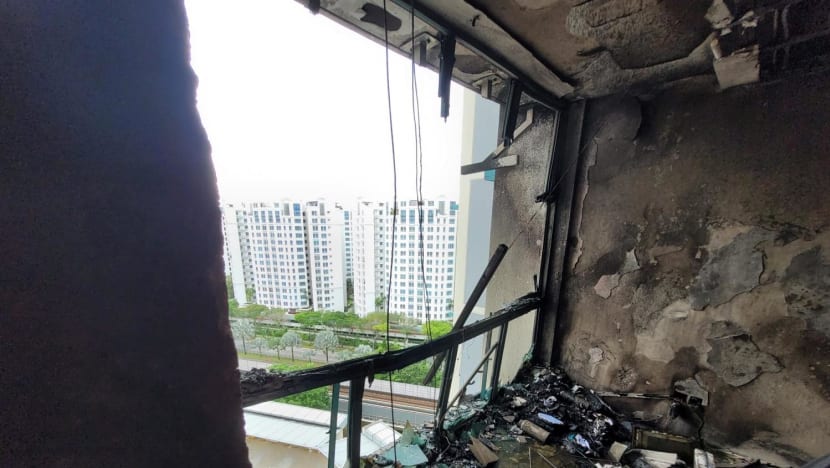 WHAT FIRE SAFETY EQUIPMENT SHOULD I HAVE AT HOME?
Home fire alarm devices have been mandatory in all new homes since June 2018. The rule covers public and private housing. Existing homeowners are strongly encouraged to install them too.
A heat or smoke detector is especially important for households with more vulnerable occupants such as children, elderly and people with disabilities, said fire safety consultant Christopher Tan. The early warning gives them more time to react in an emergency.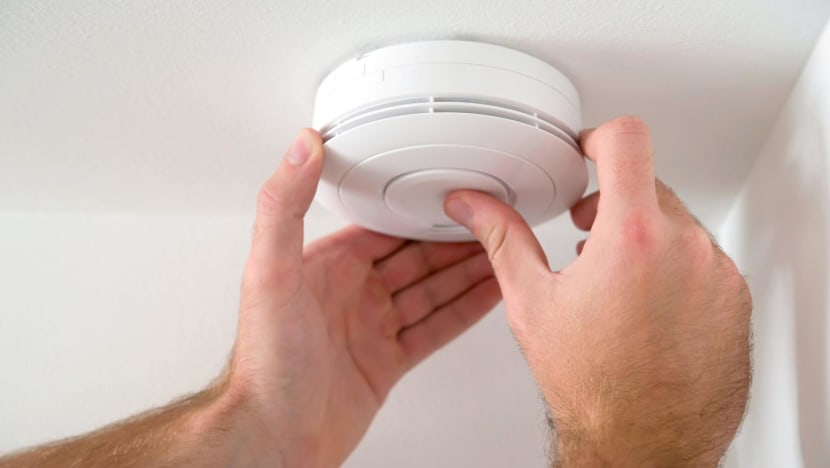 SCDF recommends getting an alarm that operates on a built-in battery with a 10-year lifespan. Prices vary, but one should cost around S$50 to S$80 excluding installation, based on market rates.
Install the alarm on the ceiling along escape routes, such as the living room, corridor or staircase landing, so that smoke can be detected early. For multi-storey homes, there should be one alarm per floor.
DO I NEED A FIRE EXTINGUISHER?
Though not required by law, SCDF recommends that every household has at least one dry chemical powder fire extinguisher, which can be used to put out many types of incipient fires.
The extinguisher should be certified by an accredited certification body, with the serial label affixed to the extinguisher. A list of the companies registered to service, maintain and dispose of fire extinguishers is online.
When choosing an extinguisher, pick it up or weigh it to ensure it is full. Check for physical damage, corrosion, leakage or a clogged nozzle. Make sure the pressure gauge indicator is in the operational range.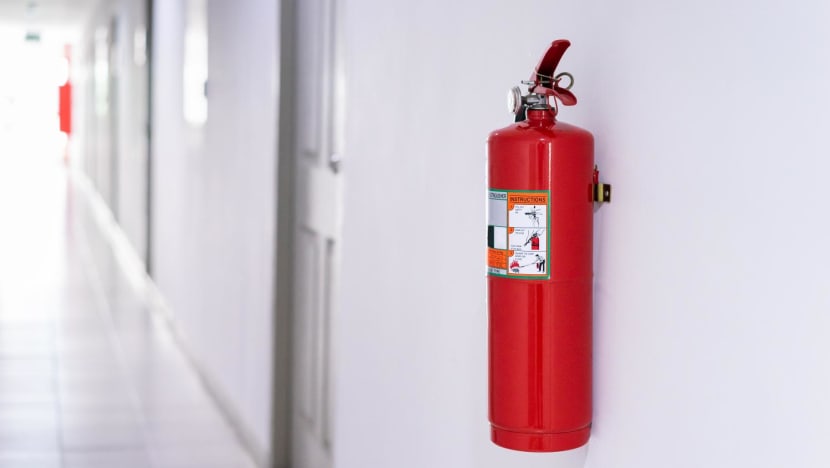 Once you have your extinguisher, continue to inspect it at least once a month and make sure it is not obstructed or hidden away.
Owning an extinguisher is not enough – make sure you know how to use it too, said Mr Tan.
One way to learn is to attend the Community Emergency Preparedness Programme conducted free-of-charge by SCDF, which teaches basic firefighting and lifesaving skills.
SHOULD I HOLD A FIRE DRILL AT HOME?
Fire safety engineer Ruth Wong said households can consider having an emergency action plan that covers how to help vulnerable members of the household and the use of an extinguisher.
Mr Khialani recommends doing fire drills with the family at least twice a year, including how to raise the alarm to inform other residents of the home and building.
The key thing is to know the location of the exit staircase and an alternative staircase to use in emergencies, added Mr Tan.
HOW DO I ENSURE SAFETY IN MY HOME'S DESIGN AND LAYOUT?
High-rise residential buildings are constructed in accordance with local fire safety requirements, which are generally quite stringent in Singapore, said Ms Wong.
Inside the home, furniture and partitioning should be arranged such that escape routes are not obstructed, she said. Avoid hoarding or having plants and furniture that block the common escape corridors or lobby.
Good housekeeping is important to remove clutter and ensure that wiring is in good condition and electrical outlets are not overloaded, added Mr Tan.
Residents should engage only licensed or qualified people to do home design, renovation and repair works, he said. Use products that are certified as fit for purpose, with the appropriate safety labels or devices.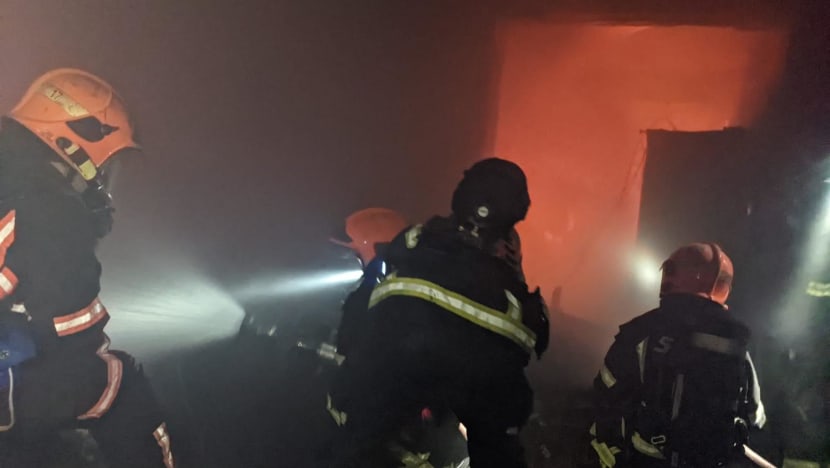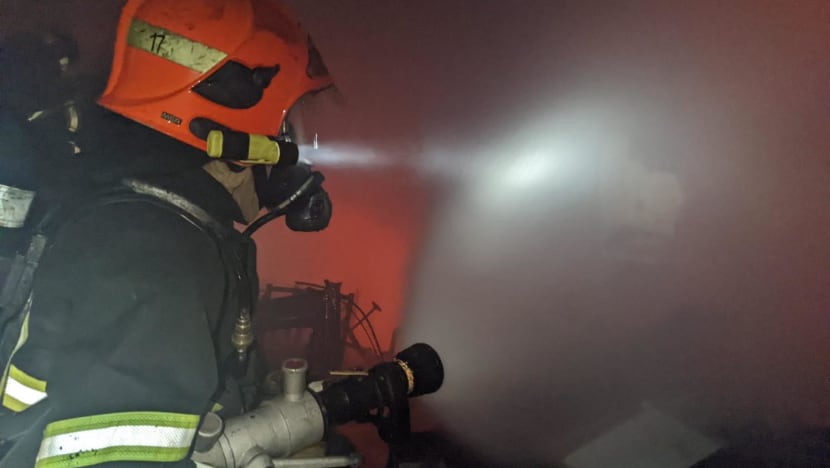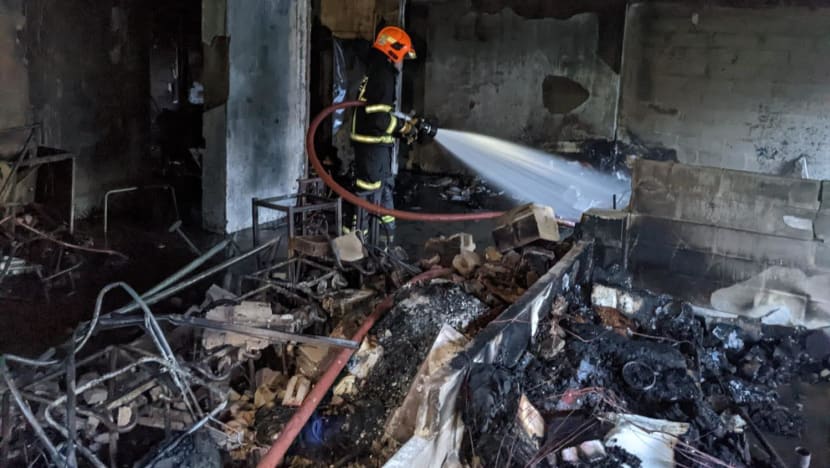 MY HOUSE IS ON FIRE. WHAT DO I DO?
Do not panic. Alert others of the fire by shouting, and evacuate everyone from the room. If possible, close the door of the room to contain the fire and smoke. Call 995.
Turn off the gas mains only if you can reach them. Activate the nearest fire alarm by using a sharp object to break the glass.
Evacuate from the building using the stairs. Do not use the lift. Do not return to the building until authorities announce that it is safe to do so.
If you are in a super high-rise residential building with more than 40 storeys and too far from the ground floor, you can evacuate to the "refuge floor" – a special floor that serves as a safe holding area so that residents do not have to travel many floors down to leave the building in case of a fire.
The refuge floor is identified by a sign that reads "evacuee holding area" on the wall immediately outside the staircase and inside the staircase.
Only attempt to put out the fire if you are trained and it is safe to do so, said Mr Tan.
If there is an oil fire in the kitchen, do not pour water into the cookware, advised SCDF. Turn off the gas supply immediately and use a lid or wet cloth to cover the cookware.
If there is a dropped light fire, these can be put out with buckets of water, a fire extinguisher, a hose reel or even a domestic hose, said SCDF.
SHOULD I EVACUATE OR STAY PUT?
As a rule of thumb, it is safe for occupants to stay put in their homes with the windows and doors closed – unless they stay on the same floor as the fire or two floors above it, said SCDF.
Those who live on the fire floor and two floors immediately above will be evacuated.
If you are above the fire floor, close all windows before evacuating to prevent smoke and heat from getting in, said Mr Tan.
If in doubt, it is best to evacuate from a fire rather than stay put, he added.
Even if the fire cannot be seen from where you are, it is safer to escape as you do not know how the situation will develop.
HOW DO I AVOID INHALING SMOKE?
Smoke inhalation injuries typically outnumber burn injuries in fires, according to SCDF's Civil Defence Emergency Handbook.
To prevent this, cover your nose and mouth with a wet cloth and avoid inhaling through your mouth. Get down on the ground and crawl under the smoke when evacuating.