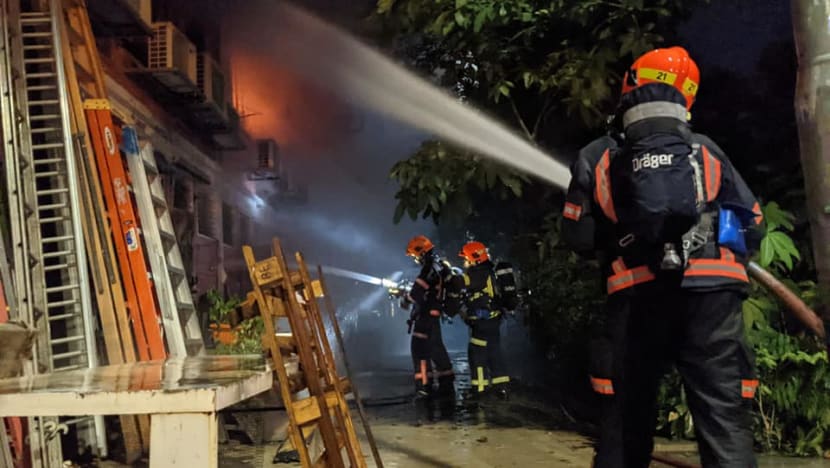 SINGAPORE: The total number of fire incidents fell in 2021, with fewer fires in residential premises and non-building places, according to annual statistics released by the Singapore Civil Defence Force (SCDF) on Friday (Feb 11).
Despite this, there were more fire injuries with 194 cases in 2021 compared to 184 in 2020. 
Three fire fatalities were also recorded last year. These involved residential fire incidents at Ang Mo Kio Avenue 10 on Mar 5, Yishun Street 22 on May 8 and Woodlands Drive 16 on Jun 3. 
SCDF said fires of electrical origin were the leading type of fire in 2021, accounting for 588 cases or 31.9 per cent. Such fires involved faulty wiring or electrical appliances that ignited nearby combustible materials. 
Cooking activities were the next highest cause of fires, with 408 cases. This was followed by "dropped light" fires with 349 incidents. Such fires involved cigarette butts that were not completely extinguished, embers from charcoal and incense sticks.
FEWER FIRES IN RESIDENTIAL PREMISES
There were 1,010 fire incidents in residential premises, both private and public, in 2021. This was a 4.2 per cent decrease from the 1,054 cases the preceding year. Most of these fires arose from unattended cooking. 
Electrical fires and fires involving household contents rose 2.7 per cent and 10.2 per cent respectively, said SCDF. The majority of electrical fires were typically caused by faults in wiring or electrical appliances, or due to the overloading of electrical sockets. 
SCDF also reported a "substantial" decrease in fires involving discarded items, from 193 cases in 2020 to 145 cases in 2021. These fires typically occur in common areas such as lift lobbies, staircase landings and common corridors. 
There were more fire incidents at non-residential premises last year with the SCDF responding to 415 cases, a 7.5 per cent increase. 
Fires in commercial premises rose by 21.1 per cent while industrial premises saw an increase in fire incidents by 0.8 per cent. In contrast, fires in social and communal premises fell by 11.1 per cent to 72 cases. 
OVERALL DECREASE IN FIRES INVOLVING ACTIVE MOBILITY DEVICES
There was an "overall decrease" in the number of fires involving active mobility devices in 2021, said SCDF. This includes personal mobility devices and power assisted bicycles. 
The number of such fires fell by 19.1 per cent, from 68 cases in 2020 to 55 cases in 2021. 
In 2021, 54.5 per cent of such cases occurred at residential premises. 
"Members of the public who own (power assisted bicycles) and (personal mobility devices) should continue to be vigilant when handling such devices as these fires can result in serious damage to property and even casualties," said SCDF.
SCDF also reminded members of the public to be aware of the fire safety risks associated with such mobility devices, and to take note on what they can do to reduce these risks. 
MORE CALLS FOR EMERGENCY MEDICAL SERVICES
SCDF responded to a total of 213,615 emergency medical services (EMS) calls in 2021. This was a 11.9 per cent increase from the 190,882 calls in 2020. 
Of these, there was a 13.1 per cent increase in the number of emergency calls due to a surge in COVID-19 related calls from September to November 2021. Singapore saw a surge in COVID-19 cases during that period due to the Delta variant. 
During these three months, SCDF responded to about 63,000 calls, which was 36.5 per cent higher compared to the same period in 2020. 
A total of 80.2 per cent of the emergency calls received in 2021 were medical-related, for conditions such as chest pain, breathlessness, loss of consciousness and cardiac arrest. 
Trauma cases such as industrial accidents, falls and assaults accounted for 15.9 per cent while the remaining 3.9 per cent were related to road traffic accidents. 
The number of calls involving the elderly aged 65 and above remained the highest among all age categories, at 44.2 per cent, said SCDF. 
SCDF added it has been conducting "intensive" publicity campaigns since 2018 to raise awareness on calling 995 for medical emergencies only. 
"This has generally resulted in a year-to-year decrease in both non-emergency calls and false alarms calls," it said. 
Non-emergency calls are cases where urgent medical assistance by SCDF is not required, including cases where patients are either uninjured or have no medical complaints. 
Such calls dropped from 10,534 in 2019 to just 8,835 in 2020.
The number of non-emergency calls then increased to 9,050 in 2021. SCDF said this was largely due to the increase in the number of suspected COVID-19 cases at that time.  
"Many were COVID-19 related cases that were assessed to be non-emergencies, as they were not seriously ill and did not need to be conveyed to hospital," it added. 
The number of false alarm calls have also been falling since 2019. The trend has continued with an "encouraging decrease" of 8.1 per cent, from 6,094 calls in 2020 to 5,598 calls in 2021. 
Last year, SCDF transported about 10,600 COVID-19 positive cases and more than 12,300 suspected cases. It also additionally deployed 25 officers in six minibuses to support MOH in conveying stable COVID-19 patients to appropriate care facilities. About 700 patients were transported from Sep 28 to Oct 31. 
Members of the public should refrain from calling 995 for non-emergencies. This is to ensure that SCDF's EMS can provide swift conveyance to hospitals for those with life-threatening and emergency conditions, said the authorities. 
For confirmed or suspected COVID-19 patients, SCDF will only convey those with severe acute respiratory infection symptoms or serious medical conditions. COVID-19 patients and suspected cases with no such symptoms do not need SCDF's EMS.
"This is in line with Protocol 2 guidelines from the Ministry of Health; such cases do not need to go to hospital emergency departments," said SCDF.