18-year-old Singaporean detained under ISA after intending to attack targets in Singapore
The student considered attacking an army camp and a gravesite at a mosque. He also bought a knife, intending to kill people in dark alleys.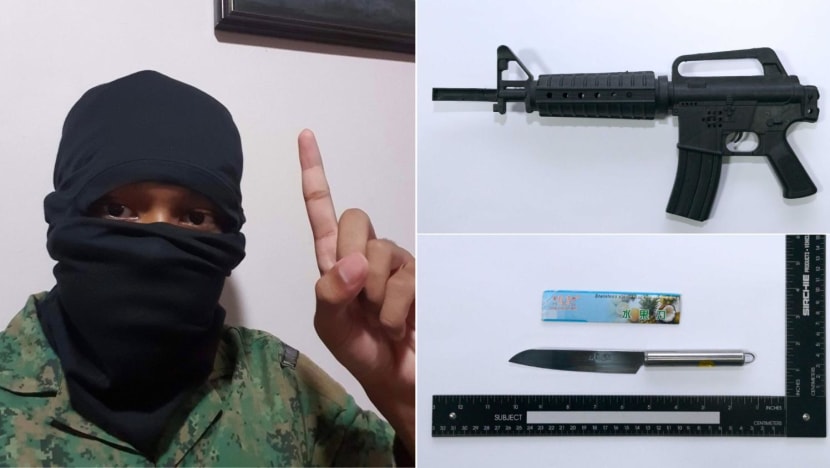 SINGAPORE: An 18-year-old Singaporean student who is an Islamic State supporter has been detained under the Internal Security Act (ISA) after he considered plans to attack targets in Singapore, including an army camp and a gravesite at a mosque.
Muhammad Irfan Danyal Mohamad Nor was self-radicalised by online propaganda and intended to travel overseas for armed violence.
He acted alone and there is no indication that he was successful in recruiting or radicalising others, said the Internal Security Department (ISD) in a media release on Wednesday (Feb 1).
Irfan, who was detained in December, had been on the authorities' radar, said Home Affairs and Law Minister K Shanmugam.
The post-secondary student started watching YouTube videos in 2020 by foreign extremist preachers such as Zakir Naik, who has been barred from entering Singapore since 2014.
He also participated in discussions on social media platforms where he was exposed to propaganda by Islamic State.
On Aug 9 last year - Singapore's National Day - Irfan planted on Coney Island a self-made flag based on that of the Al-Qaeda-linked terrorist group Hayat Tahrir al-Sham.
He claimed that the act symbolised the start of his own caliphate, which he named the "Islamic State of Singhafura".
On the same day, he uploaded pictures of the flag on his social media account, encouraging others to join his caliphate. By October, he was convinced of Islamic State's legitimacy and decided to travel overseas to undertake armed violence.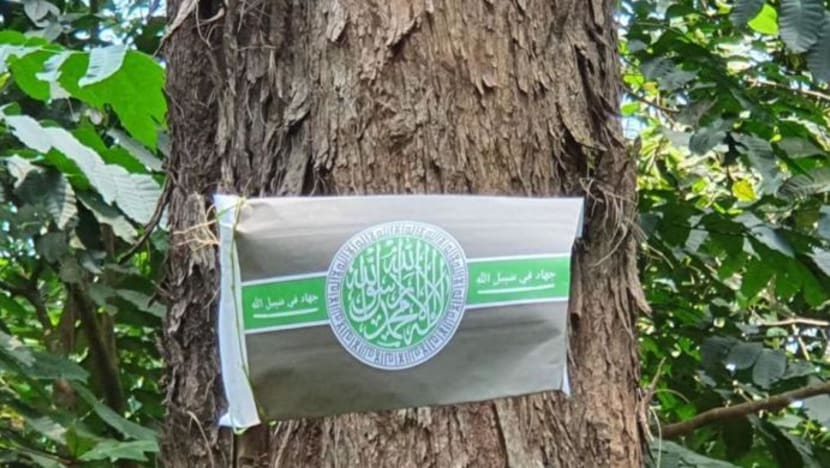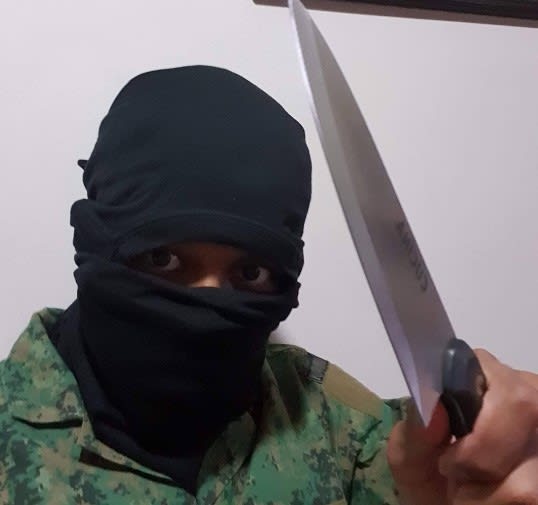 An 18-year-old Singaporean student who is an Islamic State supporter has been detained under the Internal Security Act (ISA) after he considered plans to attack targets in Singapore, including an army camp and a gravesite at a mosque. Tan Si Hui reports.
ATTACK PLANS IN SINGAPORE
Before he could go overseas, Irfan bought a knife from a convenience store in August last year.
According to ISD, his plan was to stab and kill "disbelievers" in dark alleys and take their personal belongings as war spoils for his terrorist army. Disbelievers, in his view, included non-Muslims, Shia Muslims and Sufi Muslims.
Irfan also had aspirational plans to carry out a mass-casualty attack against Amoy Quee Camp in Ang Mo Kio, where the National Cadet Corps headquarters is located.
Inspired by car bomb videos by the Islamic State group, Irfan wanted to recruit a suicide bomber who would mount an attack at the gate of the camp. 
ISD said he had intended to lead his army to attack the remaining guards at the gate using simple weapons like axes and knives, and steal the firearms from the guardhouse.
In response to media queries the Ministry of Defence (MINDEF) said that the Singapore Armed Forces (SAF) has in place "systems and measures to deter, detect and respond to different security threats at our camps".
There are "strict and stringent security procedures" governing personnel access to SAF camps, with security troopers and regimental guards deployed, aided by technologies such as surveillance systems and unmanned sensors.
"Our service personnel are also briefed on potential threats, and educated on how they should watch out for and respond to suspicious activities and signs, including those related to radicalism and extremism," MINDEF said.
"The SAF reviews our camp security systems and measures regularly. We also remind our security personnel and service personnel periodically, and using this incident as an example, on the need to maintain their vigilance."
MOSQUE GRAVESITE TARGET
Another plan Irfan considered was a bomb attack at Keramat Habib Noh, a graveyard at Haji Muhammad Salleh Mosque, which he believed to be "unIslamic". 
Irfan had downloaded a bomb-making manual online, intending to construct a homemade explosive to flatten the grave. 
At the time of his arrest, Irfan's plans against Amoy Quee camp and Keramat Habib Noh had not progressed beyond the ideation stage, said ISD. 
With the addition of Irfan's case, nine Singaporean youths - aged 20 and below - have been detained or given restriction orders under the Internal Security Act since 2015. 
THREAT ASSESSMENT
Responding to questions about the time it took for ISD to make a move on Irfan, Mr Shanmugam said: "Before you detain someone, you make careful assessments of the security threat that person poses. Also, the level of intervention that's needed. When he was assessed to pose an imminent security threat, he had to be detained."
ISD said Irfan's family members were not aware of his attack plans or intention to undertake violence overseas. 
"A religious counsellor from the Religious Rehabilitation Group (RRG) will counsel Irfan, educate him on Islam," Mr Shanmugam said, adding that ISD has also made arrangements with the teen's school to have him continue with his education and sit for his exams while in detention.
"He has an RRG volunteer who will act as a mentor, to motivate him in his rehabilitation and guide him to develop pro-social skills."
ISD also announced on Wednesday that Singaporean Imran Mahmood has been released from detention and placed on a restriction order in January. He was detained under the ISA in 2019 for harbouring intentions to travel to Syria to fight alongside Islamic State.
You may also be interested in: