Construction of Jurong Region Line begins, with 24 new MRT stations
Jurong Region Line, which links places like Tengah, NTU and Jurong Industrial Estate, is set to open in stages from 2027.
SINGAPORE: Construction of Jurong Region Line (JRL), Singapore's seventh MRT line, has begun with a groundbreaking and viaduct-launching ceremony on Friday (Jan 13).
There will be 24 MRT stations along the JRL - all above ground - including three interchange stations: Boon Lay, Choa Chu Kang and Jurong East. 
Set to open in three stages from 2027 to 2029, the line is expected to "significantly improve" connectivity in the western part of Singapore and support developments in the Jurong area, said the Land Transport Authority (LTA) in a media release. 
The names of the stations will be made known at a later date.
It was previously announced that the JRL will serve places like Tengah estate, Nanyang Technological University (NTU) and Jurong Industrial Estate.
ENHANCED CONNECTIVITY FOR RESIDENTS 
When the JRL fully opens in 2029, it is expected to give commuters "substantial time savings", said LTA. 
About 60,000 more households will be within a 10-minute walk of a train station, said Transport Minister S Iswaran at Friday's ceremony, adding that the line will also improve public transport connectivity for residents in the West and North-West.
"For example, a student commuting from Choa Chu Kang to NTU by public transport will see her travel time shaved by close to half, from 60 minutes to 35 minutes," Mr Iswaran said. 
Commuting from Woodlands MRT to Jurong Island Checkpoint will take 45 minutes instead of around 80 minutes currently. 
The JRL will also connect residential areas, including Gek Poh and Pandan Gardens, to key areas in Jurong that currently do not have direct links to the MRT, such as the Jurong Industrial Estate, Jurong Innovation District and NTU.
SOLAR PANELS AT JRL STATIONS
With sustainability being a key consideration in designing the new line, all JRL stations will be fitted with solar panels to generate renewable energy for station operations, said Mr Iswaran.
"The photovoltaic solar panels will help reduce the carbon footprint of JRL operations by providing a constant source of power with little to no greenhouse gas emissions," LTA added.
"In addition, JRL stations are designed to allow crossflow natural ventilation to reduce mechanical energy usage from fans and air-conditioning."
JRL trains will also be equipped with sensors to automatically dim lights during the day, said Mr Iswaran. 
Like existing MRT lines, JRL will adopt a "regenerative braking system" which uses energy produced by trains during braking to power nearby trains or stations.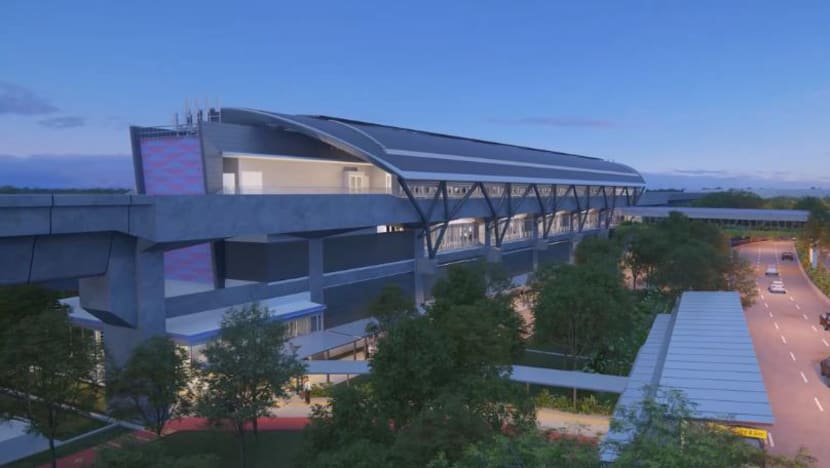 "STIFF CHALLENGES"
As the JRL is constructed through "such a densely developed corridor", there are "stiff challenges", said Mr Iswaran. 
At the interchange stations of Boon Lay, Choa Chu Kang and Jurong East, for instance, some existing station structures will need to be demolished and strengthened.
"To minimise disruptions to current station operations and commuters, construction activities have been carefully staged. They use virtual reality technologies to optimise station layouts and ensure seamless commuter flow," Mr Iswaran said.
Parts of the JRL viaduct are also being constructed over busy roads or close to existing buildings such as Housing Board blocks. 
"For some segments of the viaduct, I understand this will be as close to the blocks as 10m to 15m," he added. 
Technologies such as Virtual Design and Construction are used to support detailed planning. Drones and automated instruments, such as 3D scanners, are also being deployed for real-time monitoring of progress for key segments of the construction.
"As the JRL is designed to navigate through existing developments, minimising noise disturbance is a key design consideration. Hence, permanent noise barriers will be installed along viaducts that are near residential areas," added LTA.
"LTA engineers have undertaken extensive planning and rolled out a number of mitigating measures to minimise disruptions to traffic and the environment. 
"Traffic diversions along Choa Chu Kang Avenue 3, Jurong East Central and Jurong West Avenue 4 have been successfully implemented to allow for the construction of stations and viaduct structures."
Finally, sections of the JRL viaduct have "tight curves", said Mr Iswaran. 
"To ensure that JRL trains have sufficient manoeuvrability to negotiate these curves, JRL trains will have slightly smaller carriages," he explained.
"For example, compared to Circle Line train carriages, each JRL train carriage will be 5m shorter in length and 0.45m narrower in width."
Nonetheless, Mr Iswaran gave the reassurance that the JRL will be able to meet long-term ridership demands of more than 500,000 per day, when surrounding developments are fully up and running.
"As we work hard to complete the JRL, there will inevitably be some short-term inconveniences to the surrounding community," he added. 
"We will work with you and do our best to minimise such disruptions. Measures such as strict vibration and noise limits, and conducting works affecting busy roads only late at night, have been put in place."