Singapore trying to ease up 'step-by-step' on COVID-19 without making 'unsettling' U-turns: PM Lee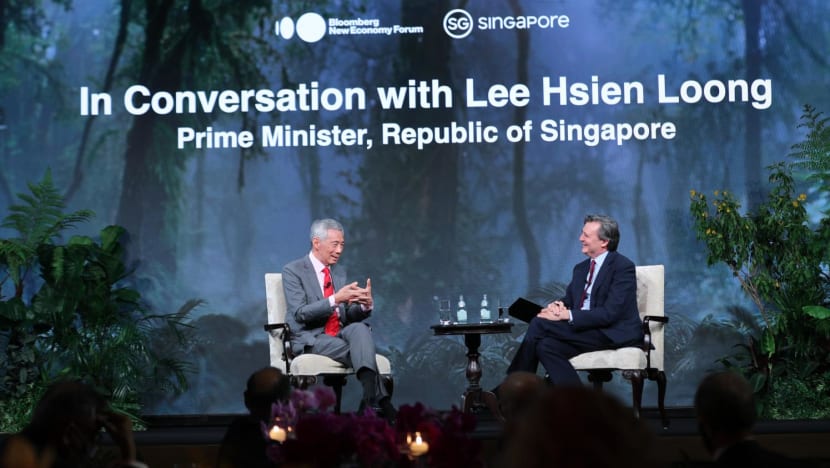 SINGAPORE: Singapore is gradually easing COVID-19 safety measures and making sure the situation stabilises with each step of easing, so as to avoid "unsettling" U-turns, Prime Minister Lee Hsien Loong said on Wednesday (Nov 17).
Speaking to Bloomberg editor-in-chief John Micklethwait at the close of the first day of the Bloomberg New Economy Forum, Mr Lee said: "What I am trying to do is to ease up a little bit, make sure things stabilise, ease up a bit more, make sure things stabilise again and ease up a little bit more.
"And eventually it probably will not be back to status quo ante but close enough, and without having had to make unsettling U-turns."
The Prime Minister said that the Singapore population will be "frustrated (and) disappointed" if the country opens up only to tighten measures again when cases flare up, and there may also be a "human price" to pay.
"I think it is better we take it step by step. I am not absolutely certain that I can do this without any misstep, I may have to step on the brakes again from time to time, but that is my game plan," he added.
However, as the virus mutates and the science evolves, Singapore has had to "change course" from stamping out the coronavirus to living with it.
The Forum is one example of recent relaxation, making it possible to hold a large-scale event with more than 300 delegates from 51 countries attending in-person at the Capella hotel on Sentosa.
"We have had to carry the population along and persuade people that it is necessary for us now to accept the few thousand cases a day. We will try our best but there will be casualties and there will be mainly old people who will not make it through," said Mr Lee.
When asked if Singapore is letting 61,000 seniors who remain unvaccinated dictate its pace of opening, Mr Lee said: "Those 61,000 people have more than 61,000 relatives and friends and dear ones. If you just write them off, I do not think you can make those utilitarian calculations. It is a human cost."
PM'S SUCCESSOR
Mr Micklethwait then noted that two of Mr Lee's potential successors are on the COVID-19 Multi-Ministry Task Force and, referencing the popular Korean drama Squid Game, asked Mr Lee: "Are you thinking of eliminating them or continuing?"
Finance Minister Lawrence Wong and Health Minister Ong Ye Kung are both on the taskforce, and have been pegged as potential candidates for Singapore's next Prime Minister. 
Mr Lee said that his approach was not to "write off" any participants as he has no "spare" but he wants to build a team instead.
"I put them there not as a beauty contest, but because I think they can make a contribution and it is a very important job which needs to be done. If I do not put the best people available on the COVID-19 team, what am I doing with them?"
On US-China relations, which has been in the spotlight after US President Joe Biden and Chinese President Xi Jinping had a virtual summit this week, Mr Lee said that the talks are a necessary beginning but the differences between the two countries are "many and deep".
"It goes beyond individual issues to basic mindsets. They are not going to be resolved or reconciled in one meeting or one deal. But it is good that the US and China could make some understanding at COP26," he said.
"It was crucial for the two leaders to be able to have this virtual meeting and speak frankly to one another."
The US and China, the two largest emitters in the world, had issued a joint declaration at the COP26 climate summit in Glasgow, vowing to boost co-operation on climate issues.
But Mr Lee also warned that cross-strait relations between China and Taiwan are a concern as "you can have a mishap or a miscalculation and be in a very delicate situation".
The US has significantly increased the visibility, the level and the intensity of diplomatic and military engagements with Taiwan, China has been testing Taiwan's air defences while Taiwan's current administration has disavowed the 1992 Consensus, he said.
"All these moves raise suspicions, tensions and anxieties, and makes it more likely that a mishap or miscalculation can happen," he said.
"You want to step back some - deescalate is too strong a word - chill, a little bit, and think how much you would regret losing this if you tried the alternative which came."
CARBON, WEALTH TAXES
On Singapore's approach to a carbon tax, Mr Lee said that while the current rate of S$5 per tonne is a "token", it was important to get started.
"If you want to incentivise change of behaviour and usage, or even industry structure in the long term, it has to be significantly higher than that in order for us to reach the carbon targets which we have set for ourselves, which is to peak at 2030 and then to go down by around half by 2050," he said, adding that this rate will be reviewed.
Mr Micklethwait then asked Mr Lee to elaborate on Singapore's plans to impose a wealth tax.
To this, the Prime Minister said that Singapore is studying this but it is "not so easy to implement".
"Income inequality is somewhat easier to see and measure ... wealth is much more difficult – you can squeeze it here and it pops out in different forms elsewhere. Nowadays, you may have a non-fungible token. How do you know? Or bitcoin. So it is not as easy to manage," he said.
Rounding off the interview, Mr Lee talked about where he saw Singapore and the world in 10 years. He said that the US and China are "Siamese twins" that cannot be separated as they are too inter-dependent on each other.
"There will be tensions, but I hope that there will still be peace," he said.
When asked what he sees himself doing in 10 years' time, Mr Lee laughed and said: "I hope I shall not be doing this job still."